First Degree Fitness Rowing Machines - Realistic Water Rower Workouts
Although First Degree Fitness rowing machines are produced by a relative newcomer compared to other companies offering high end rowers, First Degree Fitness has quickly built a reputation for reliability and an incredibly realistic rowing motion that is prized by anyone who wants an alternative to real water rowing.
Their unique construction relies on their patented Variable Fluid Resistance system. While a few other companies produce rowing machines utilizing water tanks, none come close to the feel of First Degree Fitness rowing machines, which capture the unique "catch and finish" motion of actually rowing on water. The movement of the blades in the tank churning water also gives rowers a pleasantly realistic sound effect. If you close your eyes, you'd swear you were on your favorite lake or river.
The Machines
Aside from the impressive Variable Fluid Resistance, the company's flagship Evolution Series E-520 rower offers 20 levels of resistance (16 in their compact models). They use a belt drive system that does away with pesky maintenance on chains, although there is the periodic changing or maintenance of the water in the tank.
You then have the Horizontal Series which includes the Apollo, AQUA, Viking 2, Neptune Challenge, Pacific Challenge and Newport Challenge models.
These models have the water tanks horizontally mounted, as opposed to the vertical mounting on the Evolution Series.

There's a lot of attention to comfort in these machines. Reviews across the board tend to focus on the high degree of comfort, particularly the air glide seat, which sits on rollers in a concealed track, which means less chance of injury and a smooth ride.
The adjustable spreader accommodates any size foot and, like the angled handles, is easy to adjust quickly. Finally, the seat on First Degree Fitness rowing machines is set at nearly the same height as a typical office task chair, making these the ideal indoor rower for anyone who has trouble getting up and down.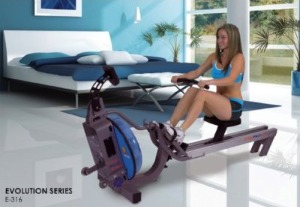 Consumers rave about the easy adaptation from low to high intensity workouts and the variable levels of resistance, although some people are a bit disappointed with the LCD display on the lower end models.
This is a minor consideration, however, unless you're a competitive rower. The LCD display gives most of the information a typical home user would need, including speed, strokes and calories burned.
Warranties
The warranty on these machines varies depending on the model you choose, with frame coverage ranging from 5 to 10 years and the tanks from 2 to 3 years. If you're thinking of buying, consider splurging for one of the higher end models for the added protection, particularly if there will be multiple users.
Excellent Product at a Fair Price
We think First Degree Fitness rowing machines compare favorably with the top of the line Concept2 rower which uses an air resistance flywheel, and the price reflects this. In the end, choosing between them depends on what you're looking for in an indoor rower.
Product reviews by users consistently reflect high brand loyalty. If you want the smoothest ride possible that also has an incredibly realistic feel, First Degree Fitness is an excellent choice.
First Degree Fitness Model Reviews
Most Popular Models
First Degree Fitness Evolution Series E-520 Fluid Rower - A real-water rower experience that has no equal thanks to the natural catch and full resistance momentum throughout the stroke.
First Degree Fitness Newport Water Rower - One of their more popular rowers with adjustable resistance and foot pads, smooth motion and large computer monitor.

First Degree Fitness Neptune Fluid Rower - Fluid Technology lets you adjust the variable resistance control from a light touch to a power sprint with the best on-the-water rowing emulation.
First Degree Fitness Pacific Fluid Rower - The Pacific Fluid rower offers the latest innovation in water rowers – adjustable resistance! With this new feature, you can move from light resistance to a sweating sprint with the turn of the dial.
First Degree Fitness Viking Fluid Rower - The beautiful Viking Fluid rower is a wooden frame high quality ergometer that is designed to deliver elegance as well as fitness functionality in the home.

---