The Concept 2 Model D Indoor Rowing Machine Review – The Best Rower You Can Buy
The Concept 2 Model D Indoor rowing machine is a commercial-grade rower that is so affordable it makes a great investment for home users.
This is considered by many to be the best rower ever built, and is the same one you will find in health clubs, university gyms and professional sports team facilities.
If you're looking for a club quality rower with the highest quality build and most natural on-water feel, this one is as good as it gets.
Read on to learn more about what makes the Model D so incredible...
Model D - The Rower
The Concept2 Model D has a self-calibrating LED Performance Monitor that displays readouts for distance, speed, pace, calories, and watts, with five display options for rowers including all data, force curve, rowing with a pace boat, bar chart, and large print.  
The new advanced PM5 version, a nice upgrade from the previous PM3 and PM4, can receive wireless heart rate readings for more accurate measurement, keeping you in your ideal zone.
Let's take a closer look at some of the best features...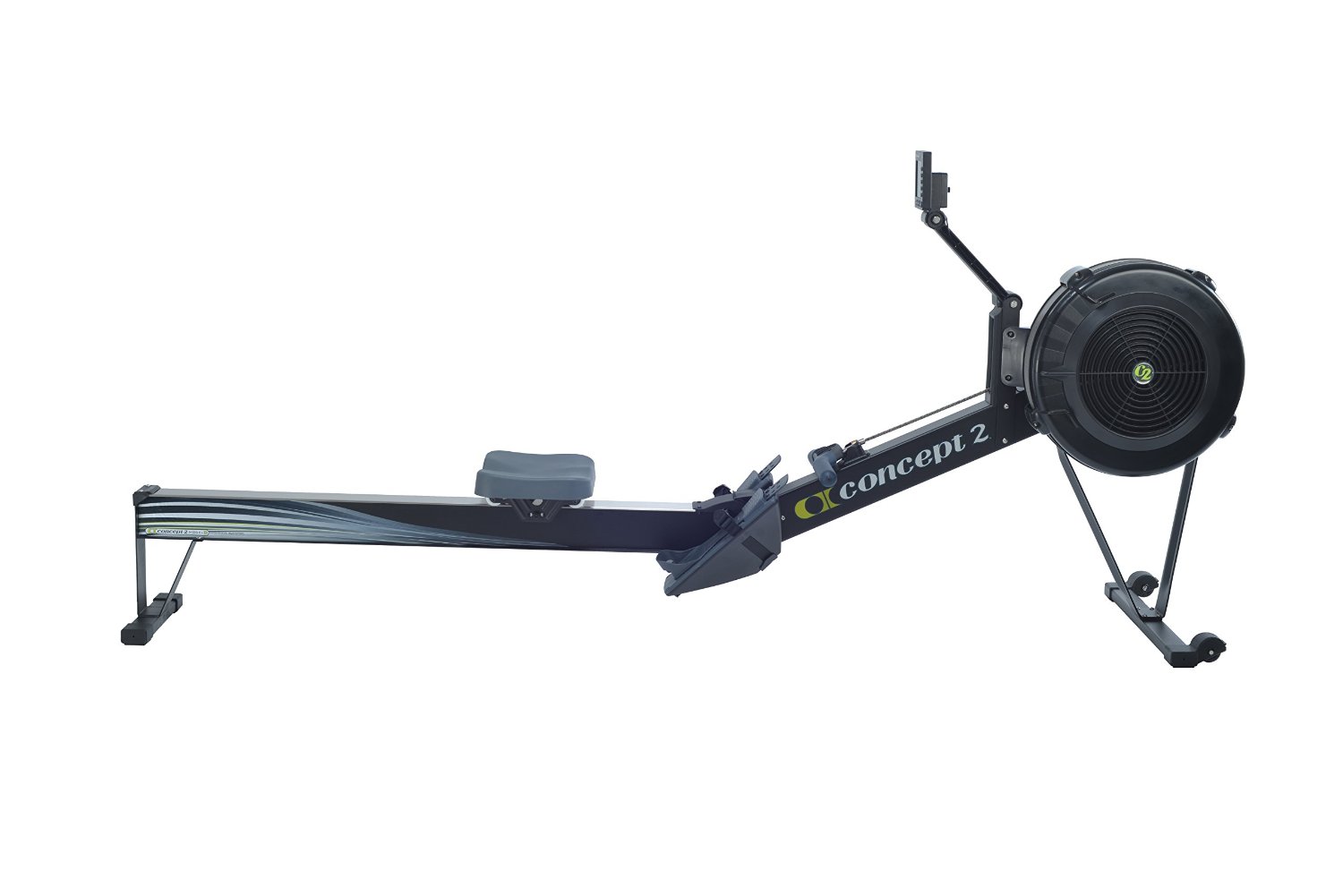 Length / Width: 8' x 2'
Seat Height: 14"
Max User Weight: 500 pounds
Easy Assembly/Storage
Adjustable Footrests
Ergonomic Handle
Machine Weight: 57 pounds
Stored Dimensions – 25" x 33" x 53"H
Warranty: 5 years frame, 2 year moving parts & monitor
Bluetooth and ANT+ Wireless Capability

Concept 2's Advanced Performance Monitor
Every Model D indoor rower comes with the new PM5 Performance Monitor that powers up as soon as you start rowing.  It is the same monitor found on the up-level Concept 2 Model E, which has a higher seat, among other slight differences.
It's very easy to read and easy to use, so there's no learning curve as there is on many other rowing machines.
One of the new features not found on previous versions of the monitor include Bluetooth and ANT+ wireless capability, which allows you to not only measure your heart rate more accurately but also track and sync all of your workouts with your favorite fitness apps via the free Concept2 ErgData app.
The Concept 2 Model D indoor rowing machines also include fun little games you can play while you work out as well as the ability to race with other users.
A Perfect Addition to Your Home Gym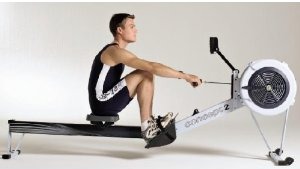 The rower needs a 9' by 4' space and has a max user weight capacity of 500 pounds while weighing just 57 pounds. At-home assembly is easy with the illustrated instructions, and it has castor wheels so it is easy to move and store.
This indoor rowing machine is maintenance-free and doesn't have much on it that will break, but Concept2's customer service support isn't some manual-trained phone worker overseas; the tech support for the Concept 2 rower is supplied by in-house rower and oar service technicians.
So you can rest assured that if you have any questions, you can definitely get someone on the phone who will help you out...that is truly rare in the industry these days.
The Model D closely mimics the feel of rowing on the water. It is very smooth both in the glide of the seat on the aluminum rail and stainless-steel track and the pull on the nickel-plated chain connected to the flywheel. While it isn't noiseless, it isn't loud either. 
The padded handlebar feels very comfortable whether your hands are large or small. The large footplates have heel cups so your feet don't slip down, and Velcro straps that comfortably fit over the top of the foot.
Concept 2 Model D vs Model E: What's the Difference?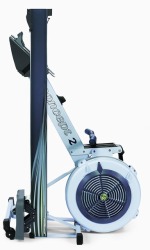 There are three major differences when you compare the Concept 2 Model D vs E.  
Perhaps the most important one is the fact that the seat on the Model E is 20 inches off the ground, as opposed to 14 inches on the model D. So the E is easier to get on, as it is basically at chair height.  If you have trouble getting on and off exercise equipment or if you are older, the Model E is definitely worth looking into it.
The nickel-plated chain is enclosed on the Model E, as opposed to the open design on the Model D. So it is more protected.  Lastly, the PM5 monitor arm on the Model E is longer and fixed in position, while the arm on the Model D is shorter, but adjustable.

The Model D is around $945 on sale, and the Model E is around $1200.  So not too much of a price difference.  Again, if you prefer easier access, look at the Model E...otherwise the Model D will suit you just fine.

There is also a newer model called the Dynamic, but that is more for the serious, competitive rower.  
You may come across a Model C as well, but that is an older model that is no longer in production.
As far as popularity, the Concept 2 Model D leads the pack by far, followed by the Model E and then the Dynamic.  
But all three are rock-solid rowing machines that make a great addition to any commercial or residential gym setting.
Let's look at the Concept2 Model D vs E side by side...
| | | |
| --- | --- | --- |
| | Concept2 Model D | Concept2 Model E |
| Seat Height | 14 inches | 20 inches |
| Length | 96 inches | 96 inches |
| Width | 24 inches | 24 inches |
| Chain | Nickel plated steel | Nickel plated steel |
| Cord Housing | Partially enclosed | Fully enclosed |
| Monitor Arm | Fixed | Adjustable |
| Machine Weight | 57 lbs. | 65 lbs. |
| Max User Weight | 500 lbs. | 500 lbs. |
| Colors | Black/Gray | Black/Gray |
Concept 2 Model D is Highly Recommended
This is an easy review because we are very familiar with the Concept 2 Model D indoor rowing machine and use it regularly at our local health club.
It is a guilty pleasure and we love rowing on it. It is the choice of rowers for high-end health club facilities, so you know it's a quality piece of equipment.  In fact our gym just added another 5 machines because they have become so popular.
You can take a look at the models on special sale at the official company store to decide which one appeals most to you. They are available in black color or gray.
The Concept site offers the best prices on these rowers and they can help with expert assembly if you need.  They also offer heart rate monitors, performance monitors, gear and other items.
The bottom line is, if you're looking for a rock-solid rowing machine for your home, you really can't do better than the Concept 2 Model D indoor rowing machine.  It is simply the best of the best.