Kettler Rowing Machines – Made in Germany, Worth the Extra Money
Designed for a great total body workout, Kettler rowing machines offer an affordable means for core strength training while doing a low-impact exercise that has both aerobic and anaerobic benefits.
About the Company
Since its beginnings in 1949 by Heinz Kettler, the family-owned company has grown into a leading brand of quality fitness equipment, bicycles, and other home products. Now sold in over 60 countries, the company continues to develop and build innovative exercise products that include Kettler rowing machines, stationary bikes, treadmills, ellipticals, and crosstrainers.
The Rowers
Kettler currently offers seven indoor rowers ranging in price from $399 to $1,599.
The Kettler Coach S ($1599) is their premium rowing machine, with commercial grade parts and a touch-screen LED display.  The premium induction brake system provides a wide range of resistance levels, and a free wireless chest strap is included for accurate heart rate measurements.
The Kettler Coach E ($1,399) and Coach M ($999) are commercial quality magnetic resistance rowers made in Germany. They come with a Polar chest strap heart rate monitor and adjustable resistance. The sliding seat has sealed ball bearings, and the display is an LCD screen that shows workout information. These rowers are backed by 3-year residential warranties.

Compare Their Most Popular Rowing Machines On Sale Here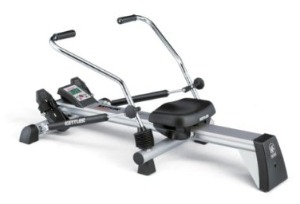 The Stroker rower ($699) features a bright 6 function LCD display, cardio wellness grading, 8 levels of resistance and sturdy, foldable steel frame.
The Kadett ($599) is an Outrigger-Style rower that simulates actual water rowing in that the correct way to use this model is with the "sculling technique." The resistance comes from two industrial strength hydraulic pistons on the "oar" arms.
The Axos ($499) has magnetic resistance that can be adjusted with 8 different levels, pivoting pedals and an LCD display with 6 different functions.
The entry-level Kettler Favorit ($399) rowing machine uses piston resistance as well on its fixed rowing arms. The Kadett and the Favorit weight just 60 pounds and 48 pounds, respectively. Made in Germany of high carbon steel in the frame, they are also backed with 3-year warranties.
Kettler Rowers Are Built to Last
Reviews on these rowing machines distributed through Kettler USA are usually above average with comments indicating that the machines are easy to assemble and generally worth the extra money over cheaper competitor models.
The piston rowers are available for people who want a rower and can't afford to spend much, but there will be issues with the shock absorbers eventually.
If it is at all possible and within your budget, plan to spend a little more and get the Kadett, since this rower is whisper quiet and oh so smooth. Look to the better quality Kettler rowing machines (Verso and Coach models) to give you a full body workout on just one machine.
Model Reviews
Kettler Stroker Rower and Multi Trainer - A mid-priced machine with magnetic resistance and free wireless chest strap heart rate monitor, among other nice features.
Kettler Coach E Indoor Rower - The versatile German-made Kettler Coach E rowing machine is designed for standard rowing as well as using the backboard attachment for up to 16 additional total body exercises.
Kettler Coach M Indoor Rower - A well-built, German-made model that offers the additional benefit of convenient glideboard exercises for total body conditioning.
Kettler Kadett Outrigger Style Rower - The Kettler Kadett Outrigger gets positive marks for workmanship and design. One of the better built, better designed, and better quality piston rowers.
Kettler Favorit Rowing Machine - The Kettler Favorit costs just $400 and is intended for casual rowers who need some combination of aerobic (cardio) and anaerobic (strength) exercise. Best value for your money.
---