The ProForm 440R Rower is a Good, Budget-Level Machine
The ProForm 440R Rower is one of two rowing machines in the company's current lineup along with the more advanced 750R.
Often on sale for less than $400, it's a good option for those looking for an entry level trainer to help them burn calories and get into shape.
The Rower
In addition to the typical rowing motion, the 440R can be used as a low pulley machine, using the handlebars to do standing uprights and other workout motions.
It features a large LCD display showing your strokes, distance, time and calories burned so you can see how your workout is progressing.
Let's take a closer look at the important specs...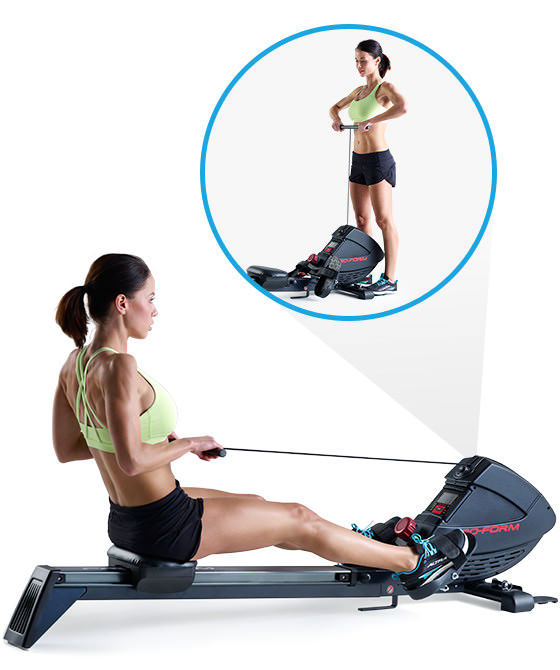 Dimensions: 38.3" x 20.5" x 76.6"
Machine Capacity: 250 lbs
Soft Touch Ergo Handles
SpaceSaver Design (folding)
Adjustable Cushioned Seat
8 Resistance Levels
Transport Wheels, Stands Upright for Storage
Warranty: 5 years frame; 90 day parts & labor
Get the Popular Rowing Machine on Special Sale Now
The Buzz
The ProForm 440R rower is not the most exciting machine we've ever come across, but for the price it is perfectly serviceable and not a bad choice.
Most ProForm rowing machine reviews tend to focus on the ability to use this machine as both a traditional rower and a stand up rower which adds another dimension to your workout, and allows you to target additional muscle groups.
The 440R also features an adjustable cushioned seat, soft padded handles, 8 different resistance levels and pivoting pedals which can also be adjusted for comfort.
The large LCD monitor, although not the most elaborate display, is very easy to read and shows you all of the relevant workout metrics, such as time, distance, strokes and calories burned.
It also features SpaceSaver design like you'll find on most ProForm equipment including their ellipticals and treadmills.  It's very easy to fold these machines for storage.
Interestingly,  a number of ProForm rowing  machine reviews mention the fact that despite the low price on the 440 R, the construction is quite decent on these machines.  They were expecting to get a low grade machine, but were pleasantly surprised with the sturdiness.
The rower can accommodate up to 250 lbs., and has a respectable 5 year frame warranty along with 90 day parts and labor coverage.
Some of the extras include a soft touch ergonomic handle, pivoting pedals with adjustable strap, transport wheels, an inertia enhanced flywheel and adjustable molded seat.
Note that the company recently introduced a more advanced rowing machine called the 750R.
How Does the ProForm Pro 440R Rower Compare to the Competition?
The Pro 440R holds its own in the under $500 category, offering a lot of features and capabilities that other rowers don't.  
It competes head to head with other big brands like Stamina, Sunny Health & Fitness, and Marcy, and many people prefer the ProForm.
It is one of the only rowing machines that allows you to stand up and perform upright rows, curls or presses for a more advanced upper body workout.  
The monitor is a bit larger than you usually get on competitor's machines.  Many reviews mentioned the fact that the 440R rower was a bit smoother and quieter than some of the other machines.
There is a more advanced 550R model, but that model is a bit older and may be discontinued at some point.
So all in all the ProForm Pro 440R fares well in the marketplace, and is a good entry level choice that has become quite popular over the last few years.
What We Say About the ProForm 440R
For the price, the ProForm 440R is not a bad choice at all.  The company continues to improve their equipment significantly, narrowing the gap between them and their big brother, NordicTrack.
Note that the ProForm rowing machine is not the most advanced piece of equipment on the market today, but if you just want something you can work out on a few times a week with different resistance levels and the ability to do some upright rows as well, the 440 R will definitely serve that purpose.
If you like the concept of a rower combined with a bike, take a look at ProForm's Dual Trainer/Bike Rower which is a hybrid machine costing about $200 more and giving you 20 resistance levels to choose from.
You might also want to look at the Kettler Favorit as it is one of our top picks in the price category.  It is a little more expensive than the 440R but it is a great hydraulic rowing machine.