Magnetic Rowing Machines Provide Silent Workouts
Magnetic rowing machines are one of three styles of rowers using a flywheel and some type of resistance. While all three use handlebars connected in some way to a flywheel, the braking mechanism is different for each one.
How Magnetic Rowers Work
Magnetic rowing machines use electromagnets near the flywheel to produce the braking action without the magnets having to ever touch the flywheel. Since there is no friction generated (unlike air or water rowing machines), the machine is virtually silent.
The brakes are adjustable in order to vary the intensity of the workout and can be adjusted via a computer console or manually by hand with a dial.
More Flexibility Than Hydraulic Rowers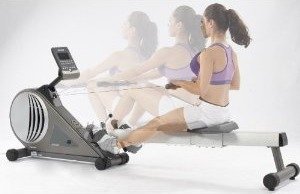 The handlebar on a magnetic rower is connected to the braking mechanism or resistance system by a flexible chain, strap or rope. This flexible connection gives users more freedom in their hand movement, allowing the trajectory to more closely mimic that of real world rowing.
As the hands move through the stroke and return, they shift in height, much like when using real oars. This gives them an advantage over hydraulic machines, which keep hands at the same height throughout the stroke.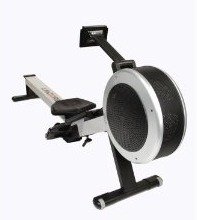 Magnetic rowing machines also have seats that glide back and forth along a track or monorail, giving a more complete, full-body workout by utilizing the legs as well as the arms for each stroke. The track or rail can't be folded, so although they take up less space than water rowing machines, they are bulkier than some hydraulic/piston machines.
Pros
There are several reasons why you may want to invest in a magnetic resistance rower, including:
The handlebars adjust in order to provide a stroke and return that moves the rower's hands through different heights, which is close to the motion of actual rowing.
The movable seat provides a lower body workout.
Magnetic resistance rowers are quieter than any other type of indoor rower, providing a virtually silent experience that's ideal for apartment owners or anyone who doesn't like too much sound.
The magnets provide breaking without any friction, for an exceptionally smooth glide.
A wide range of resistance means you can customize your workout.
You get a fuller extension of the arms and legs than on a hydraulic/piston rowing machine.
Cons
Some users don't like the performance of magnetic rowing machines because there are some minor flaws, including:
Although the hand motion is more realistic than in a piston rower, the overall sensation you experience during the stroke and return doesn't resemble real world rowing because it is "too" smooth.
Unlike hydraulic machines, magnetic rowers can't fold up because of the monorail or track the seat is mounted on.
Only you can decide if this type of indoor rower is worth its price. Magnetic rowing machines do cost more than hydraulic models, but you're getting more of a workout for your dollar since the lower body is fully engaged.
Take some time to read reviews and visit gyms or health clubs to try out their magnetic resistance machines. You may fall in love with the silent operation and smooth glide.
What's the Best Magnetic Rower?
When it comes to the best magnetic rowing machine, there is a wide variety to choose from at various price levels.
Typically, a good magnetic rower will cost over $500, but you can find a few decent ones at lower price ranges, and advanced ones over $1000.
Take a look at the selection and decide which one is right for you.

Higher End
One of the best magnetic rowing machines on the market is the Hydro Rower, a high quality machine with on-demand training like NordicTrack and Peloton offer. It's around $2199 on sale, and there's a monthly/yearly membership just like their competitors have.
Mid-Range
In the middle range, just under $1,000 on sale, you have great options like the Sole SR550, a very high quality machine at a competitive price given its durability.
Budget

If cost is a concern, there are some pretty good choices under $300, including several choices from Sunny Health & Fitness.
For an updated list of the best magnetic, air, hydraulic and water rowers, you can check out our Best Rowing Machines list.