Lifecore Rowing Machines – Club Quality Equipment at Affordable Prices

Who would have thought that LifeCore rowing machines could come up with a mechanical design and program options to give the leading brand Concept2 some real competition?
About the Company
The Vista, California, company makes a line of fitness equipment including the indoor rowers, exercise bikes, and elliptical trainers. They strive to provide club-quality equipment to home users at affordable prices – and have managed to strike gold with their excellent rowing machines.
When you read reviews on Lifecore rowing machines, you will quickly note that new owners universally agree the machines are easy to assemble and the workmanship is superior, so parts slip together easily. Another big plus is that these rowers have the performance and durability comparable to the Concept2, the brand that reigns as the standard-bearer of indoor rowers.
Introducing the Rowers
UPDATE: As of 2020 or perhaps earlier it looks like LifeCore's rowing machine lineup has been discontinued. Take a look at NordicTrack rowing machines for similar priced machines with great features and capabilities.
------------
All three Lifecore rowing machines use magnetic eddy current brake (ECB) resistance by means of magnets that act as a brake against the flywheel to control increase or lessen tension. The rowers share a similar folding frame design, as well as a steel fan and flywheel, and use of an extruded aluminum frame with solid steel support.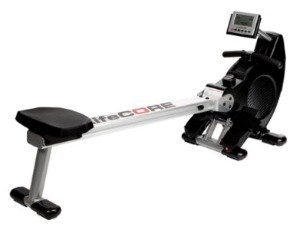 The Lifecore R88 rower typically retails for $899 but is usually on sale for around $699. It weighs 75 pounds and features a battery-powered console, 6 resistance levels, a 300-lb user weight capacity, and has a 2-year parts warranty plus 90 days labor coverage.
The Lifecore R90 at $999 has a completely different look than the R88, with additional programs and features plus a sturdier design.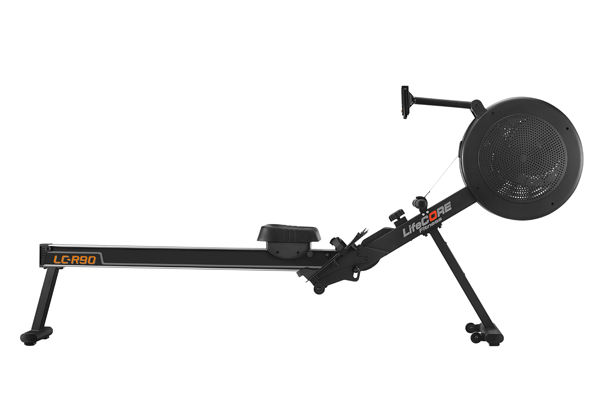 The Lifecore R100 ($1299) looks like the R90 but features a longer and heavier frame at 96 pounds, a 600-lb user weight capacity, free HR chest strap, and a 5-year parts warranty with 1-year labor coverage. (If it came be used in a public facility or health club, it is backed with a light commercial warranty of 2 years parts and 90 days labor.) The R100 measures 92 inches (almost 8-feet) in length, so you will appreciate that it easily folds in half and can be stored out of the way when not in use.
A Lifecore Rowing Machine Over the Concept2?
The Lifecore R88 is a good bet for a quality rowing machine if you intend to spend around $700. If you are looking at the Lifecore R99 at $900, you will need to carefully consider it against the $900 Concept2 Model D, the big kahuna of commercial rowers. As for the more expensive Lifecore R100, which is the correct model to compare against the Concept2, there are a number of key differences.
For example, the Concept2 Model D costs $400 less, has a better warranty, weights just 57 pounds, and is classified as an air rower, while Lifecore rowing machines are magnetic resistance rowers. In the R100's favor, it is much quieter than an air rower and offers a greater range of resistance. Try both and see which one you like best.
Model Reviews
Popular Models
Lifecore R88 - A mid-priced hybrid rower at $699, and a decent choice offering a great deal of value.
Lifecore R90 - The mid-range model with 6 resistance levels as well as a few workout programs plus durable construction.
Lifecore R100 - This rower gets excellent reviews, even winning the Head of the Class award from Fitness Professor. It has superb quality and design, a solid warranty, and a space-saving folding feature.
---
Return to the Rowing Machine Reviews Home Page