Water Rowing Machines: Upscale Fitness Equipment
Water rowing machines are often more expensive than other models of indoor rowers, but there's a reason they don't come cheap. They are often the most costly to manufacture and some parts are usually made from pricier materials such as solid hardwoods rather than steel and aluminum.
Water resistance rowers offer a stylish alternative to the sleeker, more industrial models of hydraulic, magnetic or air resistance models currently on the market.
How Do Water Rowers Work?
Water rowing machines use revolving fins or paddles in an enclosed tank of water to provide the necessary resistance for a workout. The paddles essentially replace the flywheel found on other types of rowers.
When you pull on the handlebars, the paddles revolve in the closed, sealed tank, creating drag that increases the resistance as you increase the speed of your pull.
The combination of water mass and drag creates a reliable, variable resistance that some users feel is more realistic than that provided by magnetic or air resistance.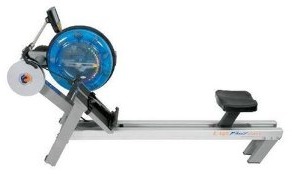 Keep in mind that water storage tanks are fairly large. When you combine the weight of the machine itself with the weight of the water required in the tank, you end up with a very heavy piece of equipment.
Water resistance rowers also tend to be longer than other types of rowers because you have to accommodate the full range of movement for the legs as well as the oversized water tank. They aren't the best choice for apartment dwellers or those with smaller spaces.
Why Some Users Love Water Rowing Machines
Many indoor users prefer the action of water rowers because it is smoother and quieter than air or hydraulic models. Some feel this is the closest to the feel of actually rowing on water because some air rowers have a "dead spot" where resistance drops momentarily during the stroke cycle.
Competitive indoor rowers and athletes often choose water rowers for this reason, especially top end models like the Water Rower Natural, although some still prefer the feel of an air resistance model.
What are the Pros?
If you're looking for a high end piece of exercise equipment, there are several water rowing machines that will fit the bill. There are many reasons why they're so popular for at home use.
Let's take a look at some of the benefits of the water rower...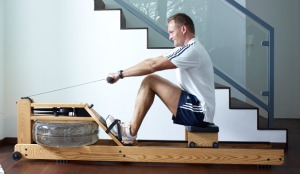 The water tank and paddles provide a soothing sound that many users enjoy, but that isn't so loud that neighbors will be disturbed.
The sliding seat provides a full body workout.
Many water resistance rowers are crafted partially from hardwoods, giving them a more attractive appearance.
There is a bit of "flex" in wooden models for a stroke with more give.
Consistent resistance with each stroke.
Most models allow for adjustable resistance levels.
The feel of actually rowing on water is realistic.
What are the Cons?
As with any type of sport or fitness equipment, there is also a downside to water rowers.  Let's take a look at those...
The water in the tank needs to be changed periodically.
A leaking water tank can cause property damage and require expensive repairs.
These machines have the largest footprint of all types and are often very heavy, weighing well over a hundred pounds, making them too cumbersome to move or stow away when not in use.
They are usually the most expensive style of rowing machine on the market.
If you have the chance to try out a few water rowing machines, you'll quickly know whether you like the feel of them or not and whether you're willing to invest in one for your own workouts.
If you can't try them out, our reviews will give you a good idea of which ones are the best for your situation.
What's the Best Water Rowing Machine on the Market?
Higher End Choices
When it comes to the best water rower, we have to put the Ergatta Rower at the top of the list. Although it is on the pricier side, it combines a super high quality machine with unique interactive workout programs that keep you motivated to reach your fitness goals.
Another great machine, which is more affordable but doesn't come with onboard training is the WaterRower Natural, one of the top models on the market today with beautiful solid ash wood and the smoothest, on-water feel.
It has been on our list of the Best Rowing Machines for several years now, and reviews from experts and customers alike have been very positive.
The company also offers other models with different color woods as well as metal if that is your preference.  The Natural is the most popular, as well as the least expensive, so it's a solid option for you.
As far as other great water rowers, take a look at First Degree Fitness, another great company that has a variety of water rowing machines to choose from, and the newer CityRow Go, another interactive model.
More Affordable Options

If the Ergatta, WaterRower Natural, First Degree Fitness & CityRow Go rowers are a bit out of range for you, there are several good options in a lower price range.
Sunny Health & Fitness makes a solid water rower under $500, and XTERRA has a newer model that's right around $600 on sale.
You're not going to find anything decent at a lower price point, as these types of machines are the most expensive to make. Anything cheaper is just not going to be good quality.
Bottom Line on Water Rowing Machines
When it comes to that natural rowing feel, there's nothing quite like a water rowing machine. It gives you that smooth, even stroke that makes you feel like you're out on the lake getting a good session in.
However, they can be on the pricier size so they might be out of range budget-wise for many people. They also take up a considerable amount of room, so they might not work for those in small apartments or without a lot of room in their home gyms.
For everyone else, a water resistance rower could be just what you're looking for. Take a look at the various models recommended here and see if one appeals to you. There are higher end ones with interactive training included, and more affordable ones that you can use with your own fitness apps.
Between all of them you'll definitely find what you're looking for!