Sole Fitness Rowing Machines - Well-Built and a Great Value

Sole Fitness puts the same focus on quality and value with their rowing machines as they do with their popular treadmills and ellipticals.  They are built with the user in mind, and as a result are ergonomically designed to maximize your results
About the Company
Sole Fitness was started as strictly a treadmill company over 20 years ago, and became the supplier of premium exercise equipment to hotel chains such as Hilton and Omni.
Over the years they added ellipticals, bikes and rowing machines to the mix, all at affordable prices without sacrificing quality.  Sole exercise equipment has won many Best Buy awards, and they are one of the fastest growing brands both in the United States and Canada.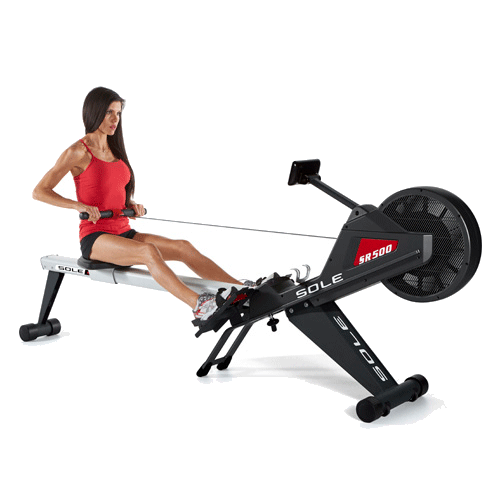 Today, Sole Fitness is owned by a Taiwan based company called Dyaco, which also offers premium brands Spirit, Xterra and ClubFit.
A Look at the Sole Rower Lineup
Currently the company offers only rowing machine, the new SR550. The previous SR400 and the up-level SR500 were recently discontinued.
The Sole SR550 is an updated version of the SR500, so many of the specs are similar. The main difference is a new 10.1" touch screen display as opposed to the previous basic LED one.
There is both WiFi and Bluetooth capability along with a number of built in workout programs. As on the previous model there are 16 levels of air/magnetic resistance to choose from to make your workouts more challenging.
The Sole SR550 has a 450 lb. max user capacity,  down from 515 lbs. on the SR500. It has a lifetime warranty, 1 year on labor and 2 years on all other components.
Here is some information on the discontinued models just in case you come across them.

The Sole SR400 Rower features air and magnetic resistance for a smooth, natural feel.  There's a long aluminum rail, high seat position for easier access and oversized adjustable pedals.  You get 16 different resistance levels, 14 workout programs and the rowing machine is foldable with transport wheels. It costs around $699 on sale.
UPDATE:  The SR400 is currently unavailable, so it may have been discontinued in favor of the more popular SR500 rower.
The Sole SR500 Rower is an upgraded version of the SR400, about 2" higher and 30 pounds heavier.  Whereas the former has a 300 lb. weight capacity, the SR500 has a 515 lb. weight capacity.  It also includes a wireless chest strap for more accurate heart rate measurement and a more robust warranty policy.  It costs around $899 on sale.
Check out the SR550 on sale at the Sole store now!
Both rowers feature a two-color LCD display offering workout metrics such as strokes per minute, time, calories, distance and pulse.
Both machines also include Bluetooth wireless adjustable resistance built into the handlebars, so you don't have to stop your workout to change your resistance levels.  This is a huge plus not found on many rowing machines, especially in this price range.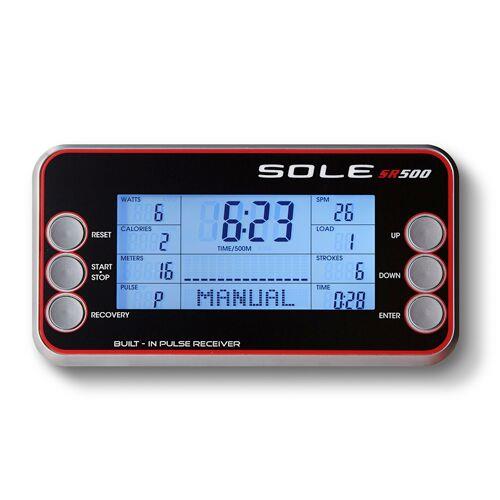 How Do Sole Rowing Machines Compare to the Competition?
Sole has always competed well with similarly priced brands, and is does so with its rowing machines as well.  The SR400 and SR550 are essentially in the middle range as far as rowers are concerned, more expensive than the hydraulic type but not as expensive as some of the higher end air/magnetic and water resistance models.
One of the biggest comparisons that users make is between the Sole SR550 vs the Concept 2 rower.  The former is priced right around $900 while the SR550 is around $1599 on sale.
The Sole SR550 is about two inches longer, six inches narrower and 45 pounds heavier than the Concept 2 Model D.  Maximum user weight is 450 lbs. on the Sole and 500 lbs. on the Concept 2 so roughly the same.
So Sole probably sits a bit below the Concept 2, but keep in mind that rowing machines are Concept 2's core business and they are the industry standard for excellence.  Sole makes great rowing machines, but they focus more on their very popular treadmills, ellipticals and exercise bikes.
A better comparison to make is with BodyCraft, NordicTrack and Kettler, where Sole is as good if not better than most of those brands.
What's the Bottom Line on Sole Rowers?
Sole Fitness makes very good exercise equipment, and the company has continued to grow expontentially because of it.  Their rowers are no exception.
They are well built, well designed, and the new Bluetooth resistance adjustability is a nice touch.  You also get a nice array of resistance levels and workouts built-in, plus a natural stroke that mimics an outdoor rowing experience.
Either the SR400 or SR550 is a good choice...the SR400 should be just fine for most, but if you have a big family or intend to use the rower daily, you might want to opt for the more durable SR550.
Sole is a good brand that you can reliable, and their strong warranties will give you peace of mind.
Get more info and special sale pricing on this rowing machine!
---