Sole SR550 Rower: More Of The High Tech Features You Expect

Sole has revamped its rower offerings as of 2023, discontinuing the SR500 and introducing the new Sole SR550. This is an important step forward for the company, which has been offering high quality workout equipment at competitive prices for more than 20 years.
The SR550 provides all of the quality you'd expect from the Sole name, with many of the same basic features as the earlier models, but it differs sharply from the SR500 in terms of technology.
Until recently, this was the one area where Sole lagged a bit behind the competition, with the SR500 offering only a 5.5" LCD monitor display.  The SR550 has stepped up to meet the growing demand for health-club level technology with a 10.1" touch screen with built-in apps.
It's easy to see why this is such a significant improvement, but does it really make the Sole SR550 worth its $1,500 price tag?  Let's take a closer look and find out.
The Rower
The SR550 features both air and magnetic resistance with 16 different levels and, as mentioned above, provides a 10.1" touch screen with built-in apps.
Here are the most important specs on this model...
·       Frame Dimensions: 97" x 19" x 52"
·       10 workout programs
·       Oversized pedals
·       16 resistance levels (wireless adjustment)
·       Air and Eddy Current Magnetic Resistance
·       10.1" Touch Screen
·       Bluetooth compatible with Mirror Function
·       Built-in HR Receiver
·       Maximum User Weight – 450 lbs
·       Warranty: Lifetime frame, 2 year components, 1 year labor
The Buzz
Sole is known for producing heavy duty fitness machines and, like the SR500 before it, the SR550 certainly delivers on that promise. It has a sturdy aluminum rail with a 450 lb. maximum user weight, which is slightly less than the 515 lb. weight capacity of the SR500 but still accommodates most users.  The length of the frame also works for taller users.
One carry over from the Sole SR500 is the dual air and magnetic resistance with 16 resistance levels as well as the convenient resistance controls built right in to the handlebar. This is a great feature as it allows you to seamlessly change resistance without breaking the flow of your workout. The dual resistance offers plenty of challenge for even the most serious workouts but it doesn't quite offer the real-world feel of on the water rowing that water resistance machines provide.
The SR550 is Bluetooth enabled and has a Heart Rate receiver, but unlike the SR500 it does not come with a free chest strap included.
The one area where Sole always lagged behind the competition was its use of technology. With their focus on providing top quality, heavy duty fitness machines, they didn't always put as much emphasis on the tech end of things. But now that most brands are offering large screens with built-in workout apps, Sole has finally begun to up their game, upgrading many of their treadmills, ellipticals and now rowers, including the SR550 rower, with touch screen consoles.
The 10.1" Touch Screen on the SR550 is easy to read and offers 10 built-in workouts covering everything from Distance, Calories and HIIT to a Game Mode. It also offers screen mirroring so that you can project any of your favorite apps directly from your phone screen to the much larger monitor and unlike some brands, with Sole you don't have to pay a monthly membership fee to access all of these great features.
If you don't want to use your phone, the console also comes loaded with some of your favorite entertainment apps, including Netflix, Hulu and Disney+, which you can enjoy using your own personal subscription or you can listen to music wirelessly with the Bluetooth speakers.
There is also a roomy tablet or phone holder built in just above the console, which makes taking advantage of the screen mirroring feature even easier.
Let's take a look at some of the Pros and Cons of the SR550 Rower...
Pros
·       Dual resistance with 16 levels and easy to use controls built into the handlebars.
·       Heavy-duty frame that can accommodate users up to 450 lb.
·       10.1" console with 10 built-in workout programs, access to entertainment apps and screen mirroring capability.
·       Bluetooth speakers
·       Heart Rate monitor compatible
·       Built-in phone/tablet holder
·       Folding frame for easy storage without taking up a lot of room
·       Good warranty: Lifetime frame, 2 year components, 1 year labor
Cons
·       Not a lot of workout programs compared to some other brands
·       No instructor-led workouts
How Does It Compare To The Competition?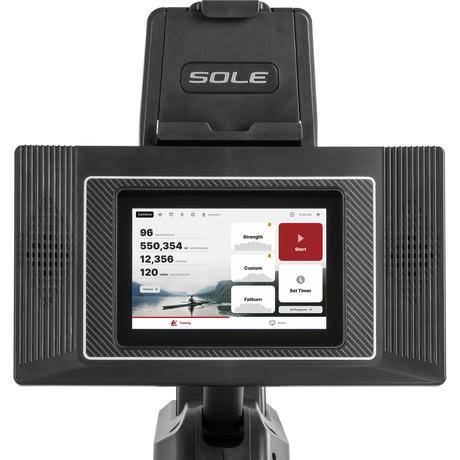 At around $1,500 the Sole SR550 is on the pricier side when it comes to rowers, but how does it stand up to other rowers in this price range?
The main areas for comparison are usually resistance and technology.  Most machines at this level are built to be sturdy and to accommodate users of almost any size, although there are some notable standouts. 
The SR550 has an assembled weight of 106 lbs., which gives it a good, sturdy feel that should stand up to even the most vigorous workouts.  Compare that to the BodyCraft VR500, at just 101 lbs. and the NordicTrack RW700, which weighs in at a hefty 146 lbs.
Despite its size the NordicTrack RW700 only accommodates users up to 250 lbs. while the Sole SR550 has a maximum user weight nearly double that at 450 lb.
As a dual resistance rower, the Sole SR550 offers both the consistency of magnetic resistance and an extra jolt with added air resistance. With 16 resistance levels there is certainly plenty of variety to provide challenging workouts, yet it falls far short of both the NordicTrack RW700, a magnetic only resistance machine with 26 digital resistance levels, and the BodyCraft VR500, which offers dual magnetic and air resistance with a whopping 32 levels.
While the NordicTrack RW700 also offers a 10" Touch Screen (with tilt and pivot capability) and 12 built-in workouts, it includes access to the iFit interactive workout program for an additional $39 monthly fee.  Though the Sole SR550 lacks the extra iFit compatibility, it still has plenty to offer with its 10 built-in workout programs, built-in entertainment apps and screen mirroring capability and there are no extra fees, which is a big bonus.
Finally, the Sole SR550 also stands up to the competition surprisingly well in the area of warranties.  Its lifetime frame/2 year components/1 year labor is comparable to the BodyCraft VR500 and it blows the NordicTrack RW700 10 year frame warranty out of the water.
Bottom Line on the Sole SR550
If you're looking for a good, solid rower that will stand up to lots of use and provide a challenging workout, you can't go wrong with the Sole SR550. It provides the quality and durability you'd expect from the Sole brand with upgraded high tech features that help it stand shoulder to shoulder with the competition.
The new 10.1" Touch Screen with built in workouts and entertainment apps as well as screen mirroring capability gives you plenty of variety so you can tailor your workout to fit your needs.  Best of all, there's no need to pay extra app subscription fees, which is a nice bonus for your budget.
Sole Fitness has been a trusted brand for years, so you can count on the Sole SR550 to be a dependable, quality addition to any home gym.