XTERRA Rowing Machines - Affordable and Well Built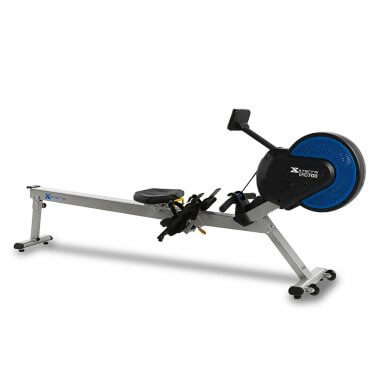 Xterra rowing machines are a good choice for those looking to get a good quality rower for under $1000.  The company has made a name for themselves making solid cardio equipment full of great features and capabilities at a very affordable price.
Let's take a closer look at the models they are currently offering.
A Look at the Current Xterra Lineup
There are currently seven rowing machines in the Xterra catalog, including the ERG160, ERG200, ERG220, ERG500, ERG600, ERG650 and ERG700.  
They range in price from $299 to $999, and all of them have a functional, user-friendly design and durable construction.
Here's a brief overview of each one...
Magnetic Rowers
ERG160

This is the base model in the series and the most compact and light weight of all. It offers 8 levels of magnetic resistance, a 3 lb. flywheel, 250 lb. weight capacity and a basic 1.75" LED console.
ERG200

A slight step up from the ERG160, the ERG200 is larger, heavier and offers a more advanced 3.2" display and a 9 lb. flywheel. It also has folding capability.
ERG220

The ERG220 is bigger than the other two base models, with a 3.5" LCD display and a higher 300 lb. max weight capacity. It can fold as well just like the ERG200.
Air Rowers
ERG500

The ERG500 is an air resistance rowing machine with 8 different resistance levels to choose from, a heavy duty steel frame, a large performance monitor showing you all of your workout stats and a 300 lb. maximum user weight capacity.
It features an aluminum slide rail, padded handle, large contoured seat, adjustable flexing pedals and an easy fold up design.
Air & Magnetic Rowers
ERG700
The top of the line ERG700 is an advanced version of the ERG500, with a combination of air and magnetic resistance, 16 resistance levels and 10 built in workout programs.  It also has a premium console and can accommodate more weight at a max of 350 lbs.
Water Rowers

ERG600W

The mid-level ERG600W is a water resistance rower, similar to the new Sunny Health Obsidian Surge, with 6 resistance levels based on how much water you add to the tank, a large LCD console, and same max weight capacity as the ERG500.  
You also get 5 programmable modes: calories, race, time, distance and strokes, so you can pick different goals and work on improving your performance from one session to the next.
ERG650W
The ERG650 is the top of the line water rower, improving upon the ERG600 with a 350 lb. max weight capacity and more extensive waranty.
So as you can see Xterra offers air, magnetic, combination and water rowers, so there's something for everyone. The combination air/magnetic and the upper-end water rowing machines are the most expensive one offered.

How Do XTERRA Rowing Machines Compare to the Competition?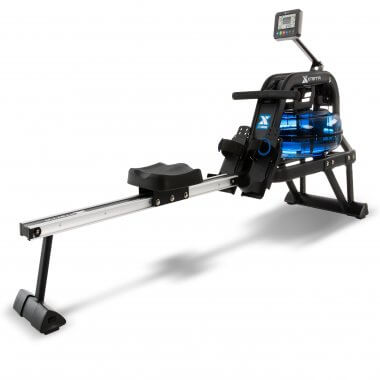 Xterra is part of Dyaco International, one of the largest equipment companies in the world and manufacturer of the Spirit, Fuel and Sole rower brands.  They are known for their quality and durability, and the Xterra rowing machines carry on the tradition.
As far as competition, they go head to head with other players in the $500 to $1000 price range, which includes NordicTrack, ProForm, Sole, Kettler and LifeCore.
Xterra definitely holds their own, and their designs definitely stand out from the competition.  They always offer free shipping, have a generous 60 day money back guarantee and some of the strongest warranties in the industry.
In fact, the top-end ERG700 actually has a lifetime frame warranty, something you won't find anywhere else.  You also get 5 years on the parts and 1 year of in home labor.  The other two models have solid warranties as well.
So the Xterra rowers are definitely a good choice in this price range...it's a matter of comparing features and specs to determine which model makes the most sense for you.
Bottom Line on XTERRA Rowers
We're fans of the Xterra rowing machines, because they give users a very good value for their money.  They are well built with strong warranties behind them, and they have a very comfortable, natural look and feel.
If you prefer air/magnetic resistance, consider the base ERG500 or top of the line ERG700 if you like the idea of built in workouts.  If water resistance is your thing, the ERG650W is the best option for you.
All three will give you a great workout and help you reach your fitness goals, which is why you're buying a rowing machine to begin with.