XTERRA ERG600W Review -  Great Water Rower
The XTERRA ERG600W water rower is one of the latest offerings for individuals who want to get all the benefits of water resistance in the comfort of their own homes. It's got plenty of great features, is easy to move and store and of course gives you both the feel and sound of being out on the water. Better yet, you get all this at a price that won't break your budget. With so much going for it, it's easy to see why XTERRA is such a popular name among exercise enthusiasts.
So what makes XTERRA Fitness so unique? They are a US based company whose focus is making fitness accessible to everyone. With that in mind they offer a range of equipment, from treadmills, ellipticals and bikes to rowers that combine commercial grade quality with all of the comfort and ease you'd expect for a home gym. They make it even easier on customers by backing up all of their equipment with solid warranties and a full customer support system.
Not a bad foundation to start from, so let's see where XTERRA goes from here and take a closer look with our ERG600W Water Rower review.
ERG600W - The Rower
As mentioned above, XTERRA is all about bringing commercial quality to your home and their water rowers are no exception. The ERG600W is the less expensive of their two water rowers but despite the lower price, it does not skimp on quality.
It's a smaller, more lightweight design than the commercial grade ERG650W but otherwise it provides plenty of substance with a smooth action dual aluminum rail system, large 5.5" LCD console with height and angle adjustment, easy movement and convenient stand up storage to save space and of course the durable XTERRA multi-bladed impeller for water based resistance for the most natural water rowing experience you can get.
Other key features of the XTERRA ERG600W Water Rower include: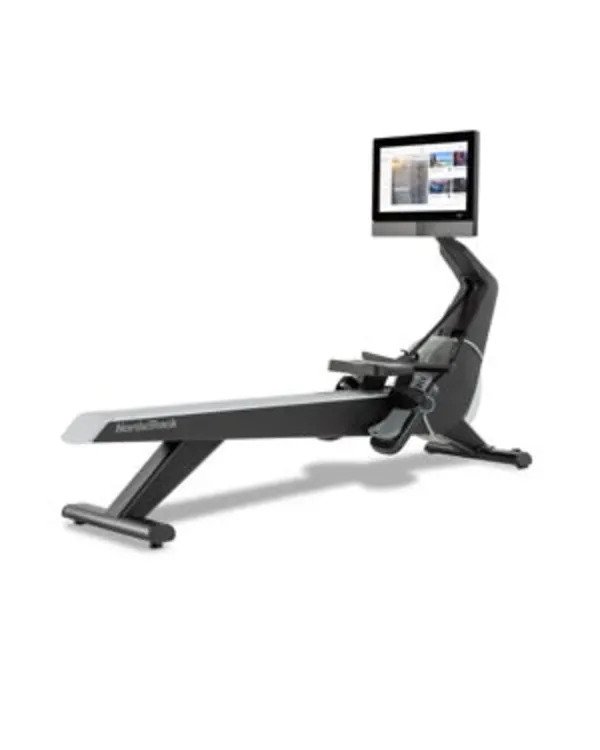 Durable sold steel frame with dual aluminum side rails
6 water resistance levels
Large contoured seat
Adjustable flex pedals
Contoured and padded ergonomic handle
5.5" LCD console
5 programmable modes
Heart rate transmitter
Standing storage capability and built-in transport wheels
Footprint: 80.7" x  33" x 22" 
Stored dimensions: 80.7" x 33" x 22" Weight: 87 lbs.
Warranty: 5 years on frame, 2 years on parts, 90 days labor

The Buzz
Flexibility, features and durability are all part of the package when it comes to the XTERRA ERG600W water rower. It's built to be easy to use and accessible for all users with plenty of features that make working out a pleasure. That all starts with the solid steel frame and dual aluminum side rails, which make it both sturdy and easy to move and store. Plus the dual frames guarantee smooth operation for users of all sizes.
Sit down on the ERG600W and you'll immediately notice how the raised 13.5" seat height makes getting on and off the rower easy. The large contoured seat maximizes comfort and performance so you'll be able to get the most out of your workout. The ergonomic rowing handle is contoured and padded for comfort and easy to use while the Flex Pedals are fully adjustable with numbered size settings that make it easy to find your perfect setting and large Velcro straps that flex with your every movement.
The built-in interface on the XTERRA ERG600W water rower is simple, yet effective. The large 5.5" console features easy height and angle adjustment so you can get the perfect view at all times. The display itself is easy to read, with all of your stats ready at a glance, including total time, 500m time, calories, distance, strokes, strokes/minute, date, room temperature and clock as well as pulse rate, which you can track with a chest strap monitor which is sold separately.
Of course one of the most difficult parts of any workout is keeping yourself motivated but XTERRA fitness has that covered too. Five different programmable modes let you vary your workouts and keep yourself challenged. You can choose from Race Against Computer, Time Countdown, Distance Countdown, Strokes Countdown or Calories Countdown. There's something to suit every personal workout style and to keep each member of the family moving.
The heart of any rower is resistance, since this is what really challenges you to work every muscle group and push yourself to the limit. With the XTERRA ERG600W, resistance is provided by the water tank with 16 impeller blades.  There are 6 resistance levels which are determined by the amount of water you put in the tank. Want a more intense workout?  Just add a little more water. No matter which level you choose, with the movement of the impeller blades you'll get the feel and the relaxing 'whoosh' sound of actually paddling through the water.
Because XTERRA fitness prides itself on making the fitness experience accessible to everyone, the ERG600W is fully adjustable to accommodate users up to 6'1" and 300lbs. It's comfortable and easy to use no matter your size and adjustments like the Flex Pedals let you get set up quickly so you can focus on getting the most out of your workout.
No review would be complete without touching on price, which can be an important point when you're trying to outfit your home gym on a budget. XTERRA products are among the more affordable, with list prices on their line of rowers ranging from $429.99 up to $1,499.99.  
The XTERRA ERG600W is in the middle of the pack price wise, listing at $999.99, but XTERRA also runs sales so if you shop wisely you can sometimes pick it up for as little as $799.99.
Among their other rowers, XTERRA offers three magnetic resistance models, which are the most affordable. These include the ERG200, which is available exclusively through Amazon and sells for $429.99. They also have the ERG500 air rower and the top of the line ERG700 air & magnetic rower which offers 16 levels of resistance and carries their highest price tag of $1,499.99.
Along with the XTERRA ERG600W water rower, XTERRA also offers the ERG650W, which is a bit pricier, listing for $1,399.99.  It amps up the water resistance by tilting the water tank at a 45 degree angle for an increased range of 16 resistance levels. It has a slightly larger 5.6" LCD monitor and the advanced console calculates performance measurements like drag force and watts as well as providing 15 programmable modes to give you plenty of room for motivation.
Despite being a step down in technology, the XTERRA ERG600W water rower doesn't give up a thing in terms of performance. You can get a full rowing experience with plenty of programs to challenge you and keep you moving forward as you enjoy the feel and sound of natural rowing on the water.
How Does the ERG600W Compare to Other Rowers?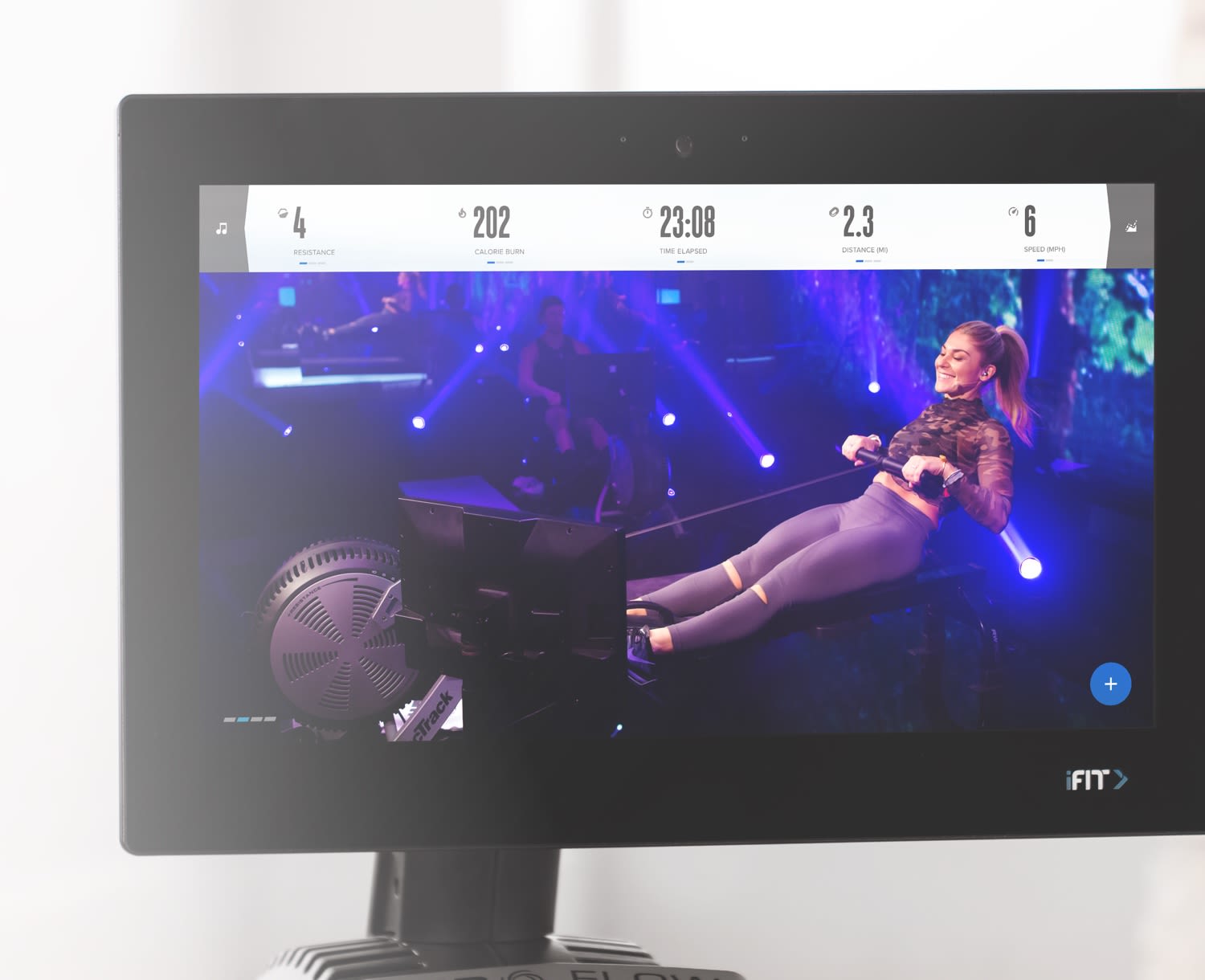 Shopping for a rowing machine can be a bit intimidating as there is a myriad of models to choose from, so it makes sense to consider how the XTERRA ERG600W water rower stacks up against the competition.
At $999.99 retail, the XTERRA ERG600W is in the middle of the pack price-wise. Most water resistance rowers have a slightly higher price tag, though you can find some affordable competition from names like Stamina and Sunny Health & Fitness.
Sunny offers the most basic water rowers, with prices ranging from $919.98 for their SF-RW5866 model to just $487.99 for the SF-RW5809. They are all able to be stored vertically for space saving capability; two models include a water tank with a 60 degree tilt for extra resistance and the SF-RW5809 features dual water and magnetic resistance.
Stamina has three models of water rowers available, the Wave Water Rower 1435 at $649.00, the Stamina X at $1,099.99 and the Elite Wave Water Rowing Machine 1450 at $1,299.99.  Stamina rowers feature a convenient fold and store design that allows for easy storage when not in use and each includes free access to their müüv app, which provides personalized audio coaching and real-time feedback.
Concept2 retails for $900 and uses air resistance instead of water. The performance monitor connects via Bluetooth to a variety of apps including Concept2's own free app "ErgData".  It has an integrated device holder that lets you comfortably secure your Smartphone or tablet.  It comes with standard legs that provide a 14 inch seat height or taller legs that provide 20 inch seat height. The taller leg option is slightly more expensive at $1,050.
Retailing for $1,599, the NordicTrack RW 900 features a 22" HD smart touchscreen display with an adjustable angle and SMR Silent Magnetic Resistance with 26 coach controlled resistance levels. A 30 day iFit family membership included with the rower provides access to interactive personal training and the innovative SpaceSaver design allows the rower to fold up for easy storage.
At the higher end of the spectrum are brands including Ergatta, Hydrow, Aviron and Cityrow. Each features the full on 'connected' workout experience with large touchscreen monitors and apps that provide everything from trainer led sessions to real time virtual water workouts at locations around the globe.
Cityrow offers two models, the Max and the Classic, both of which are built with sustainable wood, feature water resistance and can be stored vertically for convenience.  The Max, which retails at $2,195, also has a 19.5 inch sweat resistant touchscreen that rotates for optimal viewing. The Classic, at $1,495, allows you to connect with their app on your own phone or tablet. Their app has a variety of daily live classes with professional trainers as well as a huge on-demand library.
The Ergatta is comparable at $2,199, with an additional membership at $29/per month, but it provides a unique approach to in-home workouts, combining the beautiful handcrafted cherry wood WaterRower with their gaming based workouts that use incentives and competitions to keep you motivated rather than live trainers.
Hydrow and Aviron are the top flight rowers and can be a considerable investment. Hydrow is priced at $2,295, plus an additional $38/month subscription fee that gives you access to their full range of live trainer led broadcasts and 400 pre-recorded river and studio sessions. It lacks the soothing sound and feel of water resistance but makes up for it with computer controlled electromagnetic resistance. It is designed to be sleek and attractive and can be stored vertically with the extra purchase of a vertical storage kit. 
The Aviron is a commercial rower that is designed for use in gyms and fitness centers but can also be used at home. Its $2,199-$2,499 price tag, depending on which model you choose, may put off all but the wealthiest customers but it does include plenty of features such as oversized, anodized aluminum rails for extra stability, 4-way adjustable foot pads, and a sweat proof touchscreen. This model is not foldable but does have two front wheels to allow for ease of movement. It requires an additional $42/month membership to access all of the workout content.
XTERRA ERG600W - Bottom Line
For anyone who wants to get the feel of rowing on water without spending an arm and a leg, the XTERRA ERG600W water rower is a great choice. It offers 6 levels of water resistance that are easy to adjust by just adding or subtracting water from the tank. The 16 impeller blades move smoothly through the tank to give you both the feel of paddling and the satisfying 'whoosh' sound that avid rowers love.
There are plenty of workout options to keep you motivated, including time and distance countdowns that challenge you to improve on your best times or a race against the computer mode that will encourage you to go all out for a more intense workout. You can track your pulse rate with a chest strap heart rate monitor, sold separately, and even check the time and room temperature at a glance.
The ERG600W is designed to fit users of all sizes, with easily adjustable Flex Pedals and a large contoured seat. No matter your size, age or fitness level you'll be able to easily get on and off and enjoy a true water rowing experience, then move it just as easily with the built-in wheels and store upright so it won't take over your whole house.
Water resistance rowing doesn't have to come with a giant price tag.  You can get a good, solid workout and plenty of natural, water based resistance in the comfort of your own home with the XTERRA ERG600W water rower.