Aviron Rowing Machine - A Game Changer?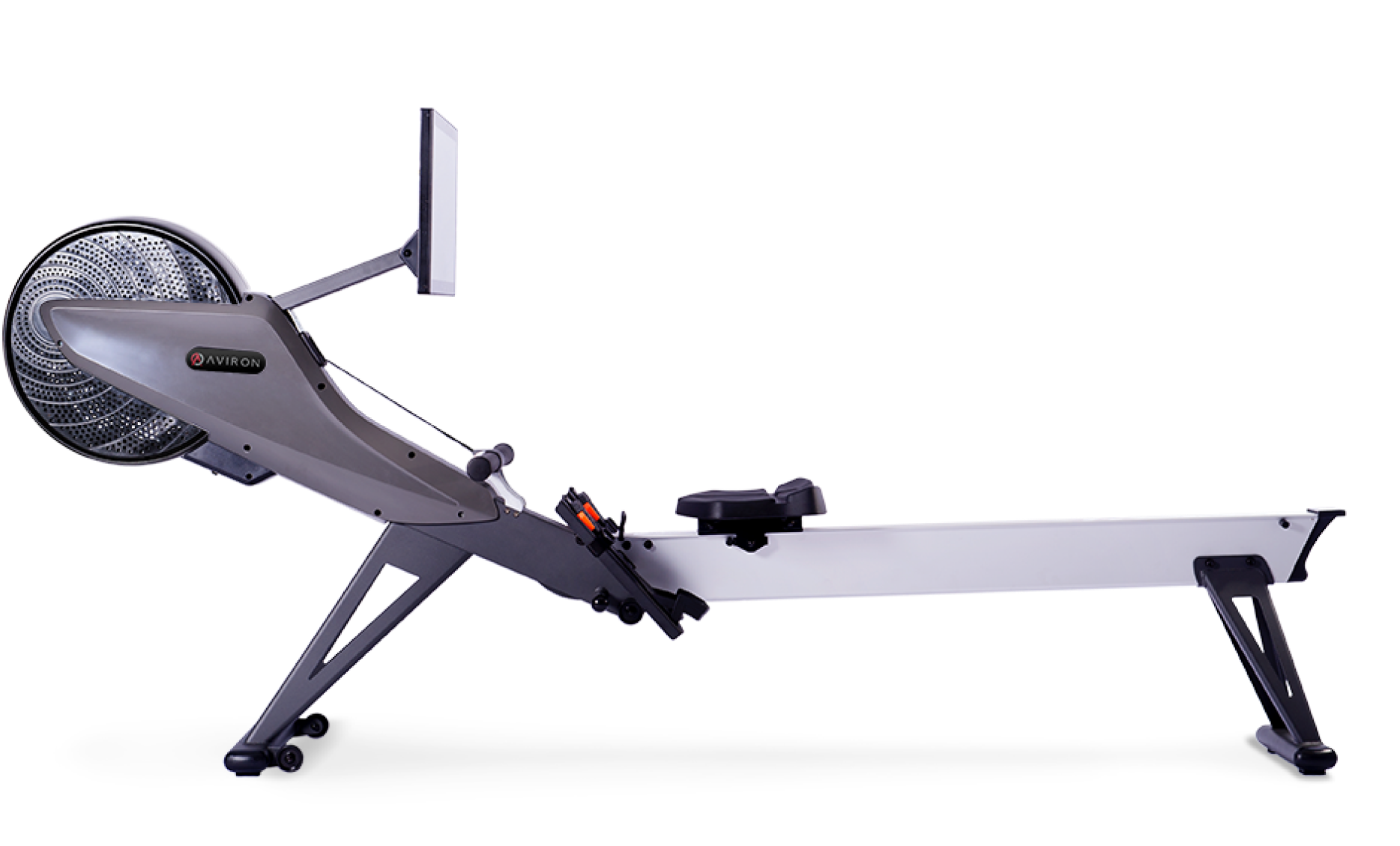 It's easy to get lost in the mix when it comes to choosing a rower, but Aviron has managed to stand out from the pack with its unique range of workout options.
Touting the ability to engage in everything from real world rowing sessions, to guided workout programs led by pro trainers and athletes Aviron starts out on a par with many of the other top names in rowers such as Hydrow and NordicTrack, but they add in a few unique options that no other brand today is offering.
The ability to participate in arcade style games, compete directly with professional athletes and Olympians, or use their "Power Play" option that combines gaming with guided programs is what makes Aviron the game changer among rowers.
Let's face it, one of the hardest parts of any workout is staying interested so you stay with it and this is where Aviron promises to make a real difference so we couldn't wait to find out for ourselves.
We'll start our review by taking a closer to find out what Aviron's machines are all about.
The Rower
Aviron Rowers have a tremendous record of customer satisfaction, with 9/10 customers reporting that they still use their rower 6 months after purchase.
To provide users with the ultimate workout, Aviron models include the following features:
   

22" HD Touchscreen, 4 GB Memory, 32 GB Storage, Android OS, Wifi 802.11 b/g/n/ac, Bluetooth 4.1, 2MP camera, 2x2 watt speakers

Diverse workout options: Virtual, Performance, Games, Pros vs. Joes, Guided Programs, Competition and Power Play

Dual Air & Magnetic Resistance with 16 levels

High strength steel & aluminum construction

Whisper Nylon Belt 

20" seat height for easy accessibility

 

Footprint: Impact – 97" x 21" x 43"; Tough – 98" x 21" x 44"

Stored dimensions: Impact series folds for easy storage.  When folded dimensions are 54" x 21" x 62"

Adjustable foot pad to shoe size for maximum comfort

Height/Weight Limit: Impact – 6'7"/397 lbs.; Tough – 6'8"/507 lbs.

Weight: Impact – 97 lbs; Tough – 125 lbs

Warranty: 10 year warranty on the frame, 2 year warranty on moving parts

The Buzz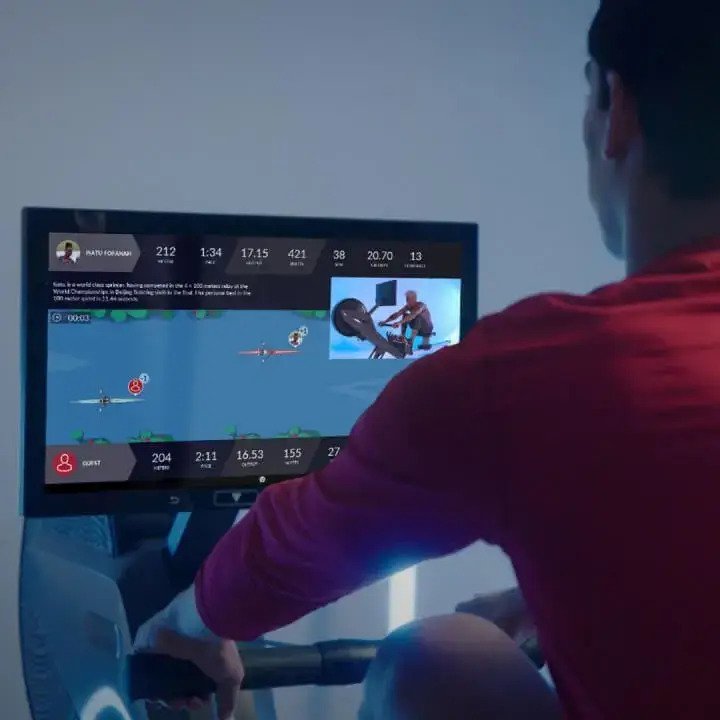 It's not surprising that rowing machines have become one of the most popular types of exercise equipment, ranking right up there with cycles and treadmills. Rowing is recommended by most experts as the perfect full body workout experience, allowing you to train both the upper and lower body together.
The next logical step was combining the physical advantages of rowing with interactive technology to bring a new level of excitement and competition to your workout. It's all about keeping you engaged mentally while you train your body so that you can get the most out of your workout experience.
With that goal in mind, it was hard not to be drawn in by Aviron's high gloss, ultra tech approach, so we were eager to see it for ourselves.
Aviron has two series, the Impact and the Tough.The Tough series is designed primarily for commercial use in gyms and other facilities and includes a couple of extra features that the Impact doesn't have but both models allow for complete access to Aviron's many workout options through a membership with a $29 monthly fee.
Both series of Aviron rowers have the same sleek look and are built for comfort, with a 20" seat height and adjustable foot pad that can easily accommodate any shoe size. The Tough series also has a lower 10" frame  and allows for adjusting the width between feet, hips and legs based on height/body type to allow for maximum range of motion. 
One of the features we found most enjoyable on Aviron rowers is their commercial grade whisper nylon belt. Operating at just ~60 decibels, which is comparable to conversational volume, Aviron rowers are among the quietest of all brands and move quite smoothly.
Among the features that are exclusive to Aviron are its best in class resistance that can go up to 100 lbs. as well as patented auto-resistance change. Aviron rowers have dual air & magnetic resistance with 16 levels that let you individualize your workout.
The first 10 levels are the air resistance, which allows you to mimic the smooth on-the-water feel of real world rowing. The final 6 levels are the magnetic resistance, which allow for strength training exercises such as bicep curls, back rows or triceps extensions. 
You can either adjust the resistance manually using the touchscreen or let Aviron's AI automatically adjust your resistance to meet your individual needs so that you can focus on your workout.
The spacious 22" HD monitor on both series helps to bring your workout to life and with Aviron's unique workout options there's something to engage every member of the family. 
For just $29/month all users can enjoy Aviron's unique selection of gaming and competitive workout options. 
Along with the monitor, Aviron rowers have 4 GB memory, 32 GB Storage, Android OS, Wifi 802.11 b/g/n/ac, Bluetooth 4.1, 2MP camera,  and 2x2 watt speakers to maximize your interactive experience.
Of course, where Aviron really stands out is its range of workouts. There are 7 different types of workout you can choose from including:
Competition – take your workout to the next level by competing against other members of the community.  You can go head to head with one other competitor, opt for a 10 person Grand Prix race or a Lap Knockout. The options are almost endless and you can track your progress in the leader boards.
Performance – a series of data-driven workouts that help you burn calories while building and toning muscles. With these workouts you can learn the proper techniques as well as tips and tricks for improving your form and build on your previous high records.
Games – outrun hungry wolves, outswim sharks and escape from zombies in a range of exciting games that go from old school Atari to the latest in cutting edge graphics.  It's literally like entering a video game and the perfect way to keep your workouts fun and engaging.
Pros vs. Joes – really challenge yourself by taking on pro athletes and Olympic competitors head to head.  You can go up against everyone from MMA fighters and boxers to football, hockey and baseball players, world class sprinters, Olympic snowboarders and skiers and of course Olympic rowers. 
Guided Programs – designed by pro athletes and trainers, Avirons guided programs help you get a full body workout both on and off the machine.
Power Play – this exciting option lets you combine the visual excitement of games with guided programs as you earn points in a race toward your fitness goals. 
Virtual – enjoy a scenic ride through some of the most beautiful, picturesque destinations across the globe.
The addition of gaming and competition options really does take working out to another level. Both features are exclusive to Aviron and the ability to lose yourself in a game or invite friends to a race or simply workout alongside a friend are terrific ways to beat the boredom which can turn so many people away from exercise.
Aviron also offers a wide range of social features, including global and friends leaderboards, monthly challenges, achievement badges and group workouts that can add to the fun and make every workout experience feel fresh and exciting.
On the practical side, Aviron's Impact series features a patented folding structure and 4 wheels that make it easy to move and allow it to be stored upright on its own. The Tough series does not fold but it does have 2 front wheels that allow for easy movement.
Aviron also offers several extras, including a rower mat and a lumbar support kit that is only compatible with the Tough series and allows extra support for the active aging, those in assisted living and anyone with lower back concerns. 
Aviron has certainly staked its claim on the market with a focus on engaging both body and mind. Geared toward providing short, fun workouts their machines are designed to help keep you motivated so that you can get the most out of your workout. 
How Do Aviron Rowers Compare With Other Interactive Machines?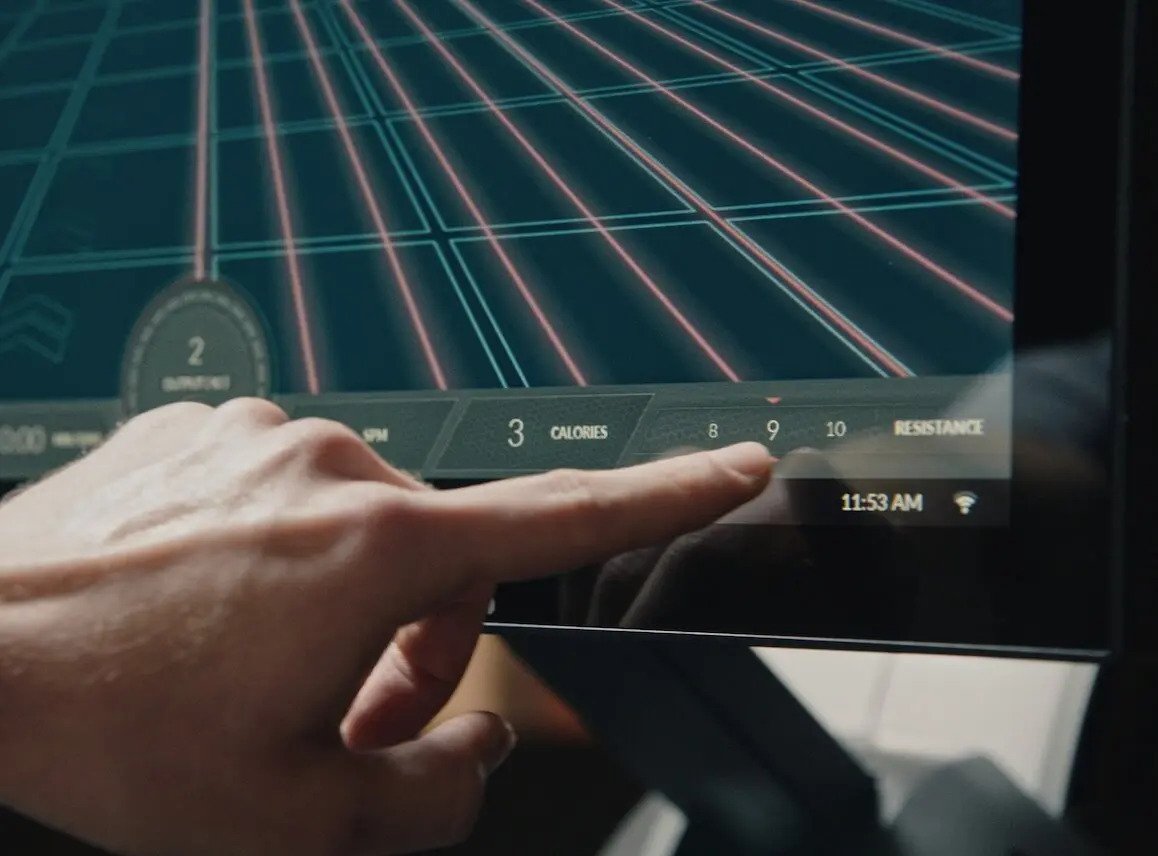 While Aviron certainly offers a unique experience that combines gaming and competitive options, they are hardly the only choice when it comes to in-home rowers. Before you opt to spend a little more for Aviron, it would be worth your while to consider how they stack up against some of the other higher end models.
Names like NordicTrack, Hydrow, Ergatta and CITYROW also offer an upscale interactive experience. Each has rowing machines equipped with monitors and the ability to access a variety of different workouts. Some have the ability to fold for easy storage, while others put the emphasis on aesthetics.
Like the Aviron models, the NordicTrack RW900 has a 22" HD smart touchscreen display but it also includes an adjustable angle. It has SMR Silent Magnetic Resistance with 26 resistance levels but all of its resistance is coach controlled.
NordicTrack provides interactive personal training with an iFit membership that sometimes includes a one year free trial. Like Aviron's Impact Series, it also has an innovative SpaceSaver design that allows it to fold up for easy storage.
The Hydrow Rower advertises itself as a state-of-the-art machine that will transform the way you work out.  It has a sleek look with an aluminum and steel frame and flat anthracite polymer body.  It is not foldable but it can be stored vertically with an additional vertical storage kit so it takes up less room in your home.
Its one piece nylon belt and computer-controlled electromagnetic resistance allows for nearly silent operation. It has a spacious 22" HD touchscreen that is also sweat and dust resistant for extra durability.
With an extra $38/month subscription, you can access Hydrow's full range of programs including live workouts led by actual Olympic athletes as well as over 400 pre-recorded river and studio rowing sessions.
The more affordable Ergatta offers water-based resistance for the genuine feel of real world rowing. With an additional membership of $29/per month you get access to hundreds of workouts with unlimited profiles as well as a first-of-its-kind gaming based workout experience to add another level of fun to your exercise routine.
The Ergatta also features a beautiful design with replenishable and USA-sourced cherry wood for a look that will enhance any home décor. It has a smaller 17.3" monitor that is set on a collapsible arm.
Another brand known for its design aesthetic is CITYROW GO, which offers the Max and Classic models. Both feature a smaller footprint than most other machines, helping them to fit easily into any size home. Their unique look includes sustainable wood and the WaterFlywheel, which makes these rowers as beautiful as they are functional.
The Max includes a 19.5" sweat resistant touchscreen which rotates for optimal viewing both on and off the machine. It has Bluetooth connectivity for all of your enabled devices and an all-in-one multisensory experience. The Classic has no screen but it does have a mobile device attachment arm that allows you to access live streamed data on your smart phone or tablet.
With their mobile app you can participate in a wide range of classes, metrics and more for a totally interactive experience. Classes are led by some of the best trainers in New York City and include Recovery, HIIT, Strength and Yoga for a full spectrum workout. 
Aviron Rower Pros & Cons
Here is a brief overview of the pros and cons of the Aviron rowing machine.
Pros:
Whisper nylon belt 
Best in class air & magnetic resistance
Large 22.0" monitor
7 engaging workout options, including unique arcade style games and competitive workouts that let you go head-to-head with world class athletes
Cons:
Assembly required, though it only takes up to 60 minutes
Tough Series does not fold for easy storage
$29 monthly membership fee
Expensive cost
Aviron Rower: What's the Bottom Line?
Overall, there is a lot to recommend the Aviron rowers.  The nearly silent operation, ease of storage and of course the extraordinary variety of workout options make for a great experience that puts the fun back into exercising.
The main drawback of the Aviron Rowers is the cost. The Impact Series retails at $2,199 while the larger Tough Series retails at $2,499. There is an additional monthly membership of $29 that allows you to access all of the workout options. 
For many people, the membership cost is well worth it as it allows you to access Aviron's guided programs, virtual rows and performance workouts as well as their unique arcade style games and competitive workouts that pit you against other users or world class and Olympic athletes.
Not only do their workouts let you stay on top of your stats and get the most out of your workout, they also keep your mind working at the same time.
We all know that boredom can be the biggest challenge when it comes to exercise and Aviron is all about keeping its users engaged. With the gaming feature in particular, this is a machine that will appeal to users of all ages.
There's no denying the advantages of rowing; it provides one of the only full body workouts that addresses every muscle group while also being low resistance so it's the perfect choice for older people and people with lower body issues.
It's easy to see how Aviron is quickly setting itself apart as the real game changer in the exercise world so it's definitely a name worth looking into.