CITYROW GO Rowers - Awesome Water Rowing Machines

The CITYROW GO Rowers are the latest entry in the emerging interactive workout marketing, joining Peloton, NordicTrack, Bowflex and other companies that provide on-demand and live classes in the privacy of your own home.
What separates CITYROW from the current pack is the fact that their machines use water resistance, as opposed to the air and/or magnetic resistance offered by the others.
Let's jump into our review to see what these new rowing machines are all about...
About the Company
CITYROW is a high-end boutique gym franchise with locations in California, Colorado, Florida,  Georgia, Iowa, Michigan, New York, Texas and Virginia.
They offer classes that are a mix of working out on the rowing machine and strength training dumbbell exercises off the rowing machine...kind of like Orange Theory, except there you're on a treadmill.
As an extension of the classes, they offer their water rowing machines for home use, so you don't have to go to one of their gyms to take advantage of these great low impact, high-intensity workouts.
There are new locations popping up all over, so by the time you read our review there may be more states on the list.
The Current CITYROW GO Lineup
CITYROW is currently offering two rowing machines for home use: the GO Classic and the GO Max. Both are very well designed and durable, just like the ones you'll find in the gyms.
Let's take a look at each one...
CITYROW GO Classic
The GO Classic is made of American Ash wood and black powder-coated aluminum and features a QuickStart monitor with Bluetooth connectivity that you can pair with your phone or tablet and use the app.
It's 85" long and 22.25" wide and weighs just under 100 lbs. when filled with water. The maximum user weight is 375 lbs.
You get a five year warranty on the frame, and three years on components.
The GO Classic currently costs around $1,495 on sale.
CITYROW GO Max
The GO Max is similar to the GO Classic, but comes with a more advanced 19.5" touch screen display that swivels for the perfect viewing angle. With the touch screen you don't have to use your own device...it all unfolds right in front of you.
Specs are the same as the GO Classic, but the touch screen adds another dozen pounds to the overall weight.
The GO Max currently costs around $2,195 on sale.


The CITYROW Workout App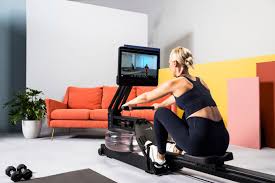 Regardless of which model you choose, you'll want to use it with the CITYROW app, which as we mentioned offers both live in studio and on-demand classes. You can even use the app on different rowing machines, including the Concept2 and WaterRower machines.
There are workouts off the machine as well, just like you get with Peloton, NordicTrack and others.
The CITYROW app usually comes with a two-week trial so you can give it a try and see if you like what it has to offer. After that it's $29/month or $348/year, similar to the monthly costs of other interactive rowing machines.
The list of classes is always growing, but as of our review they were offering Signature HIIT (high intensity interval training), Endurance, Strength, Yoga, Kinstretch and Cardio + Core. So there's a wide variety of workouts to choose from to keep things interesting.
Everything is tracked live in real time, including meters rowed, split time,  personal bests, total classes and minutes.
If you don't feel like doing an on-demand or live class, you can choose the Just Row option and just go at your own pace with your own program and even your own music.
How Do CITYROW GO Rowers Compare to the Competition?
Currently CITYROW doesn't have a direct competitor, as they are the only ones offering interactive water rowing machines with touch screens.
So looking at all interactive rowers, there are a few worth discussing. Hydrow is another relatively new offering, with computer controlled resistance as opposed to water.
The Hydrow Rower is also high-end and very well designed, with a slightly larger touch screen display than the GO Max and heavier weight.
The Hydrow is slightly more expensive than the GO Max at around $2,300 on sale, and the app is more expensive at around $38 a month. You get the same mix of live and on-demand workouts, scenic routes and off-rower yoga, strength training, pilates and more.
Another one to consider is Echelon, which offers two rowing machines like CITYROW...the Row and the Row-S, with and without a touch screen. They're a bit cheaper than the competition, at just over $1,000 for the Row and $1,600 for the Row-S.
Echelon membership is around $33 per month if you pay yearly, or $39 a month if you pay month to month.

There's also the Ergatta rower, which offers water resistance for a more real-life workout experience.
If you want to save a little money another great option are the NordicTrack rowing machines. They currently have three models starting from just $999, and you get a free year of their interactive iFit program...which has a ton of great workout options as well as the exclusive Google map integration.
After your free year the monthly rate is in-line with CITYROW and the other companies.
Is CITYROW GO Worth Buying?
If you're looking for a high quality home rowing machine that you can do live and on-demand workouts with, the CITYROW GO looks like a great option for you.
The GO Max is the only water resistance touch screen rower that we know of, so it's a unique experience. And the GO Classic was built to be used with the app, so either will be a nice addition to your home gym.
As we mentioned, the CITYROW app comes with a free trial, so you can see if it works for you. 
---