ProForm Rowing Machine Reviews - Affordable & Feature Packed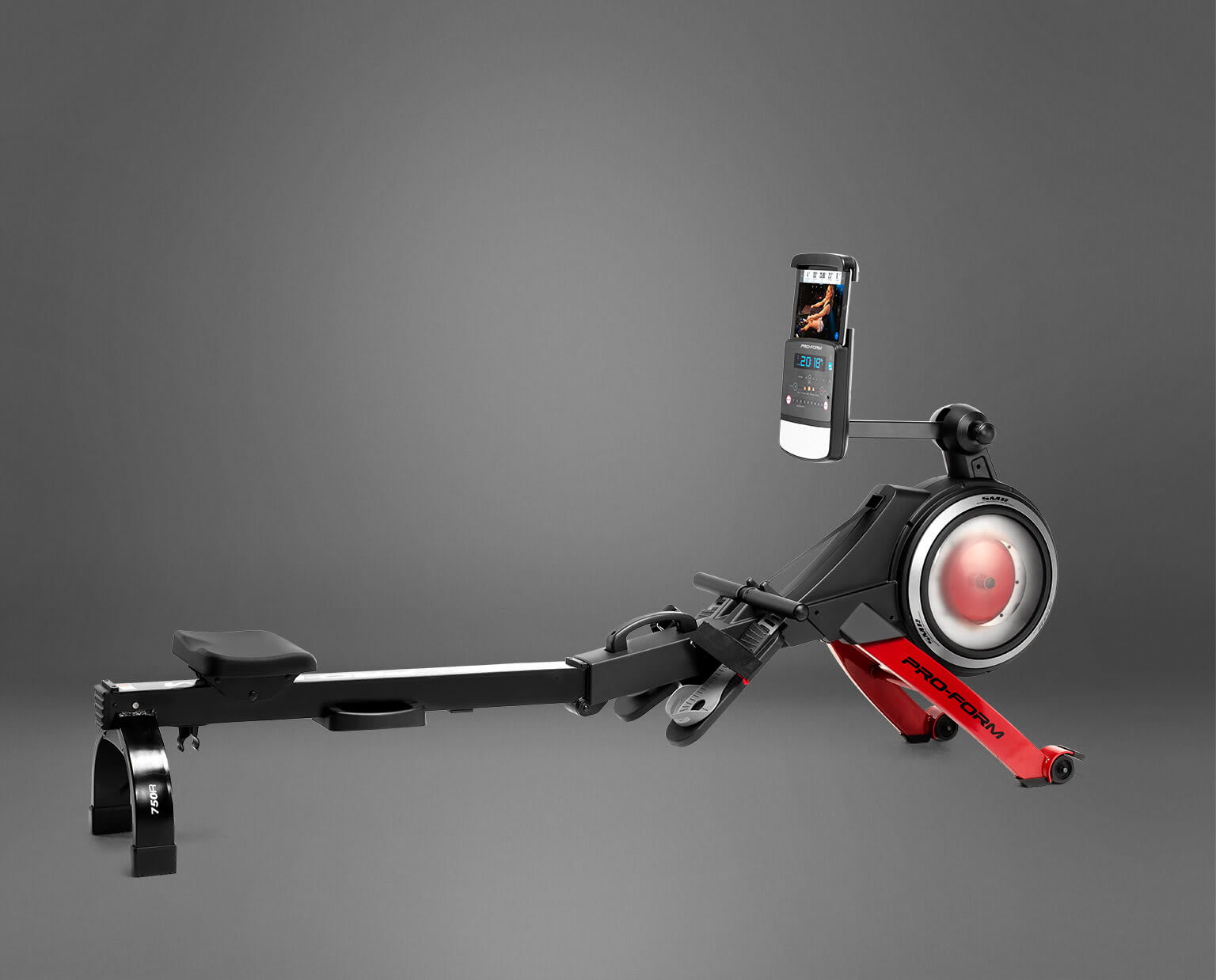 If you're looking for a rowing machine to add to your home gym, you'll definitely want to give a serious look at ProForm's offerings. These sleek machines are designed to provide a solid workout without costing you a fortune.
They may not have as many bells and whistles as the models offered by sister brand NordicTrack, but they are well designed with the home gym in mind.
Both ProForm and NordicTrack are produced by the same company, iFit Health and Fitness. While NordicTrack has gotten more press and has the bigger following, ProForm offers a solid workout option at a more user friendly price.
As of now, ProForm's line of rowers features two models: the base 750R and new Pro R10. Both provide the ability to tailor your workout to fit your needs and get the most out of your home gym experience. 
Let's get into our ProForm rower review to see what these machines are all about...
A Look at the Current Lineup
As we mentioned there are two choices when it comes to ProForm rowing machines...the base 750R and Pro R10 Rower. Let's take a look at all of these in depth...
ProForm Pro 750R
The ProForm Pro 750R is a recent addition to the rower line and takes the previous 440R (now discontinued) to the next level with enhanced features that can add new dimension to your workout experience.
Along with the comfort and easy mobility of the 440R, this model also features an adjustable tablet holder and comes enabled with iFit.
The unique iFit interactive program gives you access to personal trainers from all over the world as well as on demand classes. You can also use Google maps to access any location around the world and use built in features to track and share your workouts.
ProForm is even offering the 750R for about $200 more than the previous 440R, making it a better choice.
ProForm Pro R10 
The ProForm Pro R10 is the newest rower in the series, and although it shares many specs with the 750R, it has a unique color scheme, different flywheel styling and a more advanced 10" Smart HD touch screen monitor.
The Pro R10 comes free when you sign up for a 3 year family membership, but we're not sure how long that special offer is going to last.
OLDER MODELS
440R
The ProForm 440R is the basic model, ideal for anyone looking to get a simple rowing workout without a lot of extras. The big advantage to this model, as with the more advanced 750R, is that it can be used in both the traditional seated position or in a standing position as a low pulley machine.

This can allow you to do standing uprights and other workout motions which other rowers don't accommodate.
It features soft touch ergo handles and an adjustable cushioned seat to maximize comfort and its sleek design allows for easy movement and storage, making it fit in perfectly in any size home gym. 
It has a basic LED display you can use to track all your statistics but no built-in screen for accessing workout apps like many of the fancier models you find today. 
It does feature 8 different resistance levels, which can help to customize your workout.

How Do ProForm Rowers Compare to the Competition?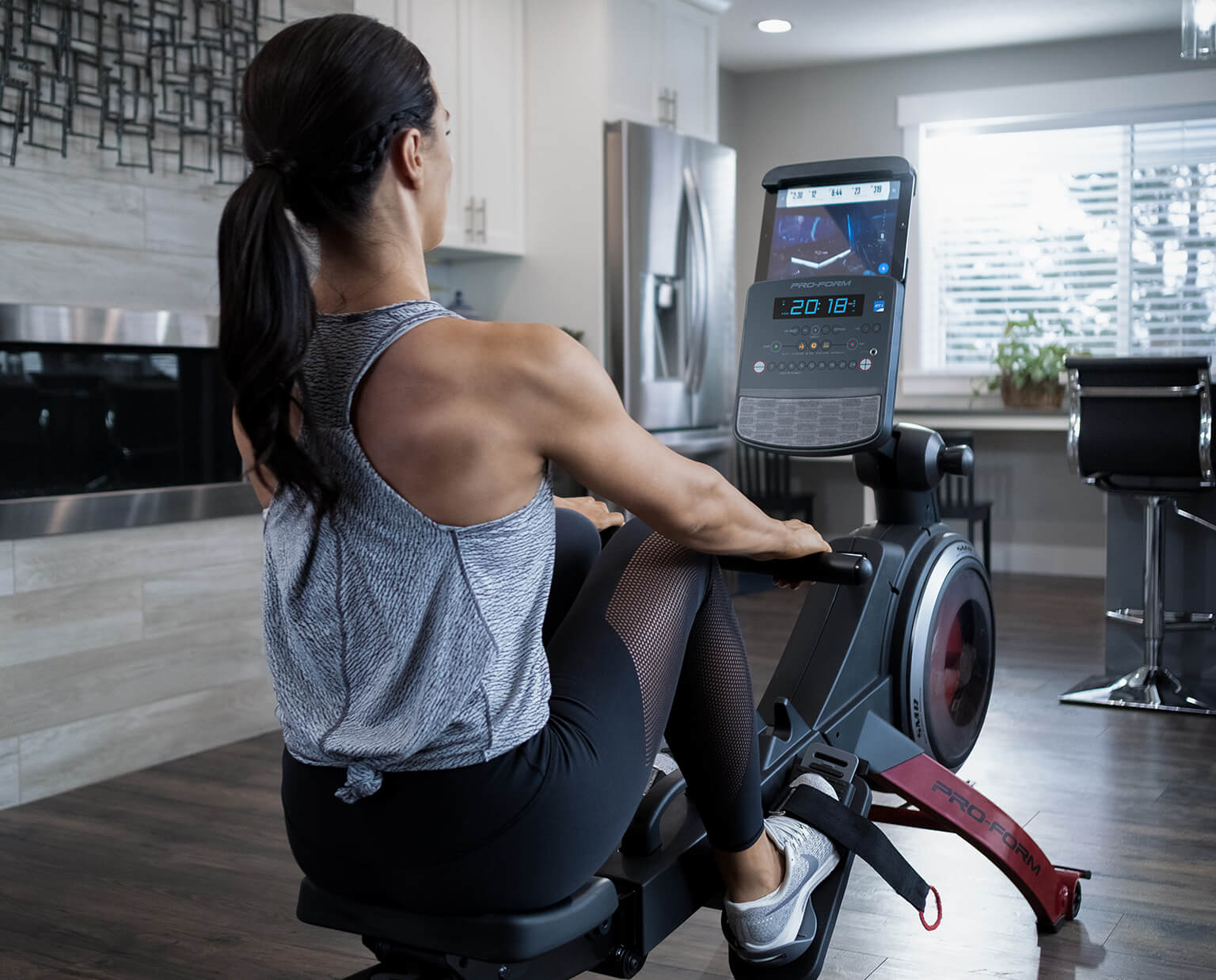 While they are certainly not considered top of the line rowers and don't have all the bells and whistles you'd expect on commercial machines, the ProForm 750R and Pro R10 are still excellent choices for a home gym, especially if you are a beginner just starting to get your feet wet as far as workouts are concerned.
They are competitively priced, with the 750R under $800 on sale and the top end Pro R10 currently offered for free with a roughly $39/mo. 3 year iFit family membership.
Despite being on the lower end of the market, both machines offer a reasonable 5 year warranty on the frame and a parts and labor warranty of 1 year for the 750R and Pro R10, which stands up to most other models on the market today.
So unless you are a very serious rower, or you are competing, ProForm rowing machines make a lot of sense for the home gym.
We would lean towards the upper models if budget is not an option, as the iFit program gives you a ton of extra workouts, tracking capability, Google maps around the world...it makes working out so much more enjoyable.
But if budget is an issue, the 750R is certainly worth considering as it won't break the bank.
ProForm Rowers - Bottom Line
Overall, we like the ProForm machines and user reviews have been pretty positive for the most part. It's important to remember that this is a basic line of rowing machines so if you're expecting a lot of fancy extras you'll want to look elsewhere.
But if you're just interested in getting a good workout in your home gym without spending a fortune, then either of the ProForm models are more than up to the job.

You won't get extensive extras with ProForm rowing machines but you do get comfortable ergonomic handles and a cushioned seat, an easy to read LED screen that allows you to keep up with all of your statistics and on the more advanced 750R and Pro R10 a tablet holder and access to the iFit program that includes a wide range of on demand classes given by live instructors around the world.
Serious rowers will probably want a sturdier machine with advanced tracking and workout options but for beginners or casual users, these machines are more than adequate.
Their light weight and built in wheels allow for easy movement and storage so you can literally use them anywhere with minimal effort.
For a great workout in the comfort of your own home that won't strain your wallet, ProFrom offers the perfect option for your exercise needs.