The ProForm Pro R10 Rower Takes Training to Next Level
Adding to the company's growing lineup of interactive cardio trainers, the ProForm Pro R10 rower becomes the new top-of-the-line rowing machine in the series.
With an advanced touch screen display, tons of resistance levels and iFit workout technology, it has just about everything you need to elevate your fitness training.
Let's take a closer look at this new model to see what it's all about...
The Rower
The Pro R10 is a sleek looking rowing machine, mostly blank with red accents on the supports. It has plenty of adjustability so you can get a comfortable fit, and it easily folds for portability with the attached transport wheels.
Here are the most important specs...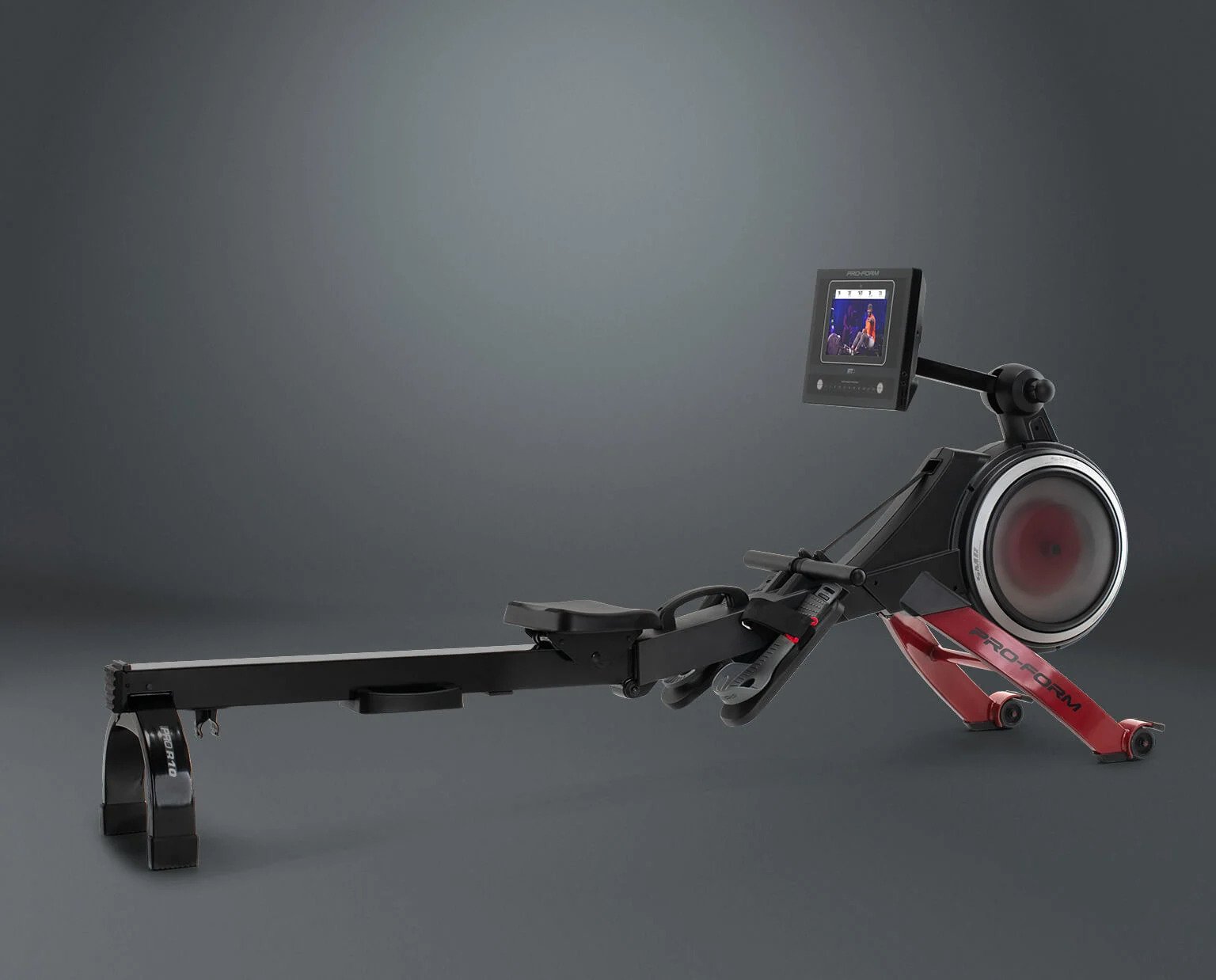 24 magnetic resistance levels
Unlimited iFit workouts
Multi position handlebars
SpaceSaver Design
Adjustable ergonomic seat
10" Smart HD touch screen
Dimensions: 45.5" x 22" x 86.5"
Machine Capacity: 250 lbs
Transport Wheels, Stands Upright for Storage
Warranty: 5 years frame; 1 year parts & labor
Get the Popular Rowing Machine on Special Sale Now

The Buzz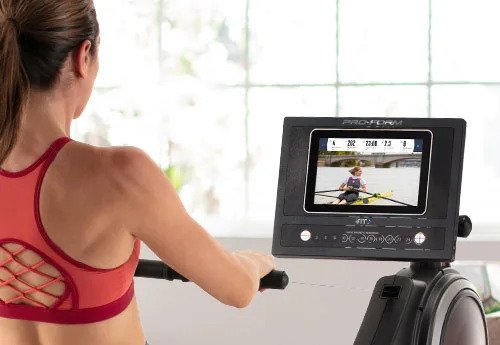 Cardio machines with on-demand and live interactive training are all the rage these days, and the ProForm Pro R10 rower offers that capability as well.
The Pro R10 is very similar to ProForm's other recently introduced rowing machine, the mid-range 750R, but this one takes it to the next level with a 10" Smart HD touch screen display, the first touch screen ever on a ProForm rowing machine.
This gives you more of a health club experience, and you can watch the iFit workouts right on the machine itself, rather than having to use your tablet like you do on the 750R and the entry level 440R rower.
For those unaware of iFit, it's a full suite of workout tools exclusive to ProForm and NordicTrack cardio machines, and it provides an endless library of on-demand workouts with professional trainers, as well as live in-studio workouts like Peloton offers.
You can choose a traditional indoor workout or venture outside with Google maps, which gives you the option to select any location in the world and it's as if you are actually there rowing in the water.
As far as the Pro R10 itself, it has an inertia-enhanced flywheel for smoother motion, up to 24 digital resistance levels that you can access with the touch of a button on the console, and plenty of adjustability in the handlebars and pedals.
You can fold the machine very easily after your workout with the SpaceSaver design and move it to a corner or anywhere you'd like with the front transport wheels.
As of this writing, the ProForm Pro R10 was actually free with a 3 year iFit family membership, so if that's still the case when you are reading this review, it's quite a good deal. Chances are you'll enjoy all that iFit has to offer, so you're getting the rowing machine at no cost.
Regardless, the Pro R10 is a very capable rower with everything you need for a solid workout. It's a welcome addition to the ProForm rower lineup, and a great option for the home gym.
How Does the ProForm Pro R10 Rower Compare to the Competition?
There isn't too much direct competition when it comes to residential rowing machines these days.
The closest competition is probably sister company NordicTrack (both are manufactured by ICON Fitness). NordicTrack offers the similar RW600, which is also relatively new and has a similar 10" Smart HD touch screen.
They also have an RW700 and RW900 with similar specs but larger touch screens up to 22". So those are definitely worth looking at as well.
Sole offers a solid machine as well in the SR500. Although it does not have a touch screen, it does offer a much higher maximum weight capacity of 515 lbs and the ability to make resistance changes on the handlebars for convenience.
The SR500 is also considerably less expensive at around $999 last we checked, so that's definitely a good option as well.
There are others in the game, but they don't really offer as much as ProForm, NordicTrack and Sole do...so if you're in the market for a well-priced home rower with a lot of features and capabilities, these are the three brands worth looking at.
ProForm Pro R10 - Bottom Line
We definitely like this new rowing machine from ProForm, as it gives you everything the popular 750R has along with the one thing that rower is missing, a touch screen display.
If you can get the current deal of a free machine with a 3 year iFit membership, definitely snap it up as it's a really great offer. But even if that's not the case, at under $1,500 the Pro R10 is well-priced, with more features and capabilities than you'll find elsewhere in this price range.
Take a look at the Pro R10 to see what you think. If you want to save a little money consider the mid-range 750R and base model 440R as well...both capable machines in their own right.
Get more info and special sale pricing on this rower here!