NordicTrack RW600 Review -  New Base Model in the Series
The NordicTrack RW600 is one of two all new models, joining the recently introduced RW700 and the existing top-of-the-line RW900 rowing machines.
The RW600 takes the place of the previous base model, the RW200, and improves on it in some impressive ways with a 10" Smart HD touch screen display and a free 1-year NordicTrack iFit family membership included in the purchase price.
That's a surprising level of technology and content from a relatively affordable model, a bonus for anyone looking to take advantage of everything NordicTrack is known for without breaking their budget.
Let's take a closer look...
NordicTrack RW600 - The Rower
The NordicTrack RW600 features an oversized steel rail, ergonomic molded seat, oversized pivoting pedals, adjustable nylon foot straps and a SoftTouch ergonomic handle.
Here are some of the most appealing specs...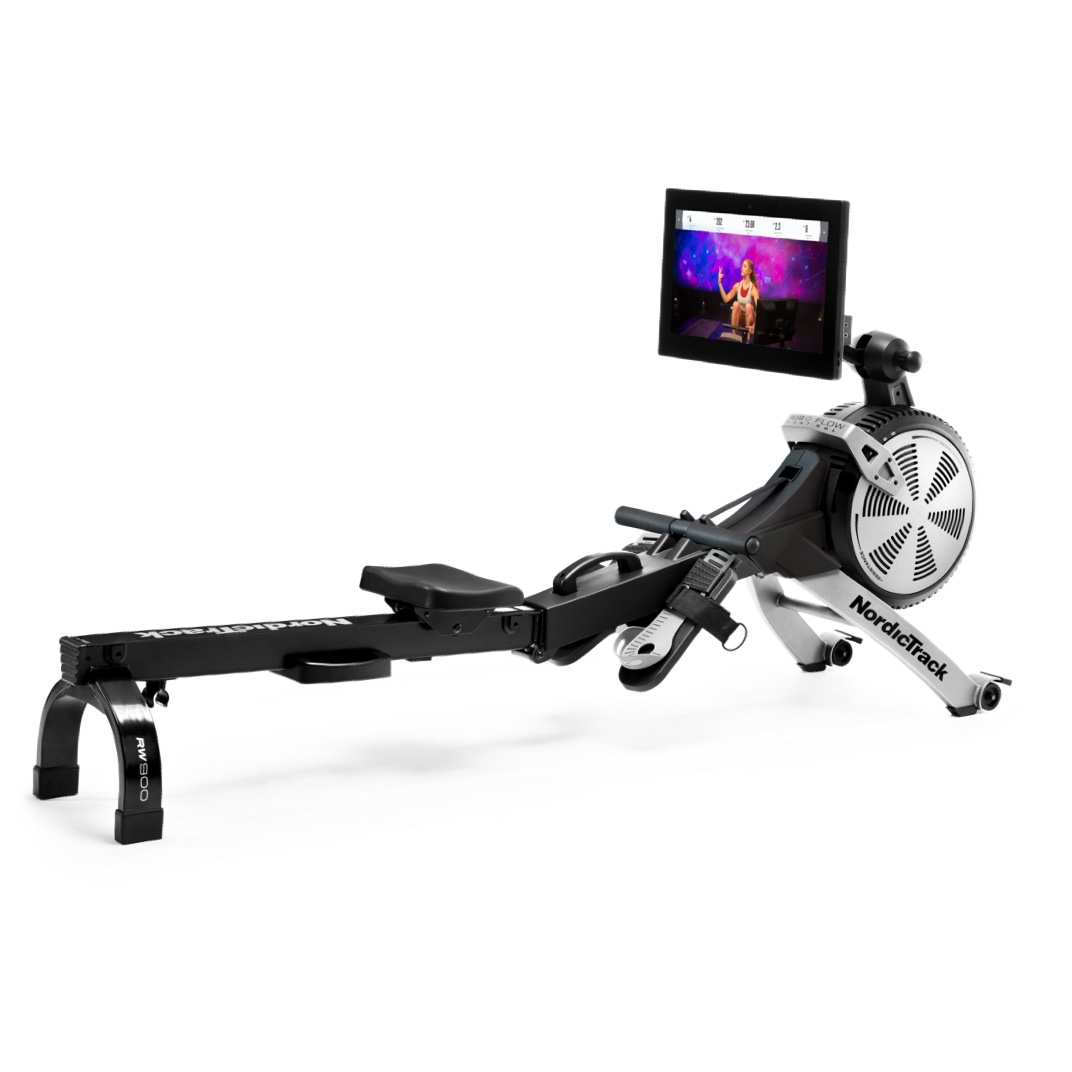 Smooth magnetic resistance

26 resistance levels
10" Smart HD touch screen
Adjustable console/seat
Pivoting, adjustable pedals
iFit technology (limitless workouts)
Dimensions: 87.02" L x 22" W x 47.24" H
Machine Capacity: 250 lbs
Transport Wheels, Stands Upright for Storage
Warranty: 10 yr frame; 2 yr parts & 1 yr labor

The Buzz
The NordicTrack RW600 is the second new release from the company...following in the footsteps of its big brother the RW700.  
Both are upgraded versions of the base and mid-level rowing machines in the series, the popular RW200 and RW500 models, which have both been discontinued.
The RW600 is the base model, featuring 26 digital resistance levels and a 10" Smart HD touch screen (the RW700 has a 14" touch screen, and the top of the line RW900 has a 22" touch screen), both of which represent a marked improvement from the RW200's basic backlit display and 24 resistance levels.
What it lacks in size compared to the upper level models, it makes up for with a surprisingly generous amount of content from the 1 year NordicTrack iFit membership that is included in the purchase price.
That's a big step up from most other rowers at this price level, which tend to have much less in terms of onboard workout options.
NordicTrack features one of the most comprehensive workout experiences with their iFit programming, which lets the user take advantage of on-demand classes led by professional trainers in studios and locations across the world.
The real plus with all of NordicTrack's models is the ability for the resistance levels to be automatically changed for you by your trainer as you follow along with the class. This lets you focus on your workout without having to worry about making any adjustments along the way.
The iFit program also provides a wide range of workouts, so you can go beyond rowing and do cross training, full-body sculpting and even yoga and mindfulness exercises off the rower for a complete workout other rowing machines can't duplicate.
Because NordicTrack realizes that variety is one of the keys to getting a good workout, iFit also allows you to choose from a wide range of real world locations via Google maps so every workout can be a brand new experience.
You can also get more out of your workouts by tracking your stats, so you'll know at a glance whether you're meeting your goals.
The ability to tap into the iFit programming is really the biggest advantage of the RW600, as most machines at this level don't have that kind of full workout experience.
The NordicTrack RW600 also comes with a number of features designed to maximize comfort, including an oversized steel seat rail, oversized pivoting pedals with adjustable foot straps, an ergonomic, molded seat and soft touch ergonomic handles.
Like all of NordicTrack's rowers, this model also features their innovative SpaceSaver technology, which allows it to fold vertically for easy storage.
For a base model rower, the RW600 offers a surprising amount of features, making it a great deal for the price.
How Does the RW600 Compare to Rest of the NordicTrack Rowers?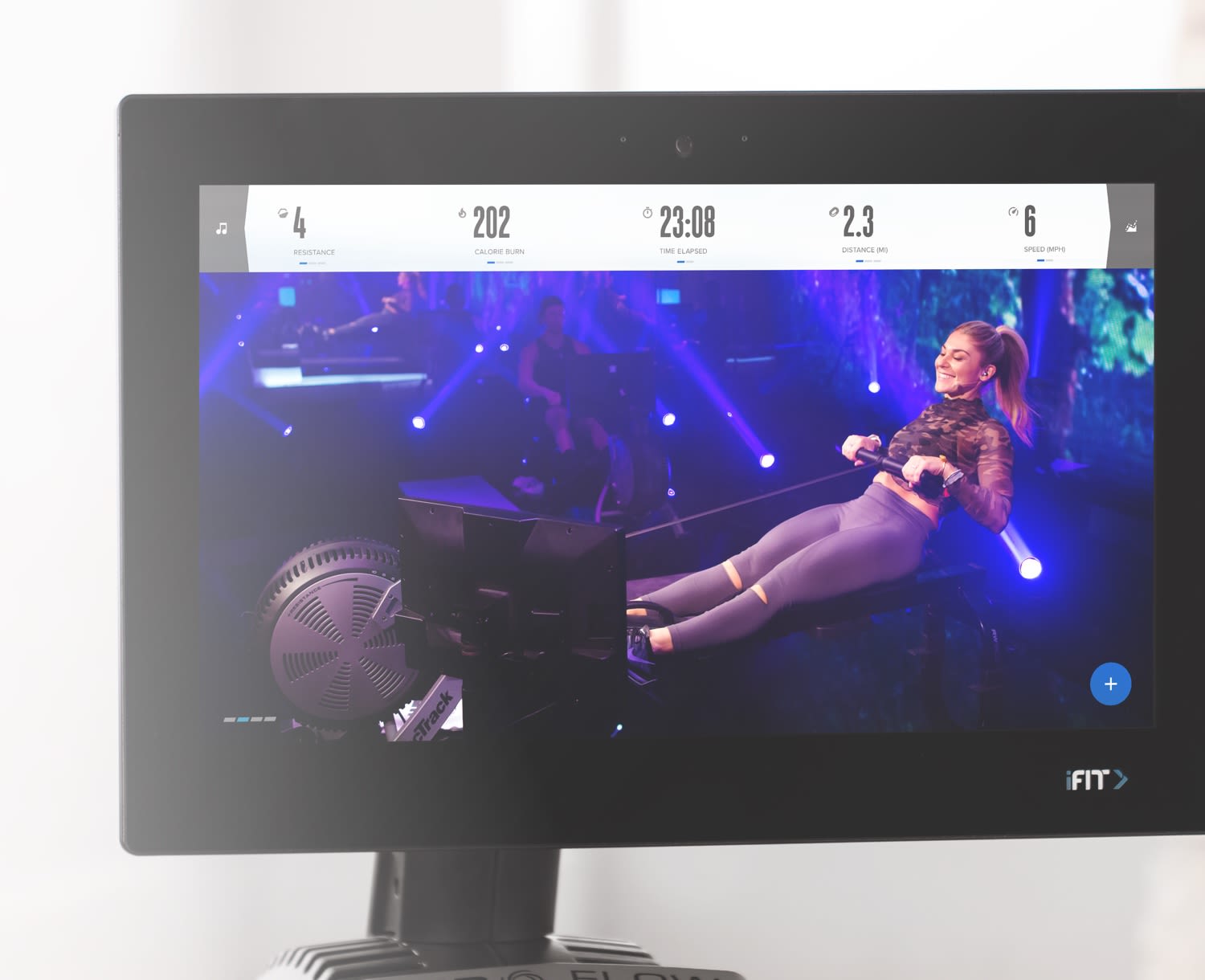 There are currently three NordicTrack rowing machines on the market: the RW600, RW700 and RW900.
All are very similar in terms of size and design and all fold for easy storage.  Each individual model has a considerable amount of functionality for the price, but there are some basic differences between the three that are worth considering.
A quick glance at all of the NordicTrack rowers shows how they compare to each other...
RW600
The base model comes with a 10" Smart HD Touchscreen, 26 digital resistance levels, 1 year of NordicTrack iFit membership, an auxiliary audio port, a 250 lb. user capacity and a 10 year frame warranty.
RW700
The mid-range model takes things to the next level with a 14" Smart HD Touchscreen, 26 digital resistance levels, 1 year of NordicTrack iFit membership, an auxiliary music port, a 250 lb. user capacity and a 10 year frame warranty.
RW900
The top of the line rower gives you everything the RW700 has, plus a 22" Smart HD touch screen.
So, overall, the three NordicTrack rowers have a similar look and feel, with the same basic design features for comfort and ease of use. These include the seat, the rail, the pedals, the foot straps, and SMR Silent Magnetic Resistance.
The real difference lies in the console, where the three models offer a 10", 14" or 22" HD Smart touch screen.
The prices range from about $999 for the base RW600 to about $1599 on sale for the top of the line NordicTrack RW900.  All three models include a 1-year iFit Membership for free as part of the price, which makes for a very good deal.
NordicTrack RW600 - Bottom Line
The new RW600 is a nice upgrade from the previous base model RW200, with an upgraded 10" touchscreen and a free one year iFit membership for access to NordicTrack's full line of professional workout options as well as an impressive range of resistance levels.
It offers a tremendous full workout experience, including access to on demand classes with professional trainers both on and off the rowing machine, either in studio or on location in a variety of places around the world. It's a great, affordable choice for those who want to improve their whole lifestyle.
iFit provides a variety of nutrition, exercise and sleep recommendations to get you into great shape and help you live your best life.
If you want a full workout with all of the features you'd expect from NordicTrack without stretching your wallet, the base model RW600 is really a highly recommended option.