The Hydrow Rower - Review of the Peloton Alternative
With so much buzz circulating around the Hydrow Rower we couldn't wait to try it out and see for ourselves whether this machine really lives up to all the hype.
It's a pricy rowing machine, but in line with the other high quality, interactive cardio trainers on the market today. So you should definitely consider whether or not it's worth the investment for you.
That being said, there is no denying the appeal of this model starting with the aesthetics. We all know that the workout you get is the most important thing, but a machine that actually looks good in your home gym is definitely appealing.
Nobody likes the idea of cluttering up your house with a big, clunky exercise machine so the sleek, aerodynamic lines of the Hydrow definitely make a big difference.
Of course there's more to it than looks, so let's get into our review and see what the Hydrow rowing machine is all about.
The Rower
The Hydrow Rower is touted as a state-of-the-art rowing machine designed to transform the way you work out.  
To take your workout to the next level, Hydrow includes the following features: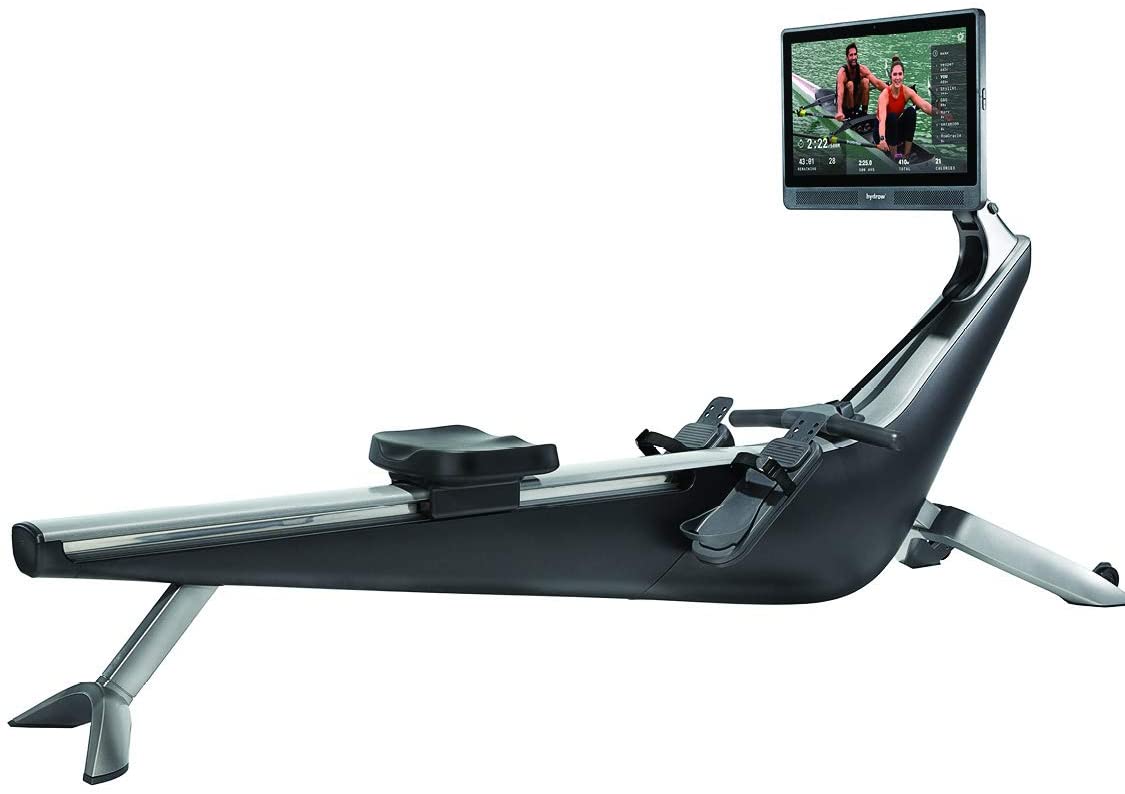 Live Outdoor Reality (LOR) experience
Diverse workouts: Live Rowing, Rows on Demand, Serene River Rowing, Whole Body
FitnessLow-stress handle grip with ergonomic design
Quiet, electromagnetic resistance that adjusts 240 times per second
Aluminum & steel frame with a flat anthracite polymer bodySoft rubberized feet to protect floors
1920 x 1080 Full HD screen resolution
Heart rate monitoring
10-roller seat roller system for smooth operation
25-degree monitor pivot in each direction
Footprint: 86.0" x  25.0" x 47.0" (floor to top of screen)
Stored dimensions: 25.0" x 33.0" x 86.0"
Weight: 145 lbs (assembled); 197 lbs (shipping)
Warranty: 18 months labor; 2 years on wear items, screen, and other electronics; 6 years on structural frame

The Buzz
UPDATE: In the Summer of 2022 the company introduced a brand new smaller version called the Hydrow Wave. Check out our expert review.
------------------------------
With at-home interactive workout machines gaining in popularity, it was only a matter of time before the industry that began with cycles and treadmills from names like NordicTrack and Peloton would branch out to rowing machines.
It's a natural progression given that rowing is recommended as a perfect full body workout experience, working 86% percent of your muscles, unlike cycling which focuses primarily on the muscles of the lower body.
Given the advantages of rowing, combining that workout with the interactive technology that gives you access to a wide range of guided classes, free row experiences and even competitive opportunities was practically a no-brainer. The end result is one of the most engaging, enjoyable and effective workout experiences that you can have in the comfort of your own home.
Into that arena steps the Hydrow Rower, designed specifically to take your workout experience to the next level. Not only is it sleek and attractive, it's got front wheels that make it easy to move.
Aside from the looks, the Hydrow Rower is also built for comfort to ensure that you get the most out of your workout. That includes everything from a comfortable seat and ergonomic handle to plenty of space allowing users up to 6'6" to complete a full rowing stroke, something that many lower cost rowers don't accommodate.
The footrests can also be easily adjusted to fit any shoe size, allowing users of all sizes to enjoy a workout in maximum comfort.

One of the areas where the Hydrow rowing machine really stands out from the pack is its nearly silent operation, achieved with a combination of the computer-controlled electromagnetic resistance and the nylon belt drive system.
The one piece nylon belt, similar to the seatbelt in your car, moves much more smoothly and quietly than the chain-driven systems on most rowers and coupled with the 10-roller seat roller system makes for ultra smooth operation.
The computer-controlled electromagnetic resistance is touted by Hydrow as "the closest thing to being on the water". This isn't technically true, as air or water resistance actually gives you more of the natural feel of paddling in water.
That said, the resistance of the Hydrow is really very good and makes for extremely quiet operation. Resistance can be easily adjusted by sliding a "resistance bar" on the touchscreen and it will also be automatically adjusted during some of the rowing sessions.
Of course when you're talking about interactive workout experiences the main focus is on the monitor and the onboard programming. In this area, the Hydrow does not let you down.
The spacious 22" HD monitor makes for a truly immersive experience. Whether you're taking instruction from one of the trainers or enjoying a free row in a beautiful, natural setting, it feels like you're right there in the middle of the action.
Not only is the monitor spacious, it's also sweat and dust resistant and it swivels so that you can get the perfect angle for floor workouts as well as when you're using the machine itself.
It has powerful, front-facing speakers for clear, crisp sound but one of the drawbacks we found was an inability to adjust the volume of the background music on some of the workout programs, which can sometimes drown out the trainers' instructions.
With full Bluetooth capability you can track your heart rate with monitors like the Polar H7 or Wahoo TICKR and the built-in stats let you track your strokes per minute, calories, time, 500m split, avg split and more. You can also connect your Bluetooth headphones for an even quieter, more personal experience that won't disturb anyone else around you.
While all of these Bluetooth and WiFi capabilities are great, you can't really get the full workout experience without a membership subscription, an additional expense that adds to the already extensive cost of the Hydrow Rower.
The subscription, at $38/month, gives you access to live broadcasts as well as over 400 pre-recorded river and studio rowing sessions and it allows for unlimited user profiles so every member of your family can enjoy their own personalized workout.
This is another area where the Hydrow Rower really stands out. Unlike most rowing machines that provide guided workouts led by trainers, Hydrow has actual Olympic athletes providing expert guidance and motivation. You can even track your progress in comparison to other users for a competitive feel that gives you an extra push to achieve your best results.
The Hydrow rower can be stored vertically to take up even less room in your home or apartment, though Hydrow suggests purchasing an additional vertical storage kit to facilitate this feature.

Assembly can be a bit of an issue, since the weight of the parts requires two people to put it together. With help, assembly only takes about 30 minutes and then all you need to do is plug it in and connect to WiFi and you're ready to access everything this model has to offer. 
Unlike most exercise equipment companies, Hydrow is an up and coming name in the business with only one product, so they have a unique focus on producing the industry leading rowing machine. To that end, they are continually developing and refining their machine, adding more workouts with each software update and making other subtle changes to improve your workout experience.

How Does the Hydrow Rower Compare With Other Interactive Machines?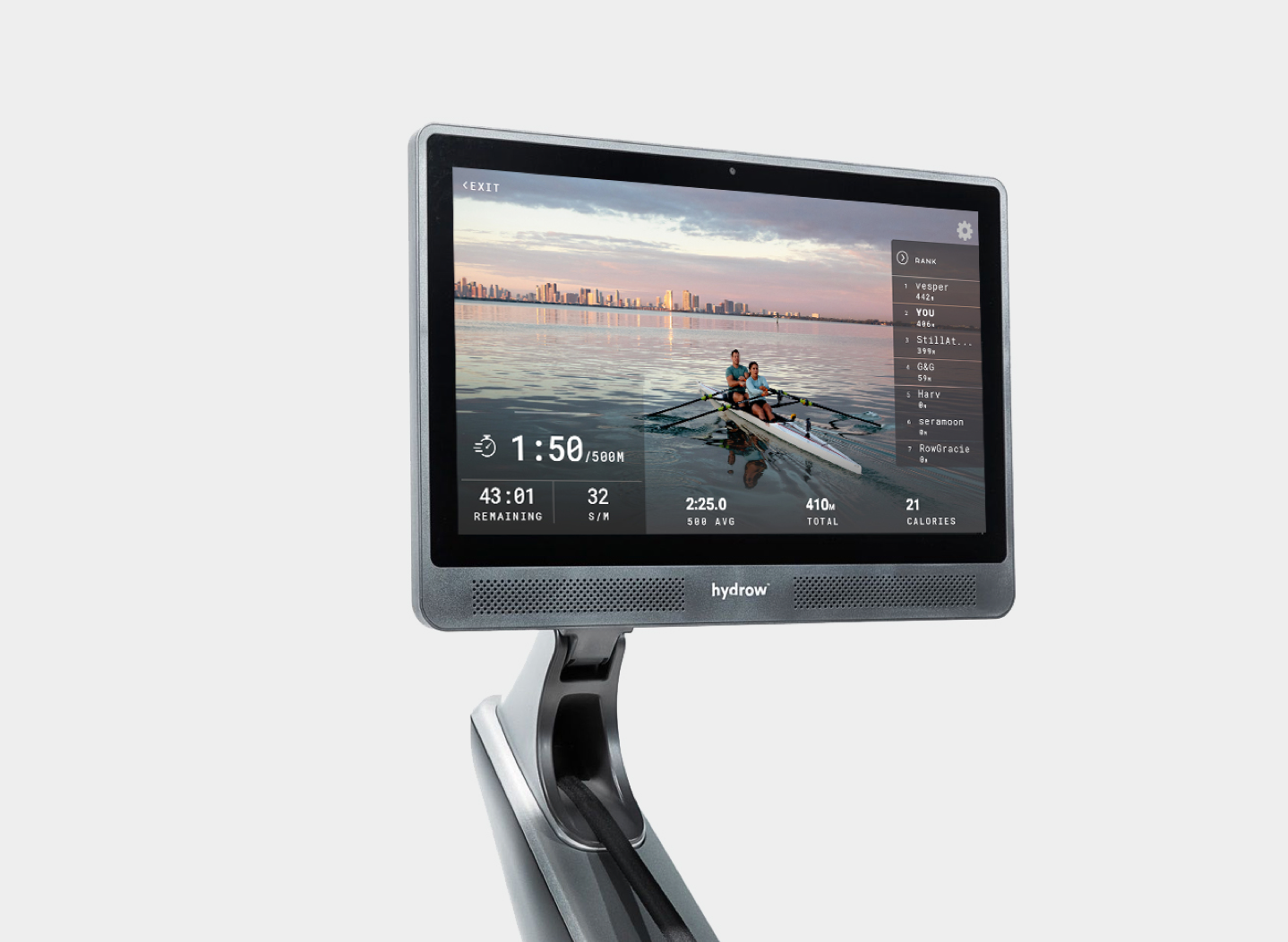 Clearly the Hydrow Rower is positioned at the top of the scale when it comes to rowing machines, with much more to offer than the lower end, more generic models. But it isn't alone on the market in terms of the interactive workout experience, so it's worth taking a closer look to see how it stands up to some of the other higher end models.
Names like NordicTrack, Aviron and Ergatta also offer an interactive experience with rowing machines equipped with monitors and the ability to access a variety of different workouts. Some have the ability to fold for easy storage, while others are designed specifically to fit in with your home design for a more aesthetically pleasing look.
The NordicTrack RW900 has a 22" HD smart touchscreen display with an adjustable angle and SMR Silent Magnetic Resistance with 26 coach controlled resistance levels that can mimic real life water resistance.
Interactive personal training is available with an iFit membership that is sometimes included free for one year so you can try it out. The main difference with this model is the innovative SpaceSaver design that allows your rower to fold up for easy storage after each use.
The Aviron Rowing Machines are commercial rowers designed for use in gyms and fitness centers but can also be used at home. There are two models, the Impact and the Tough, with several features designed to accommodate regular use by a wide range of body types, including oversized, anodized aluminum rails for extra stability, 4-way adjustable foot pads, and a sweat proof touchscreen.
This models are not foldable but do have two front wheels to allow for ease of movement. They require an additional $29/month membership to access all of the workout content.
The Ergatta Rower is slightly less expensive than the other interactive models and offers water-based resistance but it also requires an additional membership at $29/per month. For this membership fee you get access to hundreds of workouts with unlimited profiles as well as a first-of-its-kind gaming based workout experience to add another level of fun to your exercise routine.
The main draw of the Ergatta, though, is its beautiful design. It is made from replenishable and USA-sourced cherry wood for a look that is meant to enhance your home décor. The monitor, set on a collapsible arm, is only 17.3" as compared to the larger monitors of the other models.
UPDATE: There's a new competitor out there...check out our CITYROW GO review here. Also a new Peloton rower has just been released!
Hydrow Rower Pros & Cons
Here is a brief overview of the pros and cons of the Hydrow rowing machine.
Pros:
Quiet, electromagnetic resistance
Large 22.0" monitor
400+ rowing sessions led by Olympic athletes with membership
Updates and new workouts added with each software update
Quality build and comfortable rowing stroke for all size users
Sleek, stylish design
Cons:
Assembly requires 2 people
Heavy for one person to move
Ongoing membership fee
Expensive cost
Warranty in line with lower cost models
Hydrow Rower: What's the Bottom Line?
All in all the Hydrow rower is a great cardio machine...it's built well, designed well, and the interactive workout experience is great.
The only potential drawback of the Hydrow Rower is the cost. At $1,995 + the monthly membership fee, it may be out of reach for some people but there are some added perks if you order directly from Hydrow, including free standard shipping, at-home delivery and assembly.
However, as we mentioned the price is in line with other interactive cardio machines, and for some it's just what they need to motivate themselves to work out.
Look how popular Peloton is...sales went through the roof when the Coronavirus closed gyms and forced people to work out at home. As of this writing Peloton does not have a rowing machine, but we hear that it's in the works.
Also, for those interested in making an impact on the world, Hydrow supports Water.org and will make a donation allowing long term access to clean water for one person in developing countries for every 60 days rowed.
That can help to ease the overall strain of paying that sticker price, but it's still an expense that requires a lot of careful though before you commit.
If you do decide to take the plunge, there is a lot to be said for this model. The variety of workouts available provide something for everyone, whether you just want to take a relaxed ride down a beautiful river or want to get a more intense workout from one of the trainers.
 Rowing is a great exercise for everyone; it offers a full body workout for every muscle group and it is low resistance, making it ideal for older folks and those who have joint issues or other physical limitations.
With so much going for it, the Hydrow Rower can promise a pretty sizable return on your investment so overall we'd say it's well worth your consideration.