The Hydrow Wave – Bringing Rowing to Every Size Space
The latest offering from Hydrow, the Hydrow Wave, created a lot of buzz when it came on the market recently so naturally, we had to jump right in and find out what it was all about.
Like the company's other offering, the Hydrow Rower, it is sleek and attractive with lots of eye catching features but the real draw here is that is it designed to improve on the two main areas that keep most average exercisers from trying rowing: size and price.
Hydrow made some distinct changes to this model that make it noticeably smaller and lighter than the Hydrow Rower and, perhaps the biggest difference of all, it is $1,000 cheaper, making it a more affordable option.
Those are obviously going to be a very big draw, but do those particular changes really make that big a difference? That's what we wondered and after a closer look we weren't disappointed.
The Rower
The Hydrow Wave is advertised as a lighter and less expensive alternative to the original Hydrow Rower and it clearly delivers on both counts.
At 80" long, 19" wide and 43" tall, it does have a slightly smaller footprint than the Hydrow Rower's 86" x 25" x 47", which technically makes it a better fit in apartments and other smaller spaces though it still has some size to it.
At the same time, with a frame made of polycarbonate, the Hydrow Wave is much more manageable to move at just 102 pounds. The original Hydrow Rower, which has a stainless steel and aluminum frame, tops out at a much heftier 145 pounds.
Like its big brother, the Hydrow Wave also has front mounted wheels for easy movement and can be stored vertically with the use of a vertical anchor, which is a separate $190 purchase that adds a substantial amount to the list price.
Speaking of price, that's where the Hydrow Wave really makes the biggest splash, coming in at just $1,495 compared to $2,495 for the Hydrow Rower.
While that is still a pretty sizable amount to spend, especially when you consider that you also need to add in a $38/month charge for an All-Access Membership to get full use of all the features, it does bring it out of the stratosphere and make it more reasonable for the average user.
Continuing Hydrow's goal to make rowing more accessible, the Hydrow Wave includes the following features: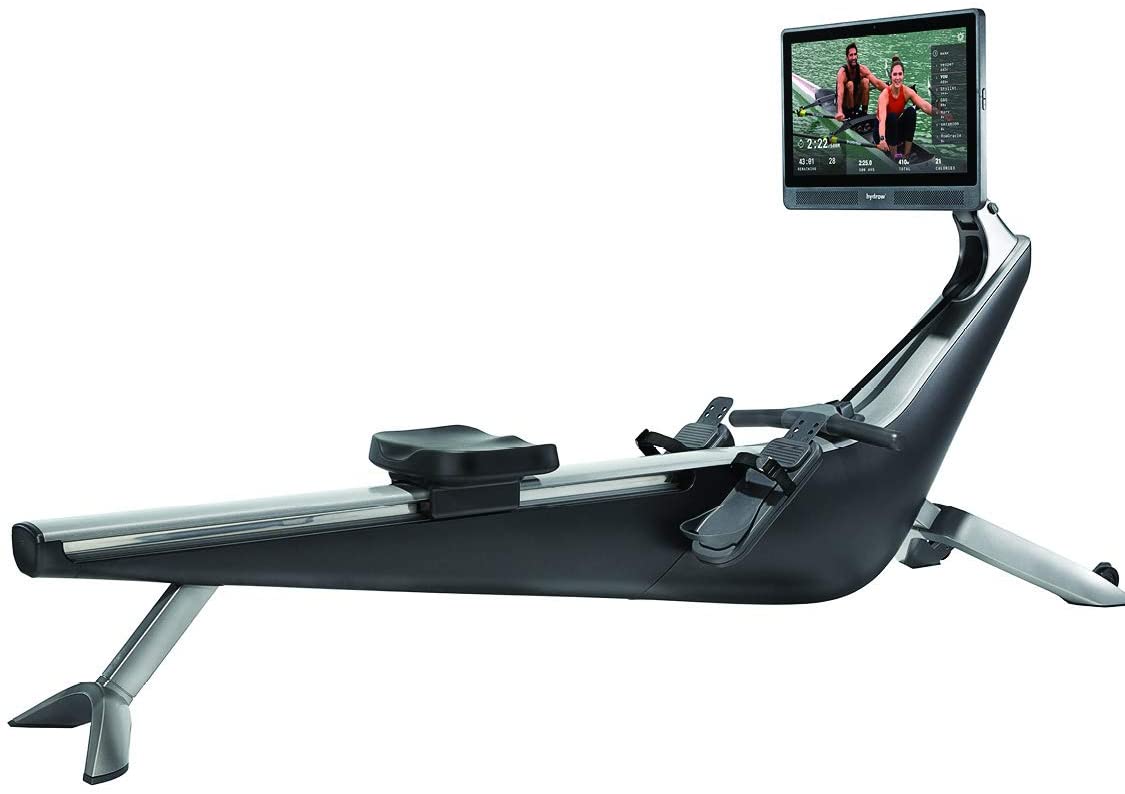 • Daily live workouts led by world-class Hydrow Athletes in scenic locations throughout the world

• 3,000+ on-demand workouts including rowing, Pilates, strength and conditioning

• Dynamic and responsive computer-controlled resistance

• Durable engineered thermoplasticpolymer frame with stainless steel seat track

• 16" PCAP 1920 x 1080 Full HD screen resolution

• Ergonomically designed seat cushion with 2-roller and 2-idler system for smooth operation

• Footprint: 80.0" x 19.0" x 43.0" (floor to top of screen)

• Stored dimensions: 26.5" x 30.0" x 82"

• Weight: 102 lbs (assembled); 128 lbs (shipping)

• Warranty: 5 years structure, frame & upright storage kit; 12 months components, screen & other electronics; 12 months labor

The Buzz
Rowing is known to be the perfect full body workout experience, the only type of exercise that works 86% of your muscles, yet it has still been relatively slow to take on among ordinary exercise enthusiasts.
That's likely due to the fact that while it's a terrific workout, it's not nearly as intuitive as running or cycling. That can make it somewhat intimidating. Add in the fact that many rowers can be big, bulky and expensive, and it can be difficult for many people to get their feet wet in the world of home rowers.
The folks at Hydrow were well aware of this stumbling block and that's why they have designed their machines specifically to make rowing more accessible for everyone. The Hydrow Wave is the latest step in that journey and it opens doors on many different levels to help you enjoy the benefits of rowing in the comfort of your own home.
As mentioned above, the main elements of the Hydrow Wave that make it more accessible are size and space. It has the sleek, attractive design we've come to expect from Hydrow in a slightly smaller footprint that helps it fit more easily into even the smallesthome workout space.
Despite its smaller and lighter design, the Hydrow Wave is built to accommodate users with up to a 36" inseam and up to 375 lbs., so it is comfortable for just about every family member. It also features a fully adjustable foot bed to allow users of all sizes to achieve correct foot placement, an essential for maintaining proper rowing form.
Like the earlier Hydrow Rower, the Hydrow Wave also features Hydrow's unique computer-controlled drag resistance, which gives you the "real water" feel without the bulk and inconvenience of a water resistance chamber.
While some people prefer the feel of air or water resistance, we found the Hydrow Wave to have a very smooth and quiet motion, making it quite comfortable to use and quiet enough not to disturb anyone else in the room.
Interactive Workouts Are a Big Draw
As with many types of exercise equipment on the market today, Hydrow is all about the interactive experience and that's another area where the Hydrow Wave really makes a difference for the beginning rower.
The Hydrow Wave requires an additional $38/month All-Access Membership that covers multiple users. With this membership you'll have access to a wide range of workouts, but more importantly novice rowers can start with a series of three beginner rowing lessons that help to ease you into the experience, teaching you the basics of proper rowing form and what all of the statistics on the screen mean.
Once you've gotten through those, you can ease into the rest of the over 3,000+ workouts in the Hydrow library, all led by world-class rowers and professional trainers. We loved the variety of their offerings, with everything from HIIT to strength and conditioning. You can even go "off machine" to enjoy yoga sessions and other mat training workouts.
To accommodate all this, the Hydrow Wave features a 16" HD monitor, which is slightly smaller than the 22" display on the Hydrow Rower but still perfectly comfortable to use. While you can adjust the display on the Hydrow Rower vertically and horizontally the Hydrow Wave display is fixed, though it does fold flat for storage. This makes it a little more difficult to make use of the mat workouts but it was still do-able.
The Hydrow Wave also has full Bluetooth connectivity and pairs easily with Bluetooth speakers and headphones. It can also sync to the Strava app to track and measure all of your progress, including heart rate.
In order to track heart rate, you'll need an additional monitor, like the Polar Verity Sense, which is another added expense but it's worth it to stay on top of your workout goals.
Along with the vast library of professional led workouts, the All-Access Membership also gives you plenty of other features to help keep your workouts enticing, including exclusive milestone rewards to celebrate your achievements, access to their live in-workout leaderboard and weekly racing challenges.
With access to the Hydrow app you can even take your workouts with you, with full access to their library of live and on-demand workouts as well as a full record of your stats wherever you go, so you never lose track of your progress.
Adding to its space saving design, the Hydrow Wave can be stored vertically so that it takes up even less room in your home or apartment, though that requires the additional purchase of a vertical storage kit.
Hydrow has positioned itself at the forefront of rowing, as they saw the growing trend toward this whole-body exercise technique. With that in mind, unlike many of the other big names on the market, including Peloton, they focused solely on producing the best rowing machines in the industry. The Hydrow Wave continues this trend nicely and is a great option for anyone with space or budget constraints who still wants a top of the line workout experience.
How Does the Hydrow Wave Compare With Other Interactive Machines?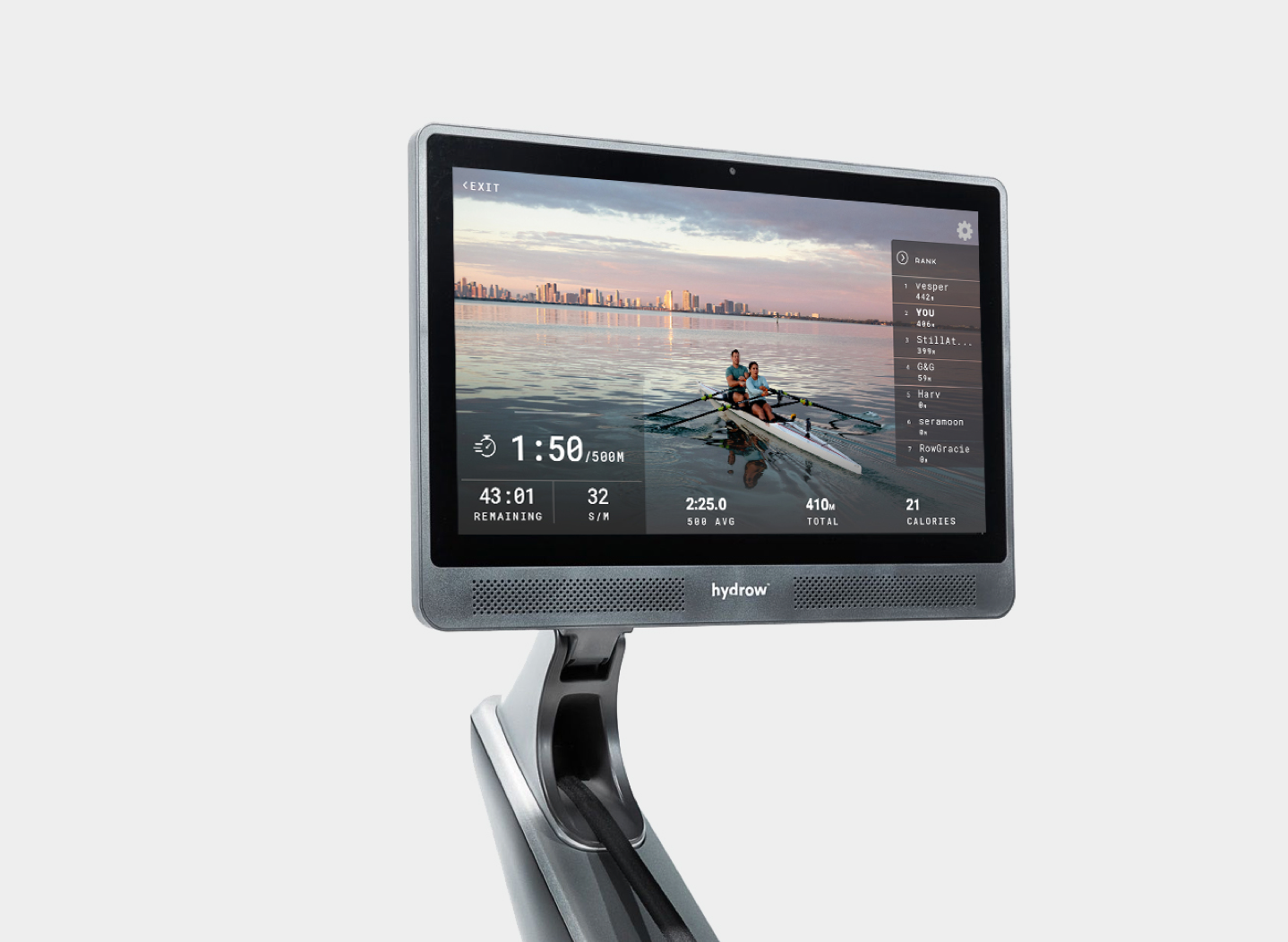 While it is clearly a step down in price and size from the Hydrow Rower, with a price tag well over $1,000 the Hydrow Wave is still considered a more top tier model than most. With that in mind, it's worth considering how this latest option stacks up against the competition
There are plenty of other well known names on the market offering interactive workout experiences, including NordicTrack, CITYROW and Ergatta. All have similar features, including spacious monitors and the ability to access a variety of workouts. Keeping the home gym in mind, some can fold for easy storage and others are designed to be eye catching rather than an eye sore.
One of the most adaptable models is the NordicTrack RW900, which incorporates their innovative SpaceSaver design that allows it to fold up after use, a feature not available on the Hydrow Row.
It also comes equipped with a 22" HD smart touchscreen display with an adjustable angle and SMR Silent Magnetic Resistance with 26 coach controlled resistance levels that can mimic real life water resistance. Interactive personal training is available with an iFit membership that is sometimes included free for one year so you can try it out.
The Ergatta Rower is one of the most beautiful on the market today, utilizing USA-sourced cherry wood to give it the look of a piece of furniture rather than exercise equipment. It also features a 17.3" monitor set on a collapsible arm and water-based resistance for a real "on the water" feel.
It is slightly less expensive than the other interactive models but it also requires an additional membership at $29/per month that gives you access to hundreds of workouts with unlimited profiles as well as a unique gaming based workout experience that you won't find anywhere else.
A newer competitor on the market is the CITYROW Max, which is relatively compact and space friendly with a wood frame and water resistance. It features a 19.5" touch screen and a wide selection of on demand and trainer led workouts. CITYROW also has another model, the CITYROW CLASSIC, which is closer in price to the Hydrow Wave but vastly lacking in features, including a monitor, instead linking directly via Bluetooth to your tablet or smartphone.
Another great option is Aviron, which offers the affordable Impact Series Rower and the up-level Tough Series Rower. These machines have 8 different ways to make your workouts more enjoyable: games, streaming capability, trainer led programs, power play, virtual rowing, competitions, guided programs and Pros vs. Joes.
Hydrow Rower Pros & Cons
Here is a brief overview of the pros and cons of the Hydrow Wave rowing machine.
Pros:
Space saving design
Great introductory lessons for novice rowers
Wide variety of professionally led training sessions with stat tracking
Software routinely updated to add new workouts
Sleek, stylish design
Less expensive than the Hydrow Rower
Cons:
Vertical anchor kit; All-Access Membership and heart rate monitor all additional expenses
Does not fold
Cost could still be an issue for some
Hydrow Wave: What's the Bottom Line?
After taking a longer look at the Hydrow Wave, it's easy to see how this company is carving its unique niche in the home exercise industry. They have a real eye for detail as well as an ability to tailor their machines toward everyone from beginners to pros.
At a list price of $1,495, the Hydrow Wave definitely delivers on its promise to address the issue of price. While that cost may still be prohibitive to some, it is certainly a considerable step down from the $2,495 price of the original Hydrow Rower. Of course, you'll also have to add in the monthly membership fee and additional expenses for the vertical anchor kit and a heart rate monitor, so the cost can still add up.
With that in mind, we felt there is still plenty to recommend this model, especially if you are a beginning rower. Hydrow's unique way of easing into training with three courses designed to teach the basics is a real asset. It's a great way for anyone to become acclimated to the sport.
Considering how intimidating rowing can be, that's an important element and one of the main ways that the Hydrow Wave stands out from the pack. Even experienced rowers can benefit from a refresher course and once you've finished the introductory lessons, you can ease into training with their wide variety of professionally led courses in beautiful real world settings.
Rowing is one of the best all-around forms of exercise you can find and Hydrow is doing everything it can to make it accessible and enjoyable for everyone. The introduction of the Hydrow Wave is just the latest example of their dedication to the sport.
Of course, any home rower is going to be an investment and even with a drastically reduced price tag this is still true for the Hydrow Wave, so you need to give it serious thought before making your decision.