BodyCraft Rowing Machines – New Model Choices Improve Outlook
From a company known for excellent home gyms, BodyCraft rowing machines originally didn't live up to expectations if you thought the rowers would be of above average value. While quality was certainly always there, the all-important rowing design was initially flawed.
About the Company
This award-winning fitness equipment manufacturer was founded in 1993 by two former Icon Fitness employees, Randy Lundquist and Alan Gore. The brand has won awards from consumer magazines for products lines that include home gyms, benches, power racks, and indoor cycles – a full line-up of quality fitness equipment. Unfortunately, BodyCraft was not known for making a good rowing machine at the beginning.
About the Rowers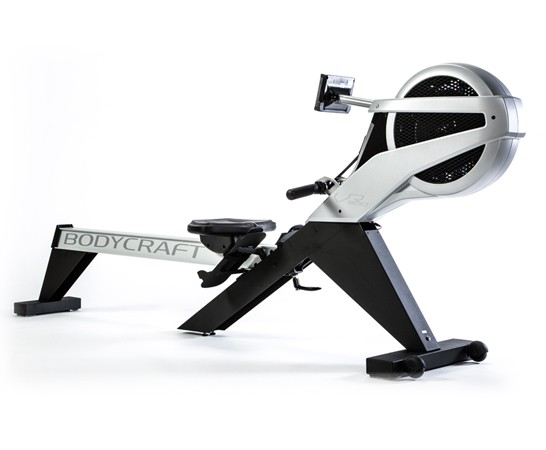 Originally BodyCraft made just one rowing machine: the VR100. Just looking at it, this machine seemed to be a winner, and it was built with quality components in the frame. Yet the design was surprisingly poor.
Now, the company offers 4 different rowing machines, and the quality and design has improved significantly.  I guess the company realized that offering one OK rowing machine was not going to cut it.
Your choices now include the improved VR100, the VR200, the VR400 and the top-of-the-line VR500 Pro rowing machine.  They range in price from about $599 to $1899, so there is a model to fit every budget.
The BodyCraft rowers feature both air and eddy current resistance and close to zero impact workouts.
Reviews of the newer models have been positive, as the company has strived over the past few years to increase the quality and usability to compete with some of the bigger names like Concept2 and WaterRower.  They're doing a pretty good job thus far.
See Popular Bodycraft Rowing Machines at Amazon
The most popular model is the VR100, likely due to the price point.  Some of the positives on this one are ease of assembly, sleek design and enjoyable workouts with low impact and consistent resistance.  It is a bit noisy and the computer isn't the most advanced, but all in all it is a satisfying machine.
As you move up the lineup, expectedly the quality improves, so if you can afford one of the pricier models you will likely be more satisfied.
Compare BodyCraft Rowers to Other Brands
It's always a good idea to compare BodyCraft rowing machines to other brands to determine if they offer value for the money you're going to spend. If you are going to row daily or weekly as part of your exercise program, you need to choose a quality rower with the correct ergonomics. So take a look at each model carefully to decide which one is going to work for your particular needs.
Model Reviews
Most Popular Models
BodyCraft VR200 - replacing the VR100 as the new base model with 6 levels of air and magnetic resistance and quiet performance.
BodyCraft VR500 - Their top end model with resistance controls built into the handlebars, this one competes directly with the Concept2 rowers and has some favorable features.
Older Models
BodyCraft VR100 - The VR100 is a solid rower construction-wise, but speaking in terms of ergonomics, the ergometer, and proper rowing style – this model is sub-par.

---