The BodyCraft VR100 Rowing Machine – A Basic Entry Level Rower
The BodyCraft VR100 rowing machine offers six levels of air and magnetic resistance. While it looks like a great machine, it lacks the details and love a professional rower would have put into designing it.
The Rower
The console display window shows readouts for time, distance, strokes, calories, and heart rate feedback to be used with an optional chest strap. The console is adjustable for height and angle.
The specs on the BodyCraft VR100 rowing machine are: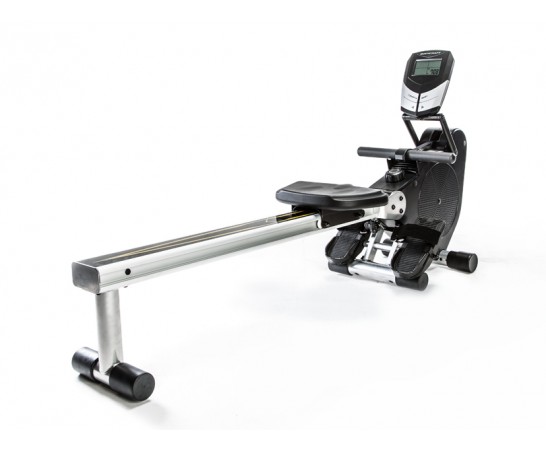 Frame Length/Seat Height: 68" x 22"
6 Resistance Levels
Sealed Urethane Seat
Heart Rate Receiver
Maximum User Weight – 250 lbs
Folding Frame (to 16" x 24"), Transport Wheels
Warranty: Lifetime frame, 1 year parts, 90 days labor
The Buzz
UPDATE:  As of 2017 it looks like the VR100 might be discontinued.  Check out the latest BodyCraft rowing machines here.
The BodyCraft VR100 rowing machine begins at Level one with air resistance and offers a combination of air and magnetic resistance at Levels 2 through 6. The highly durable contoured seat glides on industrial grade bearings inside nylon wheels, and sports a max user weight of 250 pounds.
The frame is made from aircraft-grade aluminum and steel. There are 44 inches of travel from the pedals in order to accommodate larger users. The rower folds up to a compact 17 x 22 x 68 inches (W x H x D) for easy storage.
There are two types of user reviews on the VR100, those written by non-rowers who love their BodyCraft, and folks who are die-hard rowers who are shocked at the poor mechanics of the footplates and lack of real feel of rowing a boat, but they especially mention the frustrating computer. This is no ergometer; it does not accurately portray the stroke count or distance. When rowing fans compare the VR100 to a Concept2, the best rowing machine in the world, they understand how badly calibrated the BodyCraft computer is.
Construction-wise, the BodyCraft VR100 is a solid machine, but speaking in terms of ergonomics, the ergometer, and proper rowing style – this model is a disaster.
The stroke computer is wildly inaccurate, the foot pedals are incorrectly aligned and have an odd swivel motion, and the magnetic resistance is too high so it never really mimics rowing in water. This machine was not designed by a professional rower.
The best rowing machine in BodyCraft's lineup is definitely the top-of-the-line VR500 Pro model, which has been designed beautifully and competes head to head with the Concept2.  That one is expensive though so it is in a different class than the company's entry level models.
What We Say
We know what you are thinking; you want a good rower but don't think you can justify the price for a Concept2 so you'll "save" $200 and get a "cheaper" rower at $695. Don't do that to yourself. This is an okay rower for a person who is a non-rower, but it's not great for someone who loves the rowing workout.
Either go "cheap" and get a $400 machine if you aren't into rowing, or go all-out and get the Concept2 at $900. If you are going to be rowing for 20 years, don't settle for the BodyCraft VR100 rowing machine when you can get the best commercial rower in the world for a little more.