Air Rowing Machines Offer Realistic Workouts
Air rowing machines are very popular with fitness buffs, individuals who do actual rowing on the water during good weather, and indoor, competitive rowers. One of the main reasons is the natural feel of these indoor machines.
How Air Rowers Work
First time users are surprised to discover that air rowing machines mimic the feel of rowing on water with a great deal of accuracy and comfort. They work on the same principles of resistance used by most exercise machines with air being the source of resistance.
On these machines, air fins on the flywheel produce the resistance as air flows over and around them. These fins resemble the blades of a ceiling fan. Dampers may also be included on some models of air resistance rowers. The dampers adjust the air flow around the fins, which in turn apply resistance on the flywheel, creating more resistance the harder you work. These dampers can also change how each stroke feels.
Air Rowers Have Several Advantages
Because air resistance rowers are so popular with people who use them to improve their rowing ability or who are in training for competitions, these machines tend to be very well built and comfortable. Air rowing machines come in a wide range of styles along several price points, making them affordable for the majority of users.
Keep in mind, however, that there aren't many budget models available because the equipment needs to be sturdy and offer a full body workout to remain the top choice of athletes. The seat on most models will slide back and forth so that the legs and even the abdominals are given a good deal of exercise, unlike inexpensive piston rowers, which usually have a stationary seat.
Pros
These are among the most popular rowing equipment options available, and for good reason: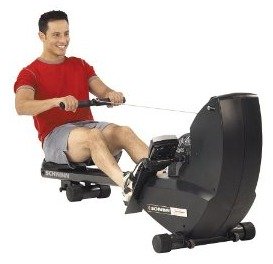 Natural movement as the result of the continuous, smooth resistance of the air brakes.
The machines are less bulky and easier to care for than water rowing machines, which need to have the water changed on a regular basis.
Air rowers are particularly well suited for larger or taller users, as they offer a full range of movement, including full extension of both the arms and legs.
They are preferred by athletes because they give a workout that closely resembles actual rowing on the water.
Cons
As with any piece of exercise equipment, there is a downside to using an air rower, including these considerations:
Air rowing machines are some of the noisiest on the market because of the "whooshing" sound as air flows over the fins and/or dampers. If you live in an apartment with thin walls, your neighbors may object to the noise.  Magnetic rowers are much quieter.
While the longer frame encourages more complete extensions, it also means you'll need more space. Air rowers take up more space than other types of rowing machines.
Although you can find these machines for a variety of prices, they will be more expensive than the budget-friendly piston machines, due in part to the more expensive frame and the increase in moving parts.
Although these machines are more expensive than hydraulic models, they give you a workout that closely resembles the workout you get when you actually hit the water and start using the oars.
Are air rowing machines worth the price? For most athletes, the answer is 'yes.' For more casual users, it comes down to how realistic your workout needs to be and how much you're willing to spend.
Understanding the Rowing Machine Settings on Your Air Rower
What's the Best Air Rowing Machine?
We're often asked what's the best air rower on the market today, and we'd have to say it's the Concept2 Model D.  The quality of construction, natural feel and overall quality of the workout is unrivaled.  
That's why it sits at the top of our Best Rowing Machines list, which actually includes some air rowing machines at various price levels.  The Concept2 is just under $1000 on sale, so if your budget is a bit lower take a look at the other models featured on our expert's list.