Rowing Machine Comparison Charts
Our rowing machine comparison charts should be one of the first things you look at to compare indoor rowers feature-to-feature. There are several crucial factors to consider when shopping for the ideal model, and many people are overwhelmed by the wide variety of machines, features and prices. Don't let yourself end up with the wrong machine because you were overwhelmed with confusing or contradictory information. Our charts clearly compare features on a level playing field.
Compare Basic Design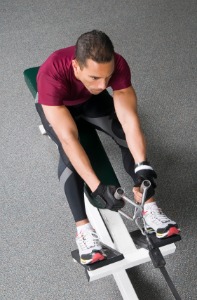 Not all rowing machines use the same kind of resistance or offer the same type of seating or foot spreaders. There are several features we take a look at in our rowing machine comparison charts, like whether the seat and foot stretcher are fixed or floating and how large the flywheel is. These are some of the most basic features, but they're crucial to a comfortable and effective workout.
Check Out Display Features
Many rowing machines have digital readouts that track your progress using fitness programs and feedback on anything from your pulse rate to your speed.
Type of Resistance
This is one of the most important features to compare. Indoor rowers use one of four types of resistance in order to give you a reliable, healthy workout. The resistance will affect all other aspects of your machine's performance as well as the smoothness and relative difficulty of your workout. Our rowing machine comparison charts list machines with piston resistance, air resistance, water resistance and magnetic resistance.
Rowing Machine Comparison Chart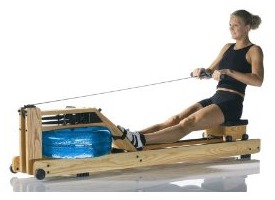 Dimensions
If you buy a rowing machine because it's a great performer but discover you can't fit it into the room you had in mind, you'll either have to return it, or you'll end up tucking it away somewhere and not using it. We compare each machine's dimension, including both "in use" and folded dimensions where applicable so you'll know how much space it takes up both when you're using it and when you want it out of sight in your closet or under the bed.
Other Considerations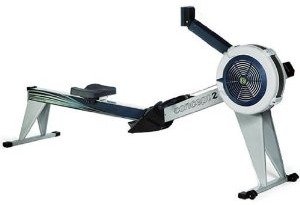 Don't choose an indoor rower without checking the maximum weight capacity, particularly if more than one person will be using the machine. We also take a look at whether the rowing length, handlebars or seat are adjustable to fit the individual needs of each user and we compare craftsmanship and durability. When you compare indoor rowers, you'll realize that some machines are sturdy and reliable while others are made from cheap parts and suffer from frequent mechanical problems.
Warranties and Customer Service
No rowing machine comparison is complete until we've reviewed the warranty and determined whether it will give you solid consumer protection in the event something goes wrong. A good warranty is often a reflection of the superior quality of a machine.
Customer service is also important. Warranties that aren't backed up by professional customer service aren't worth the paper they're printed on. We let you know which companies have a solid reputation for having knowledgeable, pleasant customer service representatives and which ones could disappoint you.
Price
We not only offer comparisons by price, we suggest which machines we feel are best buys at several price points so that you're comparing "apples to apples." The machine you can afford is the one that fits your budget and still gives you a great workout.
Each of the factors listed above are a part of the overall quality of each rowing machine. Take the time to review our rowing machine comparison charts in order to get a feel for what features are non-negotiable and which ones you don't really need. From there, you can decide for yourself which rower is the ideal fit.
Comparisons
Is a Rowing Machine or Exercise Bike Better?
Should You Buy a Rowing Machine or Treadmill?
Rowing Machine or Elliptical? Choosing the Right Exercise Machine
---