Indoor Rowers for Everyone - About This Site
Over 15 years ago, we created this site about indoor rowers in order to help you, the consumer, make the right decisions when you're ready to buy a rowing machine. We know it's crucial to your exercise success to find a machine that is a good fit economically, physically, and in regard to how and where you'll use it.
We've reviewed a wide range of in-home and commercial grade machines, including the four most popular types of indoor rowers: piston, magnetic, air and water. By referring to our reviews, you'll be able to compare the various models as well as their manufacturers, giving you a clear snapshot of their various features, costs, benefits and drawbacks.
Real Reviews - Hands On Experience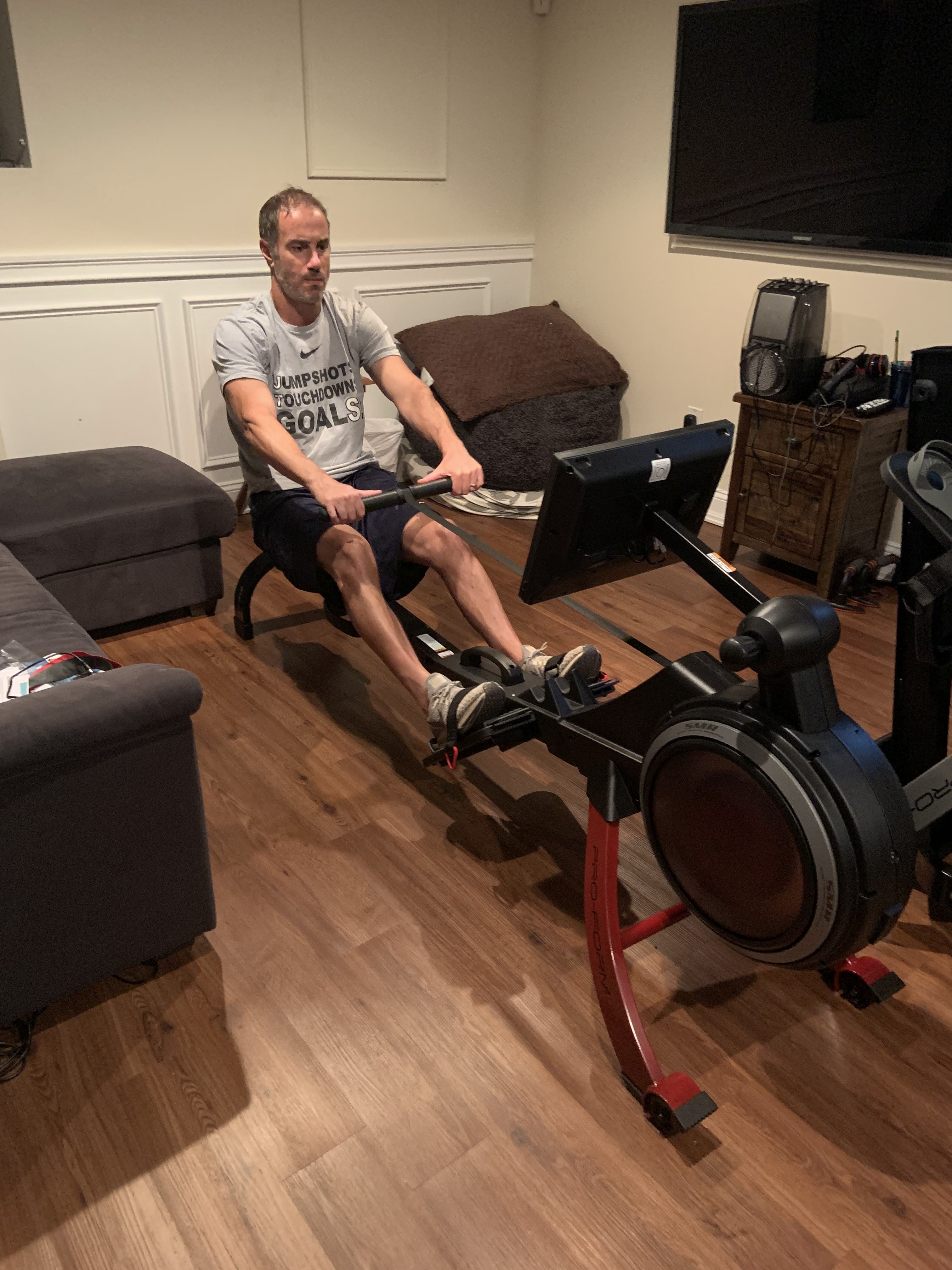 Yep, that's me trying out the new ProForm R10 rowing machine. I look pretty serious, huh? :)
My name is David and I have been test driving and reviewing rowers and other cardio machines for over 15 years. I've been working out religiously since I was about 12, first in my basement and then at various gyms throughout New York. When I'm not in the gym I'm outside running...however these days I'm playing a lot more pickleball.
I've been a member of LA Fitness, Powerhouse, Gold's, Ithaca Fitness and I'm a current member of Lifetime Fitness. I've been running since junior high school and actually rowed for a couple of semesters up at college.
Because I have been reviewing rowing machines for so long, I get rowing machines to review from many of the major brands including NordicTrack, ProForm, Sole & Horizon.
I also get access to rowers from Matrix, Life Fitness, WaterRower, Bodycraft & others.
So although many exercise equipment review sites out there simply take information from the manufacturer site and post it on their site as a "review"...basically just specs, pictures and product information that anyone can look up, that's not the case at All Rowers.
My team and I actually try out as many machines as possible to provide a REAL review of each machine.
We post a short video of the latest rowers that we are reviewing on this page, so check back often if you are looking for a new model and don't see it reviewed on our site.
LATEST REVIEWS - NEW PROFORM 750R & PRO R10
Finding a Rower to Fit Your Lifestyle
It's easy to get distracted by the bells and whistles on some indoor rowers, and distributors and manufacturers only confuse the issue with their promises and enticing promotions. Fortunately, our buying guide can help you narrow down the selection to rowing machines that will meet your exercise needs as well as your budget. Take some time to read the various reviews and compare the pros and cons of each model, manufacturer and warranty.
For easy navigation and to help you search and find the right rower for you and your family, we've put together an organized system of reviews as well as informative articles about topics such as the benefits and the pros and cons of buying used rowing machines. You'll want to get started by visiting some of the pages listed here:
A comparison chart so you can sort out the many options available by price, narrowing your focus down to those machines you can afford
Reviews of each brand will enlighten you in terms of a manufacturer's business philosophy, product strengths as well as potential problems, how responsive customer service is to consumer needs, and a profile of the brand's target demographic.
We've also included model reviews of dozens of indoor rowing machines that highlight special features and the type of rower the machine is best suited for. Honest evaluation of the benefits and drawbacks of each machine will help you narrow your search even further.
We'll also recommend some brands and models of rowers over others and we'll always explain the reasoning behind our decisions.
Indoor rowers give everyone from the novice to the world class athlete a complete, low impact, upper and lower body workout that can be surprisingly affordable. The cardiovascular workout provided by an indoor rowing machine is unmatched by other types of equipment. We believe we can help you find the best possible product for your home exercise needs at a price that will leave you smiling.
The Editors

AllRowers.com