H2O Fitness ProRowers with Hydro-Power Drive System

The high quality H2O Fitness ProRowers by HCI Fitness are a line of attractive and well-engineered rowing machines that use a sealed water tank with enclosed paddles as the resistance system to give the user the feel of rowing a boat on water.
It's called the Hydro-Power drive system which uses water resistance instead of air, magnetic, or piston resistance. By using a water tank instead of a fan flywheel, you not only get the feel of the desired catch and finish of the stroke, it also has the nice advantage of creating the sound of water gently lapping inside the tank – an added bonus to your rowing experience!
About the Rowers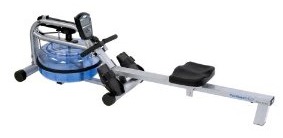 With a line-up of four H20 Fitness ProRowers, you have an option to spend a little or a lot depending on the model, choosing from a simple home rower up to a Club Series commercial rower.
The RX-750 and RX-850 LTD Series (recently discontinued) offer "natural adaptive resistance" so you can row fast or slow. Both models offer a resistance variable from 2.5gal to 4.5gals in the polycarbonate tank and have a user max weight of 350 pounds. They have an oversized display console showing time, distance, 500m split time, strokes per minute, and calories burned. A heart rate receiver is included with your purchase.
Get Popular H2O Fitness Rowing Machines On Sale Here
The more advanced H2O Fitness RX-950 Club Series meets the demands of any commercial health club, with a max user weight of up to 550 pounds and a variable resistance from 3.6 gal to 4.5 gals.
The last of the H2O Fitness ProRowers with the hydro-power system is the Seattle Wooden Rower, which has an all natural Scandinavian beech wood frame. Like the RX-950, the Wooden Rower uses only commercial quality components including an attractive polycarbonate tank, stainless steel blades, and industrial bearings.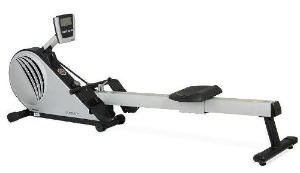 HCI also makes one other rowing machine, the Proteus Rower, which is a club level model that uses a hybrid drive of both air and magnetic resistance (no water tank). The combination provides the smoothness of 16 levels of magnetic resistance plus the workload of an air resistance rower. Priced at $1,495, this excellent trainer comes with a 4-year warranty on parts and a lifetime frame warranty.
About The H20 Fitness Rower Company
The HCI in the name stands for HealthCare International. The company focuses on products designed for "health, wellness, fitness and active aging." Along with distributing some of the very best rowing machines on the market today, the company also makes innovative fitness products such as the PhysioStep recumbent/elliptical, ergometers, and exercise bikes. Any reviews you do on quality rowers must include these H2O Fitness ProRowers, sold at surprisingly low prices. Start with the RX-750, priced under $750, and see if you can find a similar rower that can match it in value, style, and performance.
Model Reviews
Most Popular Models
ProRower H2O RX-750 Home Series - Suitable for light rowers who will be rowing for long endurance workouts a few times a week. The water in the tank provides all the resistance you need.
ProRower H2O RX-950 Club Series - A longer and heavier version of the RX-850 with a higher user weight capacity, dual rails, and an elevated seat.
Older Models
ProRower H2O RX-850 LTD Series - Light commercial model has a smooth, quiet operation for a low-impact aerobic workout that is highly effective for body conditioning and weight loss.

H2O Fitness Seattle Wooden Rower - The Seattle Wooden Rower has the same mechanical specs as the company's RX rowers but adds a beautiful beech wood frame to give it the look of contemporary Scandinavian styling.
Proteus PAR-5500 Commercial - The Proteus PAR-5500 Commercial Club Series rowing machine combines both air and magnetic resistance systems for users who value smoothness and a quiet machine over all other considerations.
---