The Proteus PAR-5500 Commercial Club Series Rowing Machine – Smooth, Quiet
The Proteus PAR-5500 Commercial Club Series rowing machine combines both air and magnetic resistance systems for users who value smoothness and a quiet machine over all other considerations.
The Rower
The blue backlit LCD display window shows readouts for time, 500m split time, strokes per minute, total strokes, watts, distance, calories and heart rate.
The specs on the Proteus PAR-5500 Commercial Club Series rower are:
Frame Length/Seat Height: 96" x 19"
Machine Weight: 100 lbs
16 Resistance Levels
15 Programs
Pivoting footrests
Heart Rate Receiver
Maximum User Weight – 330 lbs
Built-in fan
Folding Frame, Transport Wheels
Warranty: lifetime frame, 4 years parts
See the Proteus PAR-5500 rower on sale now at Amazon
The Buzz
The Proteus PAR-5500 Commercial Club Series rowing machine has 16 levels of electronically controlled resistance and 15 programs including 6 preset, 4 user, 4 heart rate control, 1 watt control, and a race/pacer feature.
The onboard computer adjusts the magnetic resistance higher or lower to keep the user in the proper training zone. The ergo-seat has a unique design in that the rollers are located on the underside of the monorail to prevent dirt from collecting and damaging the wheels.
User reviews on the Proteus PAR-5500 Commercial Club Series have been positive though most of the new owners are not hard core rowing fans. A magnetic rower is very quiet when compared to an air rower, but even with 16 levels of resistance to play around with, the magnetic flywheel doesn't offer the strenuous stroke of an air or water rower.
In short, this type of rower is ideal for seniors or for people who are out of shape, but fairly fit men and women who can pull powerful strokes should get an air rower with a highly accurate ergometer such as the Concept2.
What We Say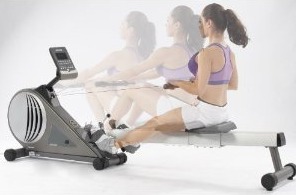 The Proteus PAR-5500 Commercial Club Series rowing machine by HCI Fitness is sale priced at $999 and comes with a FREE Polar HR watch as well as free shipping.
This club level model is well built and will satisfy users who don't know a lot about rowing and who don't care about such things as 2000/m split times – they just want to row for 20 minutes and be able to hear the TV across the room. If that describes you, and you can find the Proteus PAR-5500 for under $1000, then it's a good choice for you.
But if you are a rowing purist, or a fitness freak who likes to measure workouts with accuracy, as well as learn proper rowing technique (catch, drive, release), we recommend you get a commercial Concept2 for $900.
Show me other Proteus Indoor Rowers