Stamina Rowing Machines - The Budget Priced Indoor Rowers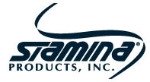 At the right price and the right model, Stamina rowing machines can be a good choice for low impact home fitness equipment.
About the Company
Stamina and its brand partners make a number of infomercial products including the AeroPilates® Performer, InStride Walker®, the Body Dome®, and the Gyrotonic Transformer®, Body by Jake®, Suzanne Somers, Tony Little, Cosmopolitan®, Brenda DyGraf, Denise Austin, and BodyShaping®.
In addition to rowing machines, Stamina makes treadmills, elliptical trainers, and exercise bikes under its own brand name. Founded in 1987, their mission is to pursue design excellence in home fitness products at affordable prices and to provide superior service and consistency to customers.
About the Rowers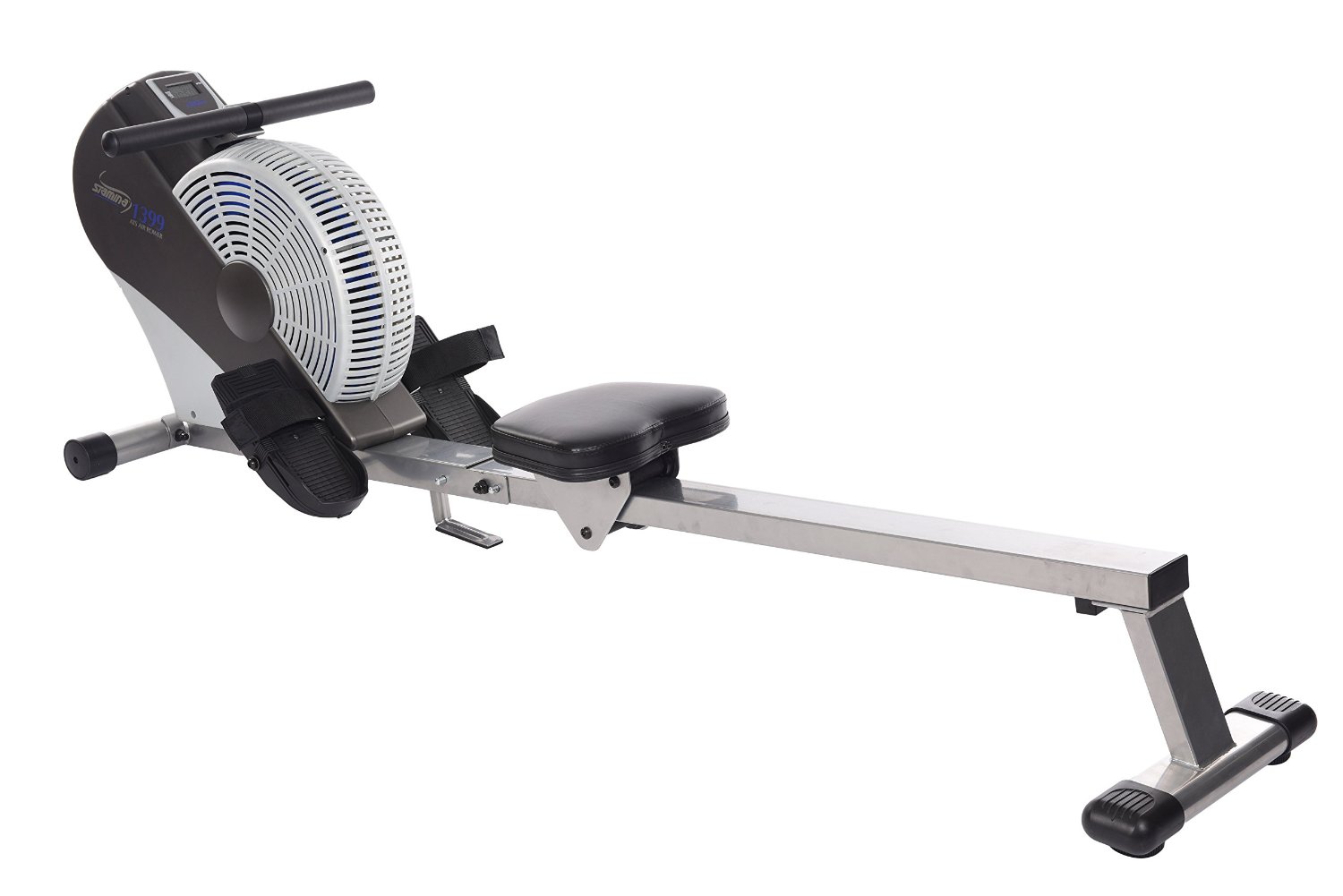 Stamina rowing machines and gliders come with lifetime frame warranties, folding frames, and budget prices low enough that most anyone can afford an in-home machine.
The basic BodyTrac Glider (under $200 on sale) is compact enough to be stored in a closet. It features gas shock resistance in the hydraulic cylinder rowing arms and a multi-function electronic monitor.
The Precision Rower (under $300 on sale) also features hydraulic cylinders, pivoting foot plates, a fitness monitor, and a padded seat that glides on a ball bearing roller system. At just 47 pounds in weight, it is light enough to move and store out of the way when not in use.
Compare Popular Stamina Rowing Machines at Amazon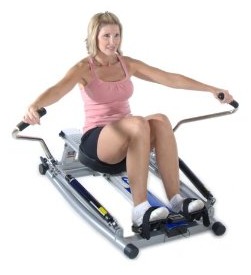 One of the best models in the line of the company's rowing machines is the Stamina Air Rower, a $299 sweet deal that gives the user the power of an air resistance rower at hundreds of dollars less than competitor models. Using an air rower is simple and effective: the harder you row, the greater the resistance.
With the Stamina Orbital Rower, you get full range-of-motion rowing rather than a fixed plane. This indoor rower more realistically mimics rowing a boat even though it includes adjustable tension controls.
At $300, the Stamina ATS Air Rowers (1399, 1402, 1405 and X) give buyers the option to step-up in features and durability over the entry-level air rower. The rowing machines come with a multi-function fitness monitor, a chrome seat rail for smooth sliding on the padded molded seat, and it has a metal rowing chain for extra strength.
For a complete total body fitness machine, the dual action Stamina Conversion II Bike/Rower ($799) is a Semi-recumbent Bike and rower all in one. The bike has pedals to exercise the major muscles in the legs and trunk, while the Rower function helps to improve strength and conditioning in the upper body including the arms. The machine uses magnetic resistance with eight levels of resistance.
The newest rower offered by the company is the Wave Water Rowing Machine, which comes in a base and Elite model, at around $599 and $699 respectively.  They use water resistance with a reservoir that can be filled and emptied for a natural on-water feel and sound.
Achieving Their Objectives
Stamina rowing machines are produced and marketed with affordability and durability in mind. Whatever your budget is, you'll find Stamina makes a decent rower for you. They are suitable for all ages and all levels of fitness, and are great tools for improving strength and stamina as well as getting fat loss benefits.
Stamina Rowing Machines - Model Reviews
Most Popular Models
Air Rowers
Stamina Air Rower - A low-cost solution for a low impact workout that works the cardiovascular system as well as provides total body toning.

Stamina X Air Rower - One of the newest rowing machines, this one is fire red and black and marketed to "extreme" users who look for durability and toughness.
Stamina ATS 1405 Air Rower - An affordable beginner's model that offers the effectiveness of wind resistance training, a durable frame, and a folding design for easy and convenient storage.
Hydraulic Rowers
Stamina 1205 Precision Rower - Reviews are decent but most of them are written before the reviewers have spent a few weeks with their machines; not much of an upgrade over the entry-level 1050 model.

Stamina Body Trac Glider - A decent start-up rower for casual users or beginners that will give you a year or two of reliable exercise; a cheap rower that can be folded and stowed away.
Stamina 1050 Rowing Machine - The Stamina 1050 is advertised by Stamina as a Body Trac Glider. It will work (for a while) and provide enough resistance to give your muscles a workout.

Stamina InMotion Rower - A very basic rower with 5 resistance levels, pivoting pedals and comfortable seat.  Perfect if you can get it under $100.
Stamina 1215 Orbital Rowing Machine - Very pricey for what you get and not worth the money. The warranty is only 90 days long because the company knows how frequently parts break on these things.
Hybrid Machines
Stamina Deluxe Conversion II Recumbent/Rower - This is a hybrid machine that combines a rower with a recumbent bike as well as the ability to train your arms and legs.
Water Rowers
Stamina Wave Water Rowing Machine - The newest model in the lineup with water resistance via a fillable reservoir.
---