The Stamina 1215 Orbital Rowing Machine – Very Pricey for What You Get
The Stamina 1215 Orbital rowing machine features free motion arms for a wider range of motion than other hydraulic rowers.
The Rower
The monitor displays workout feedback including speed, distance, time, row count, calories burned and miles rowed. A scan mode displays each reading for four seconds. The console operates with one AA battery.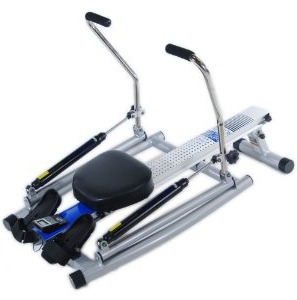 The specs on the Stamina 1215 Orbital rowing machine include:
Dimensions: 32.5"W x 27.75"H x 48"L

Gas shock resistance
Free Motion arms
Pivoting Footpads
Max User Weight: 250 pounds
Machine Weight: 47 pounds
Folded Storage Dimensions – 49.5" x 11.8" x 9.5"
Warranty: 5 years frame, 90 days parts

The Buzz
UPDATE: As of our latest review it looks like the 1215 might have been discontinued. Check out the latest Stamina rowing machines here to find a comparable model.
The Stamina 1215 Orbital rowing machine uses hydraulic cylinder resistance and a deluxe ball bearing roller system. It has an aluminum center rail, a thick padded seat, pivoting footplates with Velcro straps, and adjustable tension controls.
The seat slides freely on the rail when the rower in the flat position, and when you position the rear bracket higher, in creates an incline so that there is greater resistance as you slide backward. The rowing arms can be folded down for storage.
You need to carefully read reviews before you spend $270 on a machine like this. The problem with reviews is that too many people rush to the internet to post a "review" in the excitement of receiving a new toy, usually on the same day they assemble the unit.
It's when they post an update a couple of weeks later that they can give an honest recount of broken parts, squeaky rowing arms, weld breaks, "dead" spots in the hydraulic tension when pulling, and more. The warranty on the Stamina 1215 rower is only 90 days long because the company knows how frequently parts break on these things.
What We Say About the 1215 Rower
The Stamina 1215 Orbital rowing machine is very pricey for what you get and not necessarily worth the money. It is not better built than the Stamina 1050 rower, but at least if you go with the cheaper machine you almost don't feel as bad wasting your money.
For your $300, there are a number of better options than a cheap hydraulic rower.
We suggest you look at the $299 Stamina Air Rower which provides a more realistic feel of rowing on water. There is only one level of resistance but since that is all that you get in a boat, it is normal in a rower not to fiddle with a knob to increase tension.
If you intend to row for cardio and need an inexpensive machine, skip the hydraulics and get an Air rower which runs from $300 for a basic unit up to $900 for a health club quality rower.