The Stamina ATS Air Rower 1399 – Our Top Pick Under $500
The Stamina ATS Air Rower 1399 is an affordable dynamic wind resistance rowing machine that provides a solid cardio workout for those looking for a quality entry level machine.  It has topped our Under $500 list for several years now, as it is a great value for what you're getting.
The Rower
The multi-function electronic performance monitor displays workout speed, distance, time, and the amount of calories burned.
Let's take a look at some of the important specs...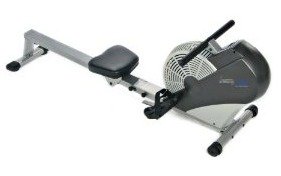 Frame Length/Height: 77" x 22"
Frame Weight: 55 lbs
Dynamic Wind Resistance
Padded, upholstered seat
Oversized, angled seat rail
Maximum User Weight – 250 lbs
Folding Frame, Transport Wheels
Warranty: 3 years frame, 90 days parts
Check out the popular Stamina Air Rower on Sale at Amazon
The Buzz
The Stamina ATS Air Rower 1099 uses an air fan to provide wind resistance for the workout. The user determines the intensity of the workout by rowing faster to make it harder, or slower to keep the workout easy.
More features include an angled seat rail for an easy seat return to the start position, steel frame, large footplates with nylon straps for any size user, a nylon rowing strap, a padded seat, textured grips on the handle, and transport wheels for easy storage.
Reviews have been quite favorable on this model, and it has remained one of our top picks under $500 for some time now.  It has a nice mix of durable construction, comfortable motion, affordability and customer satisfaction, and as such has become one of the company's most popular models.
It's a step up from the hydraulic models, but much less expensive than some of the other air and magnetic models out there, so it offers a lot of value.
What We Say About the Air Rower
The Stamina ATS Air Rower 1399 receives glowing reviews from current owners who are thankful for the low price (around $299 when it's on sale) and the durable design.
According to user reviews, it is easy to assemble, very durable even after years of use, quiet and very smooth.
It isn't commercial quality, of course, but for this price, it is one of the best cheap air rowers you will find. The price does vary quite a bit so we suggest you try Amazon first, as well as Wal-mart and other discount retailers.
Get more info, specs and special sale pricing on this rower here