Ergatta Rower Review - Incredible Interactive Training
When it comes to water resistance, the Ergatta rower is clearly pulling away from the pack. Makers of rowing machines have been stuck in a bit of a rut for a while, slow to embrace new technology, but the folks at Ergatta are changing all that.
The result is a whole new style of rower that leaves the competition in its wake. So if you're one of those folks who are looking for a bigger challenge than the standard rowers can give you, you may just have found your perfect fit in the Ergatta rowing machine.
So what makes the Ergatta such a stand out? It would be easy to say it's all about the looks, because it is undoubtedly one of the prettiest models on the market, but there's more to exercise than looking good, right?
When it comes to substance, the big trend in rowers has been "connected" machines, the ones that let you plug in to a menu of guided workouts and trainer-led sessions. The Hydrow was the first 'connected' rowing machine, but comparing Ergatta vs. Hydrow, it's clear that Ergatta has gone in a whole different, and more entertaining, direction.
But let's start our Ergatta review from the beginning and see what this machine is really all about.
The Rower
The Ergatta is promoted as the rower that is "designed for your home" and it's easy to see why. The folks at Ergatta have co-designed their machine with the team at WaterRower, but this model takes the basic WaterRower model to the next level.
It is handmade in Rhode Island from American cherry wood and features longer, more stylish rails, a collapsible arm in a design similar to the rails and a digital tablet. This is one piece of workout equipment that you won't want to hide under a pile of dirty laundry. It's truly beautiful enough to show off.
Other key features of the Ergatta rower include: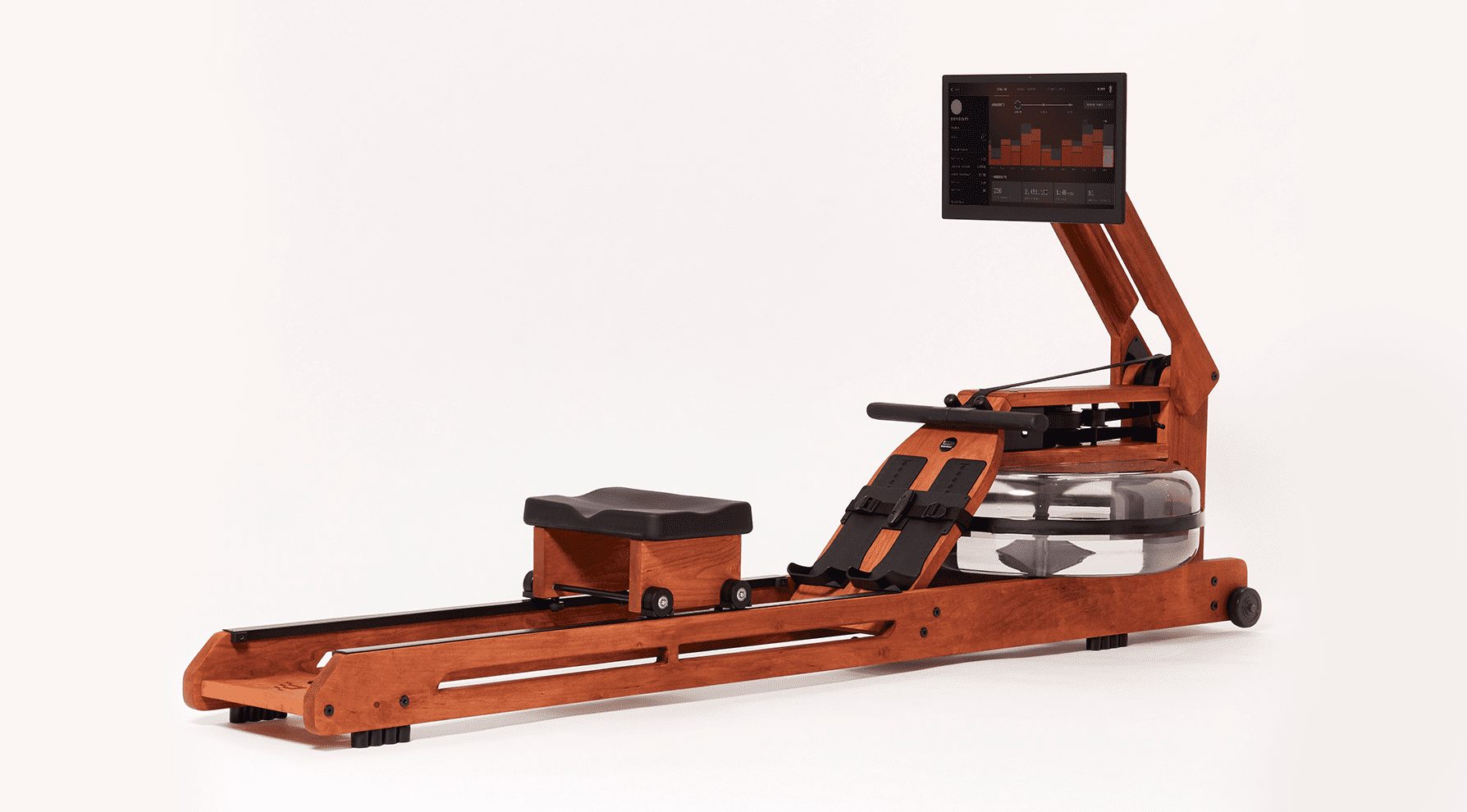 Well-designed seat comfortable for every size user
Unique game based workout platform
Thick, well-padded handles
Whisper quite water resistance
Built in adjustable straps to keep feet securely in place·

       

17.3" color touchscreen monitor
Heart rate monitor compatible
Fully adjustable monitor also folds in when the machine is stored vertically
Footprint: 86.0" x  24" x 40"
Stored dimensions: 86.0" x 23" x 22.5"
Weight: 103 lbs, 76.5 pounds without water
Warranty: 5 years on frame, 3 years on parts, 1 year on tabletReality (LOR) experience

The Buzz
With popular names like Hydrow, Concept2, Aviron and others all getting in on the concept of 'connected' rowers, you might think it would be difficult to make a statement, but that hasn't been a problem for the Ergatta rowing machine and that's with good reason. As mentioned above, the difference begins with the beautiful, handcrafted look of this machine, but it doesn't end there.
Included in your purchase is a $199 delivery and installation charge and that means your Ergatta rower will be assembled, delivered and installed by a professional. So all you have to do is fill the water tank, set your personal workout calibration and you're ready to go.
Just connect to your WiFi, setup your account and enter your personal information like weight, height and level – beginner, intermediate or advanced – so that your workouts can be geared to your personal specs. And for one monthly membership fee you can set up a personalized profile for every member of your household.
When most people first sit down on the Ergatta rower they notice a few things right off the bat, including the smooth movement and the quiet, almost meditative 'whoosh' of the water in the tank. Exercise that can also be zen? How can you not love that! If you don't want to get lost in the soft sound of the water, it's so quiet that it won't interfere with listening to your favorite music or watching TV. It also won't bother the rest of the family, even if they're in the same room.
One important difference when comparing Hydrow vs. Ergatta is that, while the rowing position of the Ergatta is comfortable it is a bit lower than the Hydrow, so it may be a little difficult on folks with bad knees. The dual rails make for a smooth motion and the thick, well padded handles give you a comfortable grip. It supports up to 500 pounds and comfortably fits all users up to 6'8" in height.
Of course, resistance is provided by the water in the tank and you can easily adjust it by adding or removing water. Aside from adjusting resistance, there is no other reason to remove or replace the water once the tank is filled, though the company recommends adding a water purifier tablet every six months. A tablet is provided with your purchase and you can request new tablets through their website, at no charge for as long as you own your machine.
What really makes the Ergatta rowing machine stand out is the unique approach to workout technology, which begins with the large 17.3" color touchscreen monitor. With full touchscreen capability you literally have your entire workout experience at your fingertips. It's easy to control and easy to follow and the nice big screen makes it easy to become fully immersed in your workout.
The difference comes in Ergatta's approach to 'connected' workouts. If you want to get a great workout but cringe at the idea of all those hyped up trainers shouting at you, then Ergatta's platform might be just what the doctor ordered. Instead of trainers, Ergatta relies on a game based approach to provide the motivation you need to keep you engaged. Let's face it, nothing brings an exercise program to a screeching halt faster than boredom, so what better way to beat the boredom than ramping up your competitive spirit?
When you first use the Ergatta rower, you'll complete a 2,000 meter row to determine your performance level so the software can personalize your workouts. "Intensity Zones" are set based on your speed and endurance in different levels including "paddle", "steady", "race" and "sprint" so every workout will be designed specifically for you. You can repeat the calibration row any time you like if you feel the need to adjust your settings and each member of the family can calibrate their own personal profile to their individual specifications.
For a monthly membership fee of $29 ($290 a year) as of the writing of this review, you get access to their full range of workouts, most of which use a game style format, with incentives that encourage you to reach specific goals in order to progress to another level. Again, it's all about keeping you motivated and moving forward.
You'll find several categories including "Push Programs", which are designed to be completed in sequential order; "Interval Workouts", which are based on HIIT (High intensity interval training) and let you collect tokens or reach targets to gain points; and "Racing", as the name implies these are head to head workouts that let you race against yourself to improve your best stats or against other members of the Ergatta community.
The newest addition to the workout program, which we're pleased to include in this Ergatta review, is the "Open Row", which offers unstructured workouts in 20 different real world locations around the globe. You can set your desired time and distance or just row without boundaries for a more laid back experience perfect for recovery days between your more intense workouts.
Another important note regarding the Ergatta experience is the company's extraordinary commitment to customer support. They are eager to answer questions on everything from product specs to your exercise form and make it easy to contact them by phone, email, through their Facebook group or in live chat on their website. 
How Does the Ergatta Rower Compare With Other Interactive Machines?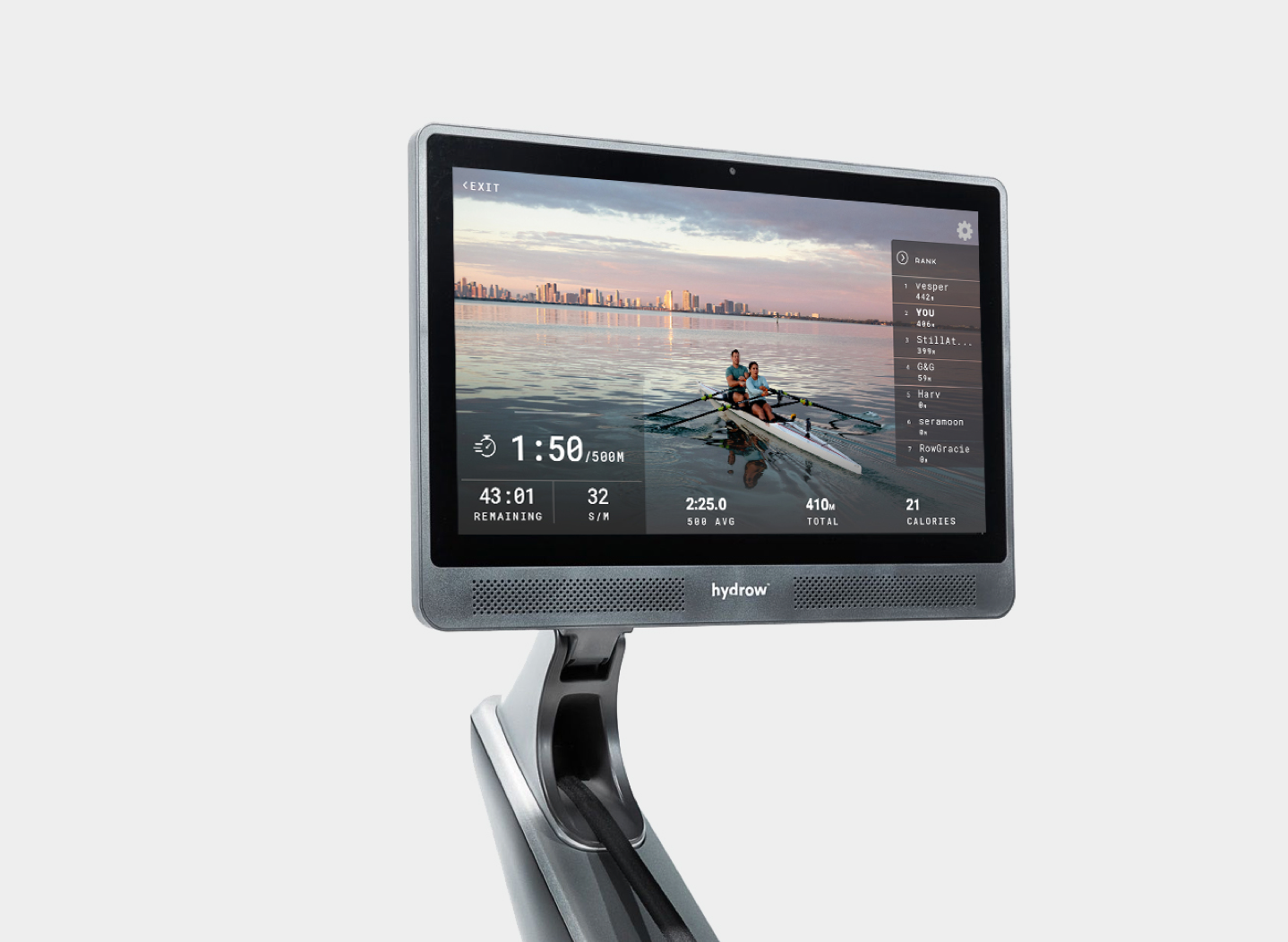 You can't complete any review without looking at the competition and that means comparing Ergatta vs. Hydrow and other popular models. At $2,199, Ergatta is certainly an investment, especially when you also figure in the additional membership at $29/per month, but it actually comes in behind Hydrow and others in price with a lot of positive features to factor in.
By comparison, the Hydrow Rower is positioned at the top of the scale with a price tag to match at $2,295, plus an additional $38/month subscription fee that gives you access to their full range of live trainer led broadcasts and 400 pre-recorded river and studio sessions. It lacks the soothing sound and feel of water resistance but makes up for it with computer controlled electromagnetic resistance. It is designed to be sleek and attractive and can be stored vertically with the extra purchase of a vertical storage kit. It easily accommodates users up to 6'6".
NordicTrack, one of the most popular names in home fitness, has a line of interactive rowing machines. The one that would be comparable to the Ergatta would be the top of the line NordicTrack RW900, which features a 22" HD smart touchscreen display with an adjustable angle and SMR Silent Magnetic Resistance with 26 coach controlled resistance levels. The rower itself cost around $1,599 on sale, so it's more affordable initially, and it comes with a free month of iFit, giving you access to an endless library of workouts with personal trainers, workouts worldwide via Google maps, community, tracking and much more. After the initial free trial you're looking at around $39/per month.
Another competitor is the Aviron Rowing Machine, is a commercial rower that is designed for use in gyms and fitness centers but can also be used at home. With an Impact and Tough Series, priced at $2,199 and $2,499, respectively,  they're designed to accommodate regular use by a wide range of body types, with oversized, anodized aluminum rails for extra stability, 4-way adjustable foot pads, and a sweat proof touchscreen. This model is not foldable but does have two front wheels to allow for ease of movement. It requires an additional $42/month membership to access all of the workout content.
Cityrow also offers two models, the Max and the Classic, both of which are built with sustainable wood, feature water resistance and can be stored vertically for convenience.  The Max, which retails at $2,195, also has a 19.5 inch sweat resistant touchscreen that rotates for optimal viewing. The Classic , at $1,495 allows you to connect with their app on your own phone or tablet. Their app has a variety of daily live classes with professional trainers as well as a huge on-demand library.
Concept2 is the gold standard when it comes to high end rowing machines, with a surprisingly affordable $900 price tag. It is comfortable and easy to use but lacks the full on 'connected' workout experience of the Ergatta, Aviron and other interactive rowers. There is no large built-in screen but the performance monitor connects via Bluetooth to a variety of apps including Concept2's own free app "ErgData". It has an integrated device holder that lets you comfortably secure your Smartphone or tablet.  It comes with standard legs that provide a 14 inch seat height or taller legs that provide 20 inch seat height. The taller leg option is slightly more expensive at $1,050.
Ergatta Rower Pros & Cons
Pros:
Based on the elegant and durable WaterRower
Large 17.3" color touchscreen monitor
Unique game based workout routines to keep you motivated
Workouts can be completely personalized for each user
Unlimited profiles with one monthly membership
Displays all of your workout data
Soothing swoosh of the water as you row
Handsome cherry wood designed to look like a piece of furniture
Bluetooth enabled
Built-in speakers
Heart rate monitor compatible
Stores vertically when not in use 
Financing available 
Cons: 
No interactive workouts with personal trainers

Potentially restrictive price
Ergatta Rower: What's the Bottom Line?
While the $2,199 price might be a drawback for some, the Ergatta rower is well worth the cost when you take everything into consideration. It's not only beautiful to look at, it is easy to move and stores vertically so it won't take up a lot of room in your home. At the same time, it offers the quiet and soothing natural feel of water resistance, the closest you'll come to actually rowing on the water.
Best of all, it has a unique approach to 'connected' workouts, with a gaming design. Instead of relying on a lot of overly enthusiastic trainers, you can challenge yourself to meet goals, beat your best time, pick up tokens to move to the next level or race against other members of the Ergatta community. It's a great way to keep you motivated so you'll actually want to stick with those workouts.
It's worth noting, too, that with the Ergatta rowing machine the workouts just keep coming. Ergatta is committed to keeping the experience fresh by releasing six or more new workouts per week as well as launching a variety of new features including two new workout games, automated rowing form analysis, social features like private challenges, and live events/races all in the next 6 months. 
If you're looking for a workout that isn't all work, then the Ergatta rower is the perfect choice. It brings the fun of gaming to the world of exercise for an experience you can't get anywhere else.