The Sole SR500 Rower With On-The-Fly Resistance Control
The Sole SR500 is an upgraded version of the smaller SR400 rowing machine, both of which are equipped with wireless resistance control so you can ramp it up without missing a beat.
The Rower
The SR500 rower features a 5.5" backlit LCD display and both air and magnetic resistance that gives you a very natural, on-water experience.
Here are the most important specs on this model...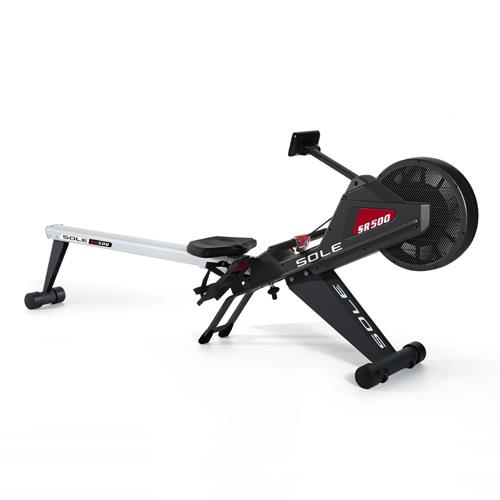 Frame Dimensions: 94" x 18" x 46"

12 workout programs
Oversized pedals
16 resistance levels (wireless adjustment)
Air and Eddy Current Magnetic Resistance
5.5" LCD Monitor Display
Heart Rate Receiver
Chest strap included
Maximum User Weight – 515 lbs
Warranty: Lifetime frame, 3 year elec/parts, 1 year labor
The Buzz
UPDATE: As of 2023 the SR500 has been discontinued in favor of the all new Sole 550. Learn more on our Sole SR550 review page.
---------------------
The Sole SR500 receives very good reviews from the experts, as it is a solidly built machine with good features and very well priced, which the company is well known for.
Although it looks much different than its little sister the SR400 model, the two rowers do share many specs.  What sets the SR500 apart is its sturdier build accommodating a much heavier max weight limit, and it sits 2" higher as well.
Another nice feature that you don't find in the SR400 is a free wireless chest strap for measuring your heart rate more accurately.  Both machines have wireless reading capability, but only the SR500 comes with the strap.
The combination air and magnetic resistance is very smooth and natural, and the machine is ergonomically designed to provide the ideal motion and workout.  You can choose from 16 different resistance levels and transition from one to the next is seamless.
The bright LCD monitor shows you 8 workout metrics including time, strokes, calories, distance and pulse.
One of the best features of the Sole SR500 is the wireless resistance control.  Right in the center of the handlebar you'll find a down and an up button to quickly change the resistance levels as you work out.  This is a great feature that allows you to continue your strokes rather than have to stop and make adjustments to the load.
What We Say About the Sole SR500
For those looking for a durable, capable rowing machine without spending a fortune, the Sole SR500 is a very good choice.  If you can get it on sale at around $899 it's a very good deal.
Keep in mind however that you can get the awesome Concept2 Model D for about the same price, so definitely consider that one as well.
Also, if you want to save a little money take a look at the SR400 as well, which is usually about $200 cheaper and you're not sacrificing many features.
Sole Fitness is a solid brand that has won many awards over the years...so whether you choose the SR500 or SR400 you really can't go wrong.