The Schwinn Windrigger Rowing Machine (AirDyne Windrigger)
The Schwinn Windrigger rowing machine has the same fanwheel design as the popular AirDyne exercise bike. In addition, the Windrigger has two rowing positions to give the user more demanding exercise options.
The Rower
The LCD computer display shows time, speed, distance, watts, stroke rate, and calories burned.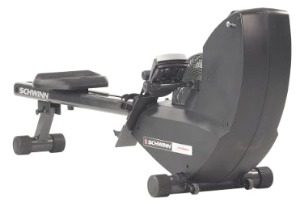 The specs are:
Frame Size: 82" x 30" x 23"
Machine Weight: 112 pounds
Fanwheel System
Second stage belt Drive Train
Maximum User Weight – 300 lbs
Warranty: 3 years parts, 1-yr year labor
The Buzz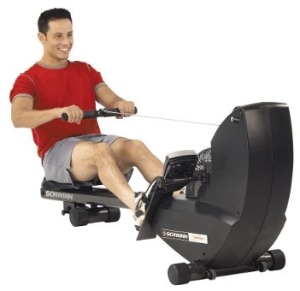 UPDATE:  As we expected, the Schwinn Windrigger has been discontinued and is no longer available for sale. Check out our Best Rowing Machines Guide for a good alternative.
The Schwinn Windrigger rowing machine, which is also known as the AirDyne Windrigger, has four program modes including a Regatta with racing features, Pyramid, Interval, and manual. It also offers a 2-position incline rail so that you can get a more intense workout when you set it to incline to help target the abdominal muscles and hamstrings muscles.

Like its indoor cycle cousin, the AirDyne exercise bike, the Schwinn Windrigger has air blowing directly back onto the user rather than out to the side. As you row harder, the fanwheel delivers more resistance. The fan offers another advantage in that the cool air feels great during long rowing sessions. In addition, the rowing machine has a second stage belt drive with a one-way clutch with roller bearings for a smooth stroke.
On the downside, the LCD computer display is on the small side so it is harder for older folks to read. Also, several reviews mentioned that the quality wasn't what they had hoped for and that the assembly was somewhat challenging.
What We Say About the Windrigger
The Schwinn Windrigger rowing machine, which is the only rower the company makes, has been unavailable for a while so they might have discontinued it. As it was, it was overpriced at $1,099 and couldn't hold up to the quality of the commercial Concept2 rower, which sets the industry standard and retails new for just $900.
If you find the Schwinn Windrigger for less than $600 on Craigslist and it's in good shape, then you've got a pretty good deal; otherwise, if your budget is at the $1000 price mark, go with the Concept2 and don't bother looking at any other air rower.
Show me other Schwinn Rowing Machines