The Kettler Coach M Indoor Rower for Total Body Conditioning
The Kettler Coach M indoor rower is a well-built, German-made model that offers the additional benefit of convenient glideboard exercises for total body conditioning.
The Rower
The Siemens high-resolution display shows Time, Distance, Energy, Strokes, Pulse Rate, and Frequency with a scan function or individual readouts. It also has a recovery feature with a Cardio Wellness scale from 1 to 6 to measure fitness improvement. The console operates on 2 AA batteries.
The specs on the Kettler Coach M indoor rower are:
Induktions Brake System™
Quick Attach™ backboard
12 Programs; 2 HRC programs
Polar T34 Chest Strap included
Maximum User Weight – 285 lbs
Frame stands for storage
Unit Weight/Dimensions — 96 lbs; 81"L x 21"W x 27"H
Warranty: lifetime on frame, 3 years parts
Check out this popular rowing machine on sale now!
The Buzz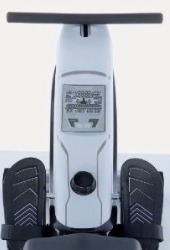 The Kettler Coach M indoor rower has 10 indexed settings of manually adjusted resistance, the patented Induktions Brake System™ and a balanced flywheel for consistent rowing performance.
Other features include pivoting footplates, a padded seat with top grade rollers and sealed ball bearings for a smooth glide on the chrome-plated steel rail. This 96-lb rower easily stores out of the way as the rail-end lifts upright over the flywheel to stand vertical against the wall.
A Quick Attach™ backboard and front footplate are included with the Kettler Coach M to provide up to 16 additional exercises, allowing the handle and pulley to be used in cable row exercises such as upright rows, lying pullovers, and standing rows.
There is one negative to point out: the grey display is not backlit and users have mentioned in reviews that it can be difficult to read in a dimly lit room.
The readout window is also crowded with numbers so it's hard to read even in the best of lighting conditions. For the price you have to pay for this rower, the display should be better designed.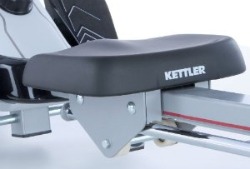 What We Say About the Coach M
You can buy a decent magnetic rower for around $600 so it isn't a good deal to pay $999 for the Kettler Coach M indoor rower. If they could knock off $300 on this machine, it would make more sense.
For $999, you have a couple of choices in commercial quality air rowers (the same ones used in health clubs) such as the Concept2 or the Proteus, or a WaterRower.
But if you have your heart set on a Kettler product, go with the Verso R-400 at $699, which is a great value in a combo air/magnetic rower, and has a completely different and well-designed backlit display panel.
Show me other Kettler Rowing Machines