The Kettler Kadett Outrigger Style Rowing Machine – Above the Rest in Its Class
The Kettler Kadett Outrigger Style rowing machine is Best-in-Class among hydraulic rowers. While it isn't a fast rower, it will definitely give you a tough, heart-pounding, heavy rowing workout.
The Rower
A high-resolution LCD digital display provides workout data including time, distance, strokes, energy consumed (in joules), and pulse rate. The computer has a recovery feature with a cardio wellness grading from 1 to 6 to track fitness progress. The display uses 2 AA batteries.
The specs on the Kettler Kadett Outrigger are: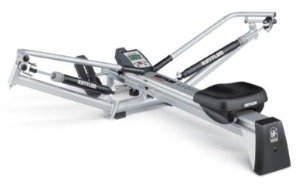 Frame Size: 49" x 31" x 10"
Machine Weight: 66 pounds
12 Levels of Resistance
Hydraulic Resistance System
Infrared Ear Lobe clip for HR
Wireless HR Telemetry compatible
Maximum User Weight – 285 lbs
Folding frame
Warranty: lifetime frame, 3 years parts
Check out the popular rowing machine on sale now!
The Buzz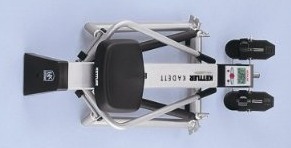 The Kettler Kadett Outrigger Style rowing machine offers 12 levels of resistance that can be changed via adjustment knobs on the hydraulic piston arms. The seat and rollers, built with sealed ball bearings with no need for lubrication, glide along a monorail steel track. .
On the handles, the grips spin freely and the arms are independent so the rowing motion does mimic the different hand heights that occur during the catch and return phases of the stroke. An infrared ear lobe clip is included to monitor heart rate during exercise, and the display is also compatible with a wireless chest strap (not included).
The folding oars design of this outrigger style rower resembles actual rowing of a scull, although hydraulic pistons are not well recommended for rowing machines, since they will eventually fail.
If you've checked some of the reviews on piston rowers you've discovered that the pistons will get hot after long (20-30 minute) rowing sessions, and that will affect the tension you feel.
What We Say
Most reviewers give the Kettler Kadett Outrigger Style rowing machine complimentary and positive marks for workmanship and design.
It is considered to be one of the better built, better designed, and better quality piston rowers, although for just under $600, it costs $150-$300 more than most piston models.
The Kettler Kadett is a smooth rower that is far and away above the rest for its performance among piston machines.
Show me other Kettler Rowing Machines