The Concept 2 Model E Rowing Machine Review – Simply the Best
Choosing the Concept 2 Model E rowing machine is one the best investments you can make in a home fitness machine.
Along with its little brother, the Model D, it is the top choice for health clubs, university gyms and professional sports facilities, and due to its very affordable price, it has become quite popular for home gyms as well.
What's so great about this high-end rower?  Well, let's get into our review and take a closer look.
Model E - The Rower
The Model E rower comes with the new PM5 Performance Monitor which has both Bluetooth and ANT + wireless capability.  This is one of the most advanced computers you'll find on a rowing machine.
It comes in a light gray or black, and features a maintenance free nickel-plated chain.

Let's take a look at some of the best features...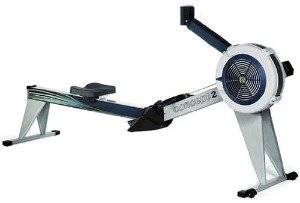 Frame Length/Seat Height: 95" x 20"
Machine Weight: 65 pounds
Bluetooth and ANT + capability
Seat at Normal Chair Height
Flexfoot footrests for Quick Adjustments
Wireless heart rate monitoring
Maximum User Weight – 500 lbs
Caster Wheels, Separating Frame
Warranty: 5 years frame, 2 years electronics & moving parts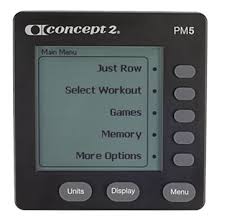 The Buzz
The Concept 2 Model E rowing machine is 8' feet in length and separates into 2 parts easily, so no tools are required. The caster wheels on the front let you roll the fanwheel out of the way for compact storage.
The seat sits 6" higher than the seat on the Concept2 Model D ("the D") making it easier for seniors or people with less mobility to get on and off.
The balanced air flywheel spins to generate wind resistance which is the tension you feel when you pull on the handle. There is no friction to this mechanism so there are no brake pads or tension straps to wear out.
The chain is nickel-plated and the I-beam aluminum monorail has a stainless steel seat track. The monorail is 54 inches long, but very tall users can order an extra-long monorail from Concept2. The flexing footrests with adjustable straps can accommodate shoe sizes from 4 to 13.
The chain housing on the Concept 2 Model E is fully enclosed (versus partially enclosed on the Model D), and the spiral damper controls airflow to the flywheel, allowing the user to choose the feel of rowing a fast heavy boat or a light sleek boat.
The calibrated and highly accurate PM5 features readouts for Time, Distance, 500/m Split time, SPM, Calories, and more.
One of the most appealing features of the new monitor is Bluetooth and ANT+ wireless technology, which is something the previous PM4 and PM3 monitors did not offer.
This allows you to monitor your heart rate wirelessly, which is more accurate, and also to track your workout results by syncing them with your favorite fitness apps via the free Concept2 ErgData app.  This is a great way to keep tabs on your progress and set goals for yourself, making for a much more enjoyable and rewarding rowing experience.
Concept 2 Model E vs the Model D: Which One Should You Choose?
The Model D is definitely more popular than the Model E.  It's the most popular Concept 2 rower, which also includes the newer Dynamic rowing machine.
If you take a look at Amazon, where they sell thousands of these machines monthly, the Model D has over 1600 reviews and 270 answered questions.  The Concept 2 Model E has 200+ reviews and 60+ answered questions.
So based solely on popularity, the Model D would be the better choice.  It is also less expensive, at around $990 vs $1155 for the Model E indoor rower.
However, you may prefer the Model E because it has a higher seat height, making it easier to get on and off.  For taller individuals or the elderly, a chair-level seat is much more preferable than a lower one that they have to bend down a bit more to access.
The Model E has a 20" high seat vs a 14" high seat on the D.  That 6" can definitely make a difference, so it's something worth considering when you are making a choice.
Other than that when you look at the Model E vs Model D they are quite similar.  The chain is more enclosed on the E, so it is more protected.  The arm that holds the PM5 performance monitor is longer, but it's fixed so it can not be adjusted.  On the Model D you can adjust the monitor arm.
Both models are now available in either black or light gray.  The previous Model E was only available in light gray.  So difference in color is no longer a deciding factor.
In our opinion the decision should be based on the seat height alone, because everything else, besides the $200 difference, is negligible.  
If you like the idea of the seat being at chair level then definitely opt for the Model E.  I'd say if you are older, or have mobility issues, you're on the heavier side or very tall, then the Model E is the one for you.
If you'd rather save a couple hundred and have no problem getting on and off a lower rowing machine, then take a look at the Model D.  You definitely can't go wrong with either one of these top-notch rowing machines.
Concept 2 Model E Review - Bottom Line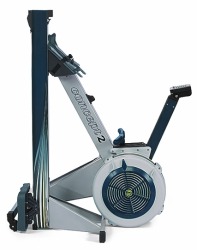 These indoor rowing machines get 5-star reviews because they are simply the best.  They really don't have any competitors, and we have yet to talk to an owner who isn't completely satisfied with their purchase.
If you don't need the higher seat over the 14" seat height on the Concept 2 Model D, you can save $200 and go with the D. Both models have the same air resistance technology that minimizes noise and provides a smooth rowing experience.
You will find both models used in health clubs because of their nearly maintenance free design and excellent reliability.  Because of the easier access, more often than not you will see a Concept2 Model E rather than a D.
But both are equally durable and can stand up to heavy usage, so it is a matter of choosing the one that you prefer.