The First Degree Fitness Pacific Fluid Rower – One of the Best Water Rowers You Can Buy
The First Degree Fitness Pacific Fluid rower offers the latest innovation in water rowers – adjustable resistance! With this new feature, you can move from light resistance to a sweating sprint with the turn of the dial.
The Rower
The onboard computer shows time, speed, distance, 500m split time, strokes per minute, calories per hour, watts, interval training, and (optional) heart rate.
The specs on the First Degree Fitness Pacific Fluid rower include: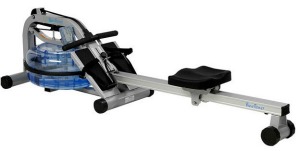 Length / Width: 6'5" x 30"
Variable Water Volume
Contoured comfort seat
Adjustment dial for resistance
Bungee recoil cord
Adjustable Footboard
Max User Weight: 300 pounds
Warranty: 5 years frame, 2 years Tank & Seals, 1-yr Parts
Check out the First Degree Fitness Pacific Rower on Sale Now!
The Buzz
The First Degree Fitness Pacific Challenge Adjustable Resistance Fluid Rower offers the feel of actually rowing on the water. Instead of an air fan, it has a multi-chamber polycarbonate water tank that contains a unique fluid resistance system provided by a stainless steel 3-blade interior paddle.
Choose what works best for you in your workout. You can row slowly and hear the gentle rhythmic sound of the water slosh in the tank, or go all out with a more energetic rowing motion and feel the resistance get harder and the water churning. You can adjust the resistance in two different ways: by turning the adjusting dial to change the amount of water flowing back and forth between the two inner chambers, or by changing the level of water in the tank in any amount from 9 to 17 liters.
Other features of this rower include a contoured seat with premium precision bearings that glides on an anodized aluminum rail, adjustable heel support in the pedals, and a comfortable handle. The unit easily stores upright in just a 21" x 20" footprint.
What We Say About the Pacific Rower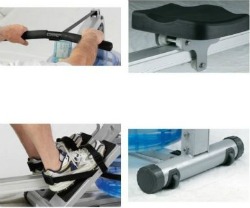 User reviews give high marks to the First Degree Fitness Pacific rowing machine because of its quality and quiet, smooth operation. At just $865, it is the most reasonably priced water rower on the market today. Like its more expensive siblings, the Pacific offers a wonderfully aesthetic water-rowing feel with consistent resistance throughout each stroke. It's also maintenance free and comes backed by a solid 2-year warranty on the tank, seals, and non-wear parts.
The only downside is that the computer is not up to the standards of the Concept2 PM console – but what other rower is? As for which FDF model to get, we recommend the First Degree Fitness Pacific Fluid rower over the Neptune since you'll be rowing almost daily for years to come. Spend a little extra now and get the better machine.
Show me other First Degree Fitness Rowing Machines