Rowing Machine Reviews - Best Indoor Rowers
Buying Guide & Consumer Info
When shopping for an indoor rower, rowing machine reviews are a great place to get started. A well-researched and written review can point you toward a machine that is appropriate for your exercise and fitness needs. Do be cautious, however, because not all reviews are created equal. Look for ones that focus on several elements that are key to your satisfaction. The best rowing machine reviews will feature detailed analysis of everything from the materials used in the construction of the machines to how well they perform in a variety of workout situations. Keep in mind that some comparisons are done by impartial third parties while others are not much more than free advertising for the companies who produce indoor rowers.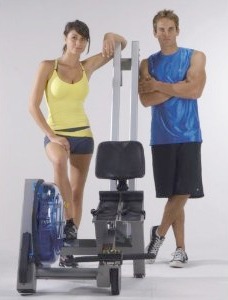 We've put together rowing machine reviews based on a variety of factors and gathered them together to save you the time and effort of researching various websites and weeding through inaccurate or biased reviews. The result is an outstanding website that not only highlights the best indoor rowing machines available, but gives you the tools you need to choose the right rower for your needs and budget.
We've consulted with consumers to find out what they like about their machines and what they'd like to change. We've read the opinions of fitness professionals and manufacturers, and tossed out the advertising and hype so that our reviews are accurate, fair, and on the money. Whether you're looking for a top of the line, professional grade rowing machine or prefer to start out with one of the many used rowers now available through second hand fitness equipment stores and online sites like eBay and CraigsList, we can guide you.
Defining the Types of Rowing Machines
To get you started, here are some of the most popular styles of indoor rowers on the market. Just click through to read our rowing machine reviews and suggestions for each model:
Piston Rowing Machines use a set of hydraulic pistons to provide resistance. The pistons are usually connected to the handlebars. Most are adjustable and provide an excellent arm workout, although they aren't as good at full body workouts due to the nature of the fixed handlebars. Some models fold up for easy storage.
Magnetic Rowing Machines use a magnetic resistance brake on the flywheel to create tension and resistance. These tend to be extremely quiet and provide a very smooth ride, but they can't be folded up for storage and do take up a lot of room. Some models can be quite expensive.
Air Rowing Machines rely on wind resistance created by a unique flywheel that is similar to a fan blade. As you pull on the handlebars, the blade spins, creating wind resistance. The resistance is determined by how quickly you pull the handlebars.
Water Rowing Machines give you a performance that closely resembles actually rowing on water. They feature paddles that are suspended in a tank of water. As with air rowing machines, the more frequently you pull on the handles, the greater the resistance. You can also tailor the resistance to some extent by raising or lowering the water level. These are expensive, oversized machines most often used by professional or competitive rowers.
Our Reviews Take into Account Newer and Older Models
Not all used machines are obsolete, and not all cheap rowers are a bargain. Rather than simply reviewing the latest and greatest, we've taken the time to carefully evaluate indoor rowers from all price points, including the most recent models as well as some that have been around for a few years.
If you're considering your first home rowing machine but don't have a lot of space in your apartment, check out our reviews of folding models. If you're looking for a top-of-the-line piece of exercise equipment, begin your search by learning more about the various manufacturers, then read our buying guide and compare features, specs and warranties so that you can make an informed purchase and end up with the machine that will give you the best combination of benefits for your dollar.
Articles, Guidelines and Much More
At AllRowers.com, we're proud of the quality of our rowing machine reviews, but we didn't stop there. We've also put together an extensive collection of articles focusing on exercises, techniques, maintenance pointers, and information on accessories and upgrades so that you have all the information you need right at your fingertips.
---
Table of Contents:
Our rowing machine reviews and ratings are based on information gathered from hundreds of sources, including consumers and exercise equipment experts, buying guides, fitness supply companies and fitness gurus.
The Avari Easy Glide rower is setting records for breakable parts. No wonder the parts warranty is only for the first 90 days! Don't be fooled into spending $199 for this rowing machine.
BodyCraft rowing machines look like a winner, built with quality components in the frame. Yet the design is surprisingly poor when compared to high-end models. Let's examine why...
The Cardio Kids Children's Rowing Machine is priced $350 more than many elite commercial models. Don't be ripped off - for the high price alone, this model gets a shameful No Stars!
The allure of Concept 2 rowing machines is their exceptional design. People are willing to pay more for a used Concept2 than they would pay for a new rower by a lesser manufacturer. That says it all.
First Degree Fitness rowing machines with patented Variable Fluid Resistance system: incredibly realistic rowing motion is prized by anyone who wants an alternative to real water rowing.
H2O Fitness ProRowers & Proteus rowing machines distributed by HCI Fitness, some of the very best indoor rowers on the market. Choose from a simple home rower up to a Club Series commercial rower.
Kettler rowing machines come in five models ranging in price from $399 to $1,399. Look to the better quality Verso and Coach magnetic rowers to give you a full body workout on just one machine.
Lifecore rowing machines have the performance and durability comparable to the leading commercial rower brand; silent magnetic resistance, superior workmanship, easy to assemble, affordable prices.
Lifespan rowing machines are an after-thought from a company whose focus is on treadmills, indoor exercise bikes, and elliptical trainers. The company only has one rower in their stable: the RW1000.
The MyRower E1 Rowing Machine gets a pass. The warranty is weak and it lacks some of the features you'll get on comparably priced water rowers.
The budget-priced Phoenix 98900 Power Rower cuts too many corners where quality is concerned and the result means frequent maintenance issues. You can't go this cheap and expect a decent machine.
Schwinn rowing machines offer evolution fan wheel technology for silky smooth resistance. Review of the AirDyne Windrigger, the rowing version of Schwinn's legendary AirDyne bike.
Stamina rowing machines are produced and marketed with affordability and durability in mind. Whatever your budget is, you'll find Stamina makes a decent rower for you.
The Sunny Magnetic Rowing machine does have a nice rowing motion in the pull cord, it's solid, and it's quiet. For an occasional cardio workout this rower might be a decent choice at the right price.
Reviews on Tunturi rowing machines are better than average but this is a European company which struggles to carve out a market for itself in North America; over-priced compared to competitors.
The Velocity Fitness Magnetic Rower has a Drum Magnetic Control (DMC) system and an electronic tension control for a smooth and quiet workout.
WaterRower rowing machines are hand-crafted to the company's high standard of Purity by Design, a concept that seeks to blend form, function, and design with durability; top rated among water rowers.
Our list of the best rowing machines of 2015 in 4 different categories: these 4 indoor rowers made the top of the list based on price, natural feel, reliability, warranties and consumer opinion.
A good understanding of how home rowing machines operate will help you get the most from your workout while minimizing the risk of an injury. Find the indoor rowing machine that's right for you.
Why indoor rowing machines are the perfect addition to any home gym. Rowers burn a ton of calories, work the arms, back, shoulders, abs, legs, trunk; rowing is easy, low impact, no skills required.
Rowing machine benefits include weight loss, toning, and stress reduction. Indoor rowing strengthens your core; work all major muscle groups in no more than 20 to 40 minutes each day!
Air rowing machines are the top choice of fitness buffs and competitive rowers. Train for competitions with an air resistance rower; closely resembles on-the-water workouts.
Magnetic rowing machines more closely mimic real world rowing: get more of a workout for your dollar since the lower body is fully engaged; fall in love with the silent operation and smooth glide.
Piston rowing machines, also referred to as hydraulic rowers, offer a budget friendly workout because of their simple design, small footprint, and use of fewer parts; inexpensive, reliable.
Water rowing machines are preferred by competitive indoor rowers and athletes. Sliding seat provides full body workouts; the feel of actually rowing on water is realistic.
There are several styles of cheap rowing machines on the market, but some types are less expensive than others. A basic, inexpensive hydraulic or piston rower may be ideal.
Commercial rowing machines offer several advantages over machines designed and marketed for in-home use. Find the best commercial rower in your price range, compare prices, features, warranties.
Where to find used rowing machines: buy reconditioned indoor rowers under warranty at big discounts, best sites for private sales of used rowers.
There are many styles of folding rowing machines and portable rowers on the market. Find one that's the perfect combination of size, convenience and features for your home workouts.
Increase the effectiveness of your rowing machine exercises, focus on proper form, burn more calories, prevent strain, sprains or lower back injuries. Learn about proper technique.
Proper rowing machine techniques involve these four steps or phases to each stroke: catch, drive, finish and recovery. Tips on keeping your body in proper form and your workout productive and safe.
Rowing machine comparison charts sorted by price: compare basic features, specifications and warranties of hydraulic, air, magnetic and water indoor rowers.
Rowing machine buying guide, reviews of air, hydraulic, magnetic and water resistance rowers. Get ready to buy a rowing machine, find indoor rowers on sale, become an informed consumer.
Reviews of indoor rowing machines. Compare prices, specs, features and warranties of air, piston, magnetic and water rowers. Tips for improving your rowing machine techniques.
Indoor rowers to fit your lifestyle! We can help you find the best possible rowing machine for your home gym at a price that will leave you smiling. Reviews, articles; compare brands, models.