The WaterRower GX is a Quality Machine with Quick Start Option
The WaterRower GX is a high-rated model from the well-established company, offering the convenience of a Quick Start function and combining high grade aluminum with hand-crafted solid ash.
The Rower
The GX rowing machine is unique as it combines wood and aluminum, unlike the other WaterRowers that are either all wood or all metal.  So it has an interesting look.  It also features a unique monitor with a Quick Start function that allows you to get right on and start rowing.
Let's take a look at the important specs...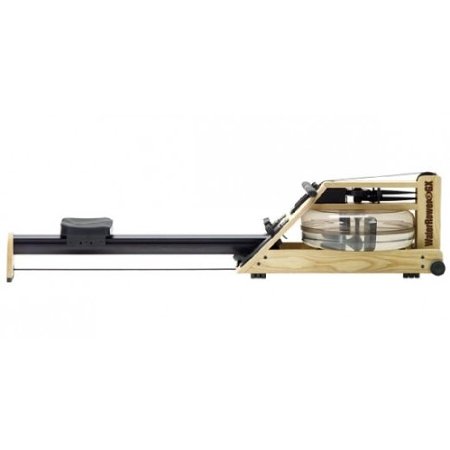 Length: 85.5" L, 22.5" W, 20" H
Weight: 61 lbs dry / 98 lbs w/water
Water Flywheel Technology
Solid ash with single aluminum rail
Transport wheels
Maximum User Weight – 325 lbs
Warranty: 5 years frame, 3 years components
Get the WaterRower GX Rowing Machine on Sale at Amazon
The Buzz
WaterRower is one of the top companies in the industry, delivering high quality rowing machines at affordable prices.  The GX model is no exception, getting positive reviews from customers and experts alike.
As we mentioned, the GX is unique in that it has a different monitor than most of their other rowers.  It is similar in function but has a Quick Start feature to get you up and running right away.  The other models, such as the popular Natural Rower, have the Series 4 Performance Monitor.
It also has a single rail design as opposed to dual rail, which some users prefer.  As with all of the water rowers, resistance is provided by the speed of your motion as well as how much water you place in the tank.
Users like the fact that the WaterRower GX is easy to assemble with easy to follow instructions.  Most are able to get it set up in less than an hour.
The motion is smooth and relatively quiet, and the long rail is able to accommodate taller users.  It has transport wheels so you can stand it up when you are done with your workout and store it against the wall or in a closet if height permits.
Customer service is another plus, as companies like WaterRower that sell high quality machines tend to stand behind their product.  With the quality being what it is, you will likely not have to deal with customer service with your GX...but if you do, it's nice to know that they will be helpful in getting your issue resolved.
What We Say About the GX Rowing Machine
When it comes to choosing a high end machine, you simply can't go wrong with WaterRower and it remains one of our top picks year after year.
As far as choosing a model it's simply a matter of personal taste.  You have the all wood models in various shades from natural to dark black, then you have the all metal versions (S1 and M1) and lastly you have the GX which is a combination of the two.
So your best bet is to look at all of the models and decide which one you like best.  They are all in the $1000-$1500 price range, and all of equal quality.
Show me other WaterRower Rowing Machines