Indoor Rowing Machines – The Affordable Alternative to Other Cardio Equipment
When people equate indoor rowing machines to the taxing workout of rowing a boat in open water, they shy away from this impressive cardio trainer thinking it sounds too difficult. In fact, rowing is one of the best cardiovascular workouts you can do and a rower makes it fun and easy.
Indoor rowing machines are usually open and available at the health club when we want to row – no waiting in line for this machine that falls under-the-radar for many cardio seekers.
It's an odd thing too, since people pass up this incredible piece of equipment and choose a treadmill, elliptical trainer, or exercise bike instead. For some reason, they think a rower is too hard or too boring. Nothing could be further from the truth.
An indoor rower not only burns a ton of calories, it works many muscles as well as the heart and lungs. The arms, back, shoulders, abs, legs, trunk – nothing is left out during a pull stroke. For a seated exercise, it provides a full range of motion while providing a low impact exercise for both the upper and lower body.
Why Should I Buy a Rower?
An indoor rower is genuinely a superior cardio machine when compared to the rowing station on your home gym unit. The cable-and-plate system on a low pulley station simply does not compare to the flow and feel of a rowing machine.
An Affordable Alternative to Other Machines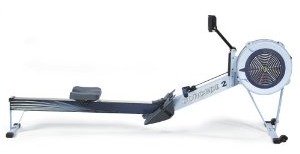 Treadmills and elliptical trainers have more moving parts and are far more expensive than rowers are. If you see a rower at a club or your local gym facility, give it just 2 minutes and you'll be hooked. Even better, the unit will likely be a Concept2, which is one of the world's best indoor rowing machines.
The commercial-grade Concept2 costs just $900, which is an incredible investment for a home user who can get this maintenance-free rower that will last for years and provide hundreds of hours of low impact, effective cardio workouts.
What to Look For in a Good Machine
You can go with a Concept2 and not have to sweat the details of understanding the mechanisms of how indoor rowing machines work, but if you are interested in looking at various models, you should know a bit about the different types of resistance available including magnetic, piston (hydraulic), water, and air rowers.
The small Piston Resistance type of indoor rower is compact, lightweight, and cheap. They can be somewhat uncomfortable and don't provide a smooth rowing motion when compared to the other resistance types. The dual hydraulic cylinders attached to the moving arms do provide a good upper body workout.
The Magnetic Resistance rowers use the same technology found in many elliptical trainers, where magnets are moved closer to, or further away from, a flywheel to provide different levels of resistance. These machines are nearly silent, very smooth, and don't begin to squeak eventually like a Piston resistance rower will.
Air Resistance rowers use a fan wheel technology which increases air resistance; the harder you pull, the greater the resistance. These are the most popular with off-season rowers, and the Concept2 is an example of this type of rower. While this might be considered the "noisiest" of indoor rowing machines, the sound is not loud at a casual pace. The whir gets louder only when you pull harder.
An indoor rower that uses Water Resistance is the closest thing to a real, on-water rowing experience. Like the air rower, the harder you pull, the greater the resistance. The machine uses a tank full of water where the flywheel would be, so expect this type of rower to be heavy and not as portable as the others. The gentle slosh of water in the tank, though, is a nice reminder of open water sculling.
Some Final Thoughts
Rowing in a sliding seat is easy, low impact, and requires no skill; anyone can sit on a machine and begin rowing without any instruction.
These are very affordable cardio machines since the inexpensive Piston-type models cost less than $150, while the high-end Concept2 is just $900 – and remember, it is installed in health clubs where it is intended to be used by multiple users many hours a day.
Like the exercise bike, indoor rowing machines are a perfect addition to any home gym and provide what you need for your daily dose of cardio.