Schwinn Rowing Machines - Fan Wheel Technology Provides Silky Smooth Resistance

Users of all levels enjoy Schwinn rowing machines to give them a workout that matches their ability. Whether you are a beginner or a more advanced athlete, you will find that a Schwinn air rower gives you complete control of your workout.
About the Company
If the Schwinn name sounds familiar, it should. This is the same company that began making bicycles in 1895. They dominated the bike market for decades and then branched out in 1965 to make home fitness machines with the Deluxe Exerciser Bike. The company, now owned by The Nautilus Group, Inc., also manufactures treadmills, elliptical trainers, upright bikes, recumbent bikes, and the Airdyne® stationary bike.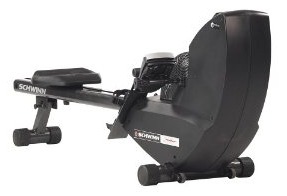 Schwinn Fitness makes one indoor rowing machine, the Windrigger, which is also referred to the AirDyne Windrigger. It is the rowing version of Schwinn's legendary AirDyne bike, a model so advanced when it debuted in 1978 that its indestructible design has remained virtually unchanged for over 30 years.
Wind Resistance is Exponential
As you row harder on one of these Schwinn rowing machines, the wind resistance increases and makes the workout harder. So you can start out slow and still enjoy the benefits of the machine, or if you are already in good shape, doing a powerful rowing stroke on an air rower can take your fitness conditioning to a higher level.
UPDATE:  Schwinn no longer makes the AirDyne Windrigger, choosing to focus on their bikes and ellipticals instead.  You can check out popular rowing machines here to find comparable models.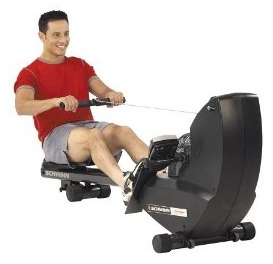 The Windrigger offers evolution fan wheel technology for silky smooth resistance. Not only does this provide powerful resistance to the user during the pull stroke, the partially exposed flywheel blows cooling air back directly onto the user's body – an added benefit during long exercise sessions.
A Good Choice at the Right Price
The Windrigger gets great reviews from current owners but the issue is in finding one to buy. This well-built indoor rower sells for less than $1000, but it has stiff competition going against the ageless air rower Concept2, hybrid air/magnetic resistance models from Lifecore, and the innovative and very affordable water rowers from H2O Fitness. If you can find one of these Schwinn rowing machines on sale for less than $700, then you've found a good deal.
Schwinn Rower Model Reviews
Schwinn Windrigger - The Schwinn Windrigger has the same fanwheel design as the popular AirDyne exercise bike. Two rowing positions give the user more demanding exercise options.
---