The NordicTrack RW200 is a Solid Entry-Level Choice For You
The RW200 is the only rowing machine offered by NordicTrack, one of the most popular fitness equipment brands in the world.  Although not the most advanced rower we've come across, it's a very good machine for the price, and definitely worth considering.
The Rower
The RW200 features a steel rail, inertia-enhanced flywheel and a large backlit display offering stats such as strokes per minute, time, calories, distance and watts.
Let's take a look at some of the relevant specs...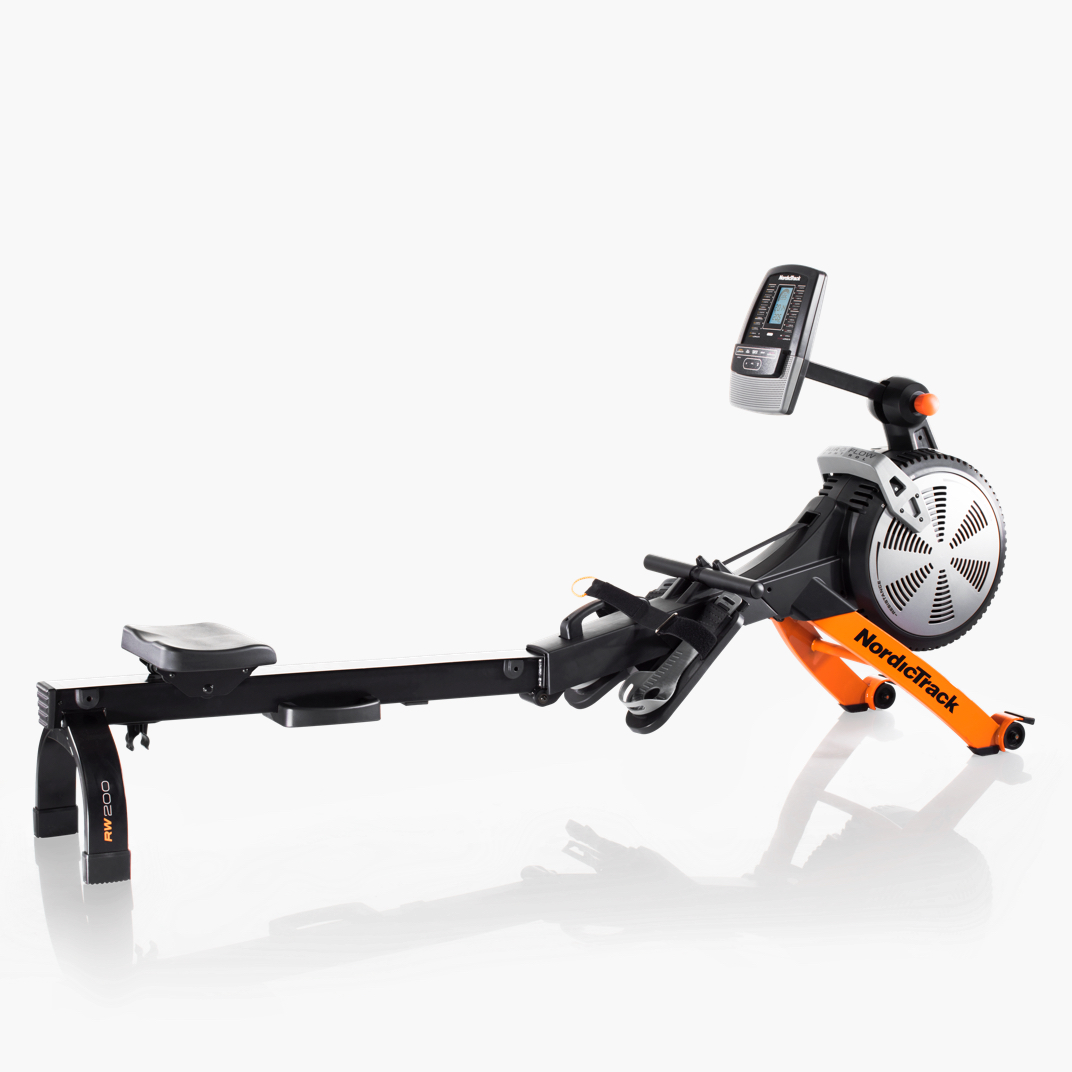 Dimensions: 84.75" L x 22" W x 43.5" H
Machine Capacity: 250 lbs
Soft Touch Ergonomic Handles
20 Built-In Workouts
Backlit Display/Adjustable Console
Pivoting, Adjustable Pedals
SpaceSaver Design (folding)
iPod Compatiblity
Adjustable Cushioned Seat
Transport Wheels, Stands Upright for Storage
Warranty: 5 years frame; 1 year parts & labor
The Buzz
The NordicTrack RW200 has received pretty good reviews, as it offers a lot of nice features for the price.  It's not the most durable machine we've seen, but for light rowing it is perfectly servicible.
Assembly is relatively easy, but it definitely helps to have another person if possible.  All you need is a Phillips screwdriver and a wrench.
You get a basic console showing you all of your relevant workout metrics, including calories, distance, strokes, time and watts.  There are 20 built-in workouts designed by personal trainers: 10 watt workouts and 10 calorie workouts.  That's more than you typically get at this price level. 
You create your own resistance, controlled by the movement of the fan blades.  The faster you go, the more the resistance.  As you slow down the resistance decreases as well.
A Watts Meter shows you a visual representation of your power output, and it gives you a target to hit when you use one of the preset workouts.
The RW200 features an oversized steel rail and the handle is ergonomically designed and comfortable to use.  The motion is smooth and natural with the inertia-enhanced flywheel.
You get an oversized steel rail and oversized pedals as well, along with the comfortable soft touch handle.
It's very easy to fold and store the rowing machine with NordicTrack's Space Saver design, a feature you'll also find on some of their treadmills and elliptical trainers.
We like the fact that there is a lot of adjustability here.  You can adjust the angle of the console to fit your needs, and you can adjust the pedals as well for a perfect fit.  You can also plug in your iPod to listen to your favorite tunes while you work out, which is alwaysa  nice thing.
Anything we did not like from out RW200 reviews? The display was very basic, but that's to be expected on a lower priced rowing machine. Also, it is not as sturdy or durable as some of the more expensive rowers...but again, you're only paying $599 for this one.
Most user reviews mention the fact that despite the low price the construction is quite decent on these machines.  They were expecting to get a low grade machine but were pleasantly surprised.  You get a 5-year frame warranty, and 1 year on parts and labor, which is decent.  You might want to consider the additional warranty if it is available.

What We Say About the NordicTrack RW200
The RW200 is a very good choice for those looking for a basic, entry-level machine with a few extra features and capabilities.  NordicTrack has been in business for a long time, and is always striving to include more without raising the price of their equipment too much.
So for those considering a machine in the $600 range, the RW200 is certainly a viable option.  Especially when the company offers free shipping, which saves you a few hundred dollars.
NordicTrack also offers a 30 day money back guarantee, so if you try the RW200 and aren't satisfied for some reason, you can always return it.  But most users are very satisfied with it, and it has become quite popular over the last few years.