How To Find the Best Rowing Gloves & Protect Your Hands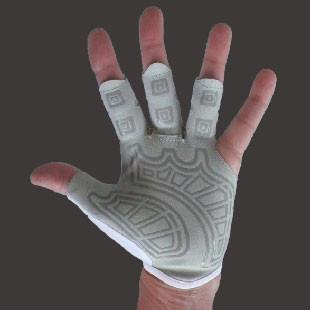 The subject of rowing gloves would seem to be very straightforward, however as is the case with many types of sports equipment designed for safety or comfort, there is a lot of controversy involved.
Some people, particularly professional rowers or die hard exercise fanatics, make a convincing argument against wearing gloves at all. The whole "no pain, no gain" mindset comes to play here. The real question is whether you want to deal with the calluses and potential blisters that can be part and parcel of working with a rowing machine.
So before considering how to find the best rowing machine gloves, it's important that you understand exactly why some people choose to wear them and whether this is something that you feel you need to do. Rowing is great for you and, unlike most exercises it gives you a full body workout, engaging both the upper and lower body while you work up a sweat. 
Unfortunately, since the entire body is involved, that means all of the various body parts are also open to potential wear and tear from regular workouts.
One of the areas that takes the most punishment in rowing is the hands, as it is necessary to retain a steady grip as you work out. The regular push and pull motion involved in rowing can result in friction, which over time will lead to the development of painful blisters and eventually hardened calluses.
Many serious rowers consider those calluses a badge of honor, the sign of putting in hours of hard work. Other people may not appreciate the look of calloused skin and may even feel like it's a detriment in the workplace.
The truth is, though, that developing blisters and calluses is really only a part of the picture. There are actually a few other reasons why you might choose to use indoor rowing gloves and they are worth considering. 
Why Should You Wear Gloves When You Row?
There are a number of solid reasons to wear gloves on the rowing machine. Here are a few of the top ones.
Prevent Blisters and Calluses 
Yes, this is the primary reason. Blisters are a common side effect when you first start engaging in exercise or if you extend your workout time, and they can be painful.
Calluses are hardened patches of skin that can result through the regular friction of rowing. The advantage to calluses is that they toughen your skin, making your workout less painful, but they can also look unsightly.
Improve Your Workout Time
If you develop painful blisters they can make it difficult for you to workout. By preventing blisters or providing protection where blisters have already begun to form, you can mitigate this problem and allow yourself to workout longer.
Guard Against Sweaty Palms
When you workout and your palms sweat that can cause your hands to slip on the handles of the rowing machine and increase the friction, which can be uncomfortable and ultimately lead to the formation of blisters.
Rowing Machine Handle Is Too Big
When the handle of a rowing machine is too big for your hand it can cause you to have an awkward grip, which may in turn increase friction. Wearing rowing gloves can help to address this problem and make exercising more comfortable.
Control How Quickly Calluses Form 
Wearing rowing machine gloves can help you control how quickly you develop calluses. Rowing without gloves will eventually lead to the gradual build up of calluses, but by wearing gloves on long rows and not wearing them for short workouts, you can prevent the formation of blisters while allowing calluses to form more quickly.
How Do You Prevent Blisters When Rowing?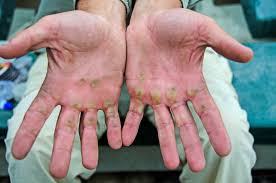 Of course the primary reason for wearing rowing machine gloves is to prevent blisters.  Blisters have three basic causes: poor grip, excess moisture and increased workout times.
A good pair of gloves can help to mitigate each of these factors, which is why many people consider wearing them to be essential to getting a good workout. 
Let's look at each of the three more closely to understand exactly how gloves can help.
Poor Grip
The ideal grip is key, and is one of the rowing machine techniques that is often overlooked. Your grip should be relaxed with your fingers in a hook position, allowing them to pull the handle with minimum friction. The less friction involved the less chance of developing blisters. The tighter you grip the handles, the more friction you create.
You should also be sure that your wrists are flat and that you aren't wearing any jewelry while you workout, both of which can also increase friction. Wearing gloves can help to ease any excess friction caused by a poor grip.
Excess Moisture
Obviously, as you work out you're going to work up a sweat. This is expected and isn't necessarily a bad thing however excess moisture on the handle of the rowing machine can cause your hands to slip, creating extra friction.
You can help to prevent sweat on your arms from reaching your hands by wearing sweatbands on your wrists and you can wrap a small washcloth around the rowing machine handles for shorter rows. The simplest solution for sweating, though, is wearing gloves. A good pair of gloves will allow you to maintain a proper grip and reduce friction to prevent blisters.
Increased Workout Times
In order to get a good workout, whether your goal is weight loss, cardio strength or otherwise, you'll want to increase your workout times. That's only natural, but unfortunately the longer you row, the more you'll be exposing your hands to the friction caused by gripping the handles of the machine, which will ultimately result in developing blisters.
In order to get around this, you can increase your times slowly to avoid developing blisters or you can invest in a good pair of rowing gloves that will allow you to increase your workout times without doing damage to your hands.
What To Look For in a Rowing Glove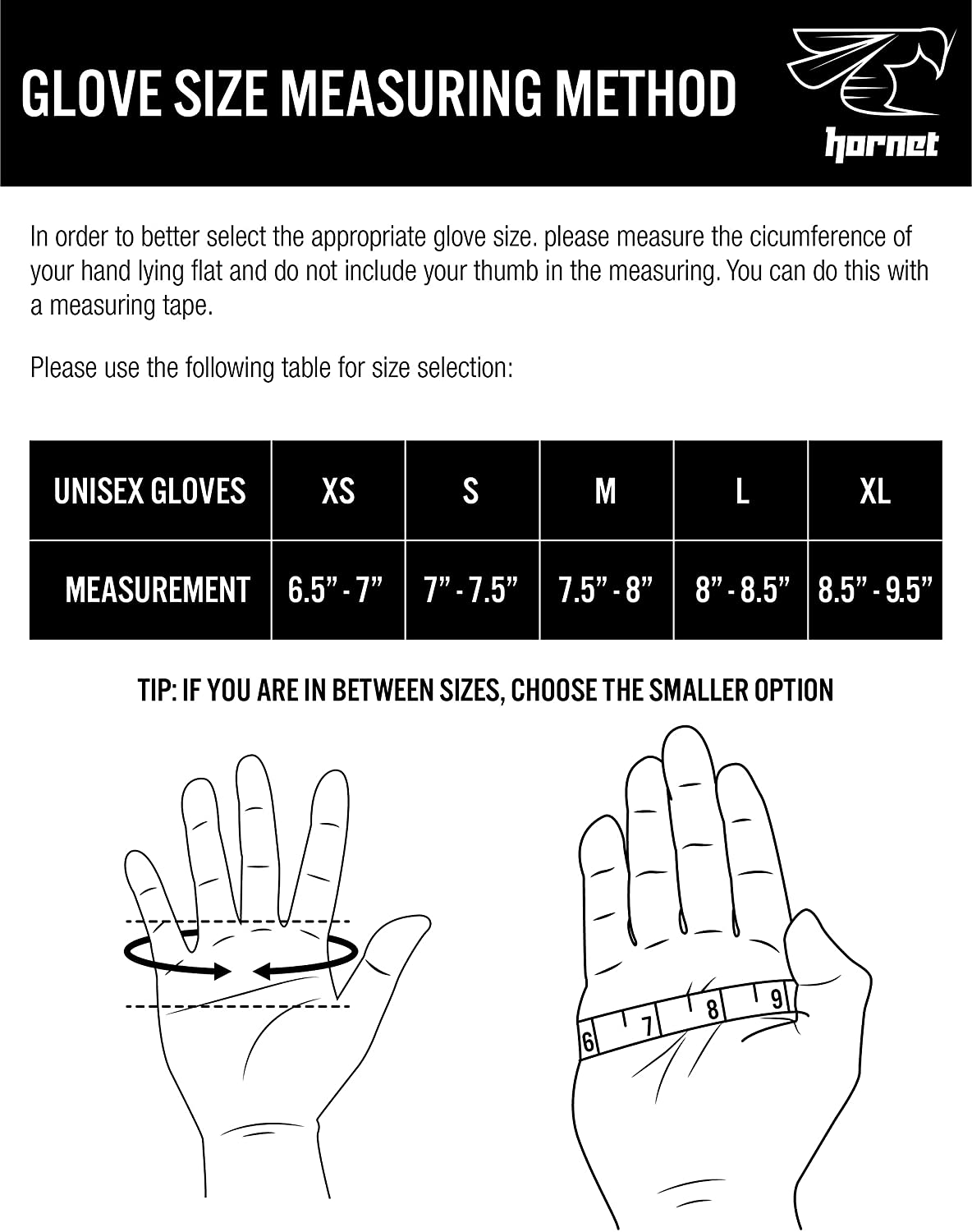 Once you've made the decision to buy indoor rowing gloves, you'll then be faced with choosing the right pair. There are several different styles of gloves available, all of which have the same basic purpose, to ease friction and prevent blisters and calluses from forming. The style you choose is really dependent on your personal preference and what feels most comfortable for you.
You can choose traditional gloves, rowing pads or rowing grips. Rowing pads slip over the hand and provide cushioning for the palm and lower fingers specifically while grips are more of a modified glove that cover only the part of the hand that is most prone to blisters.
No matter which style of rowing gloves you choose, it's important to make sure that you are getting a proper fit, just like when it comes to rowing shoes.
If your gloves are too loose or too tight, this can increase friction and will negate the purpose for wearing gloves in the first place. Before you shop for gloves, you'll want to measure your hand to determine the proper size to look for.
To measure properly hold your hand up with your fingers outstretched and measure the circumference of the widest part of your palm. If you are between sizes but you have thick hands, always opt for the larger size.
Also be sure to check the manufacturer's website for specific sizing instructions, which can vary from one manufacturer to another.
Best Rowing Gloves - Our Expert's Top Picks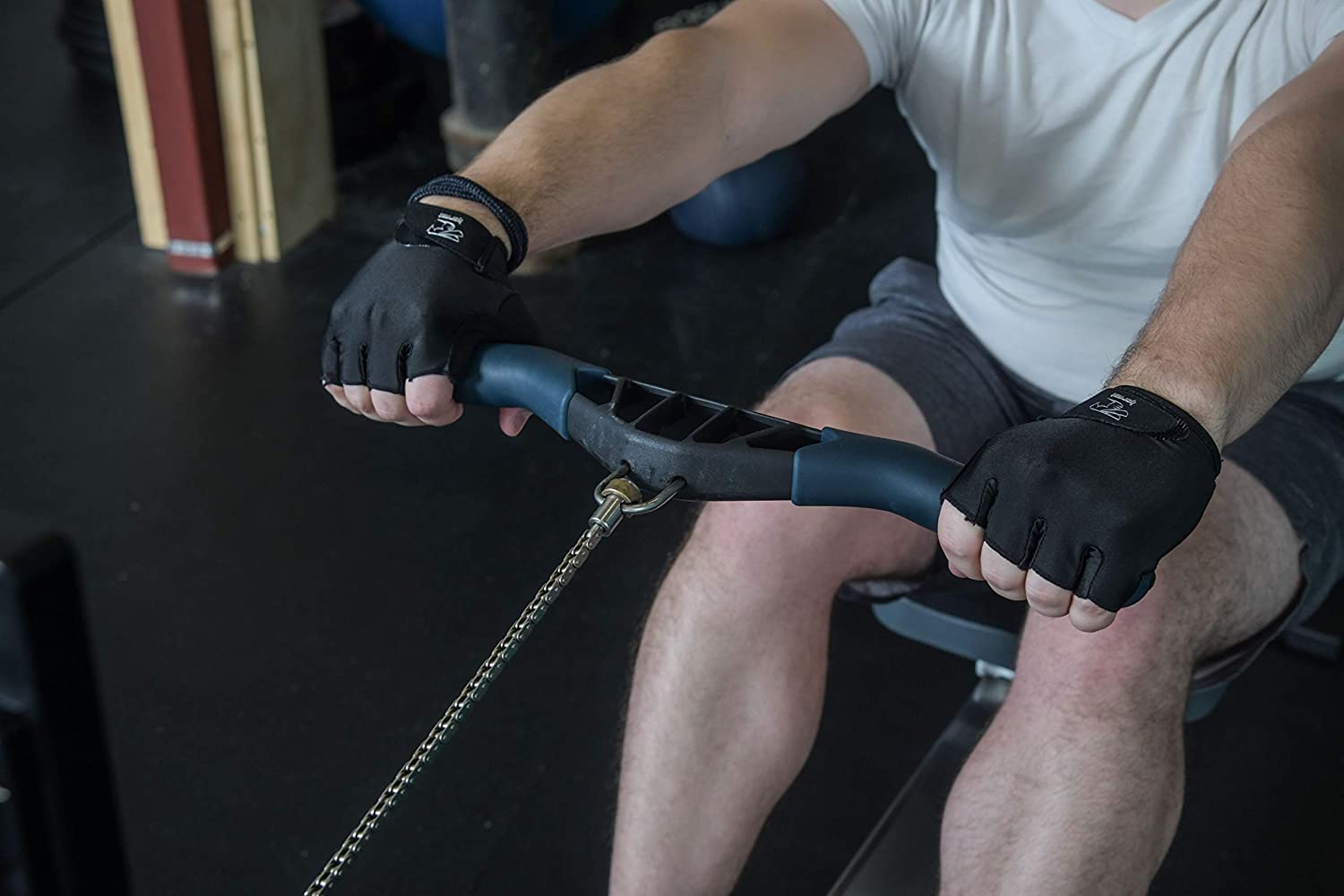 There are a number of gloves on the market today, ranging in price from as little as $10 to $30 or more. Again, the specific gloves you choose are a matter of personal preference but here are five great options for you to consider: 
Hornet Watersports Rowing Gloves - Like the Scullling gloves, these gloves are designed to protect your hands from blisters, but they can also be used for other types of exercising as well, which can make them a better overall investment.
Made from 50% SBR (synthetic rubber), 35% polyester, 10% nylon and 5% spandex, they come in sizes ranging from extra small to extra large. They have a silicone print on the palm for a firm grip no matter what type of exercise equipment you're using and they can be machine washed.  At $20, they're a bit more affordable than the Sculling gloves, but they are also a little less durable.
RIMSports Rowing Gym Gloves – At just under $20, these indoor rowing gloves offer a more affordable option without giving up on quality. They are made of leather and spandex and range in size from extra small to extra large.
They are very breathable and the use of real premium leather in the thumbs allows for a good firm grip for any size hand. They seem to be quite durable given the lower price tag and they have a generous return policy that allows for replacement of the gloves if you are dissatisfied with them.
Trideer Padded Workout Gloves – while these gloves were designed for general use in gyms or weight rooms, they are also quite effective as rowing gloves. They are made of silicone and cowhide and have a silica gel palm for an exceptionally firm grip on the handle of any exercise machine.
They have a very breathable design and a Velcro strip around the wrist to adjust for a comfortable fit on any size hand. They are available in sizes ranging from small to double extra large  At just $15 on sale they are affordable and they come with a 30 day return policy and 12 month warranty.
Yaayan Pink Indoor Rowing Gloves – these attractive gloves are designed specifically for women and have a couple of unique features, including terry cloth on the thumbs to help absorb sweat and elastic wrist bands to ensure a snug fit without restricting blood circulation to the hands.
Sculling Gear Sculling and Rowing Gloves – these are gloves designed specifically for rowing, making them the top of the line and they carry a price tag to match. At under $40, they may seem out of reach for any but the most serious of rowers, but they offer some unique features that the lower level models don't.
These include a Velcro closure that allows for a snug fit on any size hand; an open back and lower finger wrap for better air flow and freedom of movement and perhaps most importantly, they are designed for durability, with the ability to be washed and hung to dry between uses.
They are made of 80% polyester and 20% polyurethane with a 100% silicone grip and nylon trim and come in sizes ranging from double extra small to double extra large. Because they are designed specifically for rowing, they allow for calluses to develop without breaking and becoming painful.
Aside from the terry cloth thumbs, the gloves are made from silicone, microfiber and Lycra fiber mesh for breathability. They also feature a silica gel section on the palm to reduce friction and avoid development of blisters. They don't have a full size chart and aren't the most durable of gloves but at just $11, they are an extremely affordable option.
These are just a few options that we found, but if you are interested in rowing and want to avoid blisters and calluses, then you'll want to shop carefully and find the rowing gloves that work best for you.
What's the Bottom Line?
Although you don't have to wear gloves when you row, you may want to consider them, especially if you've experienced blisters or other irritation when you train.
There are a ton of rowing machine gloves on the market and there's definitely something that fits your style and budget.
If you need help choosing a goof pair, please feel free to contact us and we'll try to point you in the right direction.