The Avari Free Motion Rowing Machine – Overpriced, Cheaply Made
The Avari Free Motion rowing machine helps you to work out your arms, chest, back, abs, and legs.
The Rower
It comes with a multi-function electronic monitor that shows feedback for time, calories burned, and stroke count. This display window can show any function all the time or you can set it to scan each readout every six seconds.
The specs on the Avari Free Motion rower include: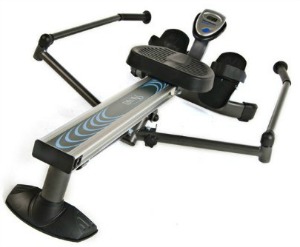 Length / Height: 58" x 18"
Adjustable shock resistance
Adjustable nylon foot straps
Molded seat
Angled aluminum seat rail
Machine Weight: 37 pounds
Max User Weight: 250 pounds
Folds and Stores upright
Warranty – 1-year Frame, 90 days Parts
See Popular Avari Rowing Machines on Sale at Amazon
The Buzz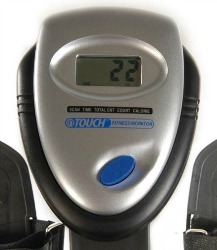 The Avari Free Motion rowing machine features an adjustable hydraulic cylinder located under the frame to provide different levels of resistance. The padded molded seat slides on a center beam that is angled for an easy seat return to the starting position. Other features include large footplates with adjustable nylon straps, a 250-lb user weight, and a 1-year frame/90-day parts warranty.
The oar-like handlebars are supposed to mimic rowing with oars but the pivot point is so low that the return causes the user to splay their elbows out awkwardly. It's too bad they didn't design the rowing arms for a better ergonomic fit.
Also, the Avari Free Motion rower is a short machine which will be uncomfortable for tall users. It will provide a cramped rowing motion for even average sized user. Actually, the lack of comfort on this rower is just one reason not to buy it. Another is that it is a cheaply made product that has several breakable parts – which is why it has a short 90-day parts warranty.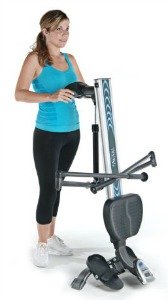 Typically, the Avari gets some good reviews by new owners for the first couple of weeks. Then, once it begins to break, they do a follow-up review to admit their purchase was a mistake. Hopefully, you will take heed and take a pass on this one.
What We Say About the Free Motion Rower
At $179, Stamina's Avari Free Motion rowing machine is an overpriced piece of junk. The hydraulic shock absorbers have problems with heating up during an intense rowing session and could fail during a workout. As for other issues, there are plastic parts on the rower that shouldn't be there – such as the rollers under the seat which will wear down quickly. There are better-made hydraulic rowers made by Kettler and HCI Fitness for around $400.
The Avari Easy Glide Rower – One of the Worst Budget Rowers