The Cardio Kids Children's Rowing Machine – A Total Rip-Off

The appeal of the Cardio Kids Children's Rowing Machine should last you all of about five seconds – long enough for you to notice the ridiculously high price tag.
The Rower
The AA battery-operated console has readouts for time, speed, distance, calories and heart rate. The HR reading is taken from sensors on the hand grips.
The specs are: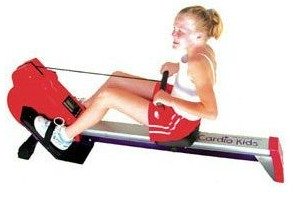 Magnetic Resistance
Heart Rate Receiver
Maximum User Weight – 225 lbs
Non-Folding Frame
The Buzz
UPDATE:  The Cardio Kids Rowing Machine is no longer being sold.  You can find some great alternatives on sale here.

The non-folding Cardio Kids Children's Rowing Machine offers the standard rowing motion for smaller people. It comes with straps on the footplates and a fairly smooth pulling motion.
The calorie counter is basically a guess since there's no input on the console for the user's weight and age – two crucial factors for rendering accurate caloric burn readings.
There aren't any reviews from users on the over-priced Cardio Kids products. Perhaps people are too smart to pay this kind of money for a kid's model.
Since rowers don't have the type of "fit" problems for different size users that other aerobic equipment has (such as elliptical trainers), why not buy a professional model for your kid – one that they can use now in middle school and in the future when they come home from college?
A Concept2 can be rowed for years and several million meters before something might wear out.
What We Say
The Cardio Kids Children's Rowing Machine is for parents who are short on brains and long on disposable income. At $1,259, this kid's rower is priced $350 more than many elite commercial and health club models.
For example, the top-rated Concept2 (at just $900!) is rowed by Olympic athletes in training and other rowing enthusiasts. Don't be ripped off by a kiddie model – for the high price alone, this model gets a shameful No Stars!