The First Degree Fitness Atlantic Fluid Rower Offers Interesting Advantages Over Competitor Models
The First Degree Fitness Atlantic Fluid rower is the company's mid-range home machine with adjustability in dial-up resistance, plus it offers a compact footprint and superior construction.
The Rower
The onboard computer shows time, speed, distance, 500m split time, strokes per minute, calories per hour, watts, interval training, and (optional) heart rate. The raised seat glides on Delrin® low friction rollers along a dual anodized aluminum rail.
The specs on the First Degree Fitness Atlantic Fluid rower include: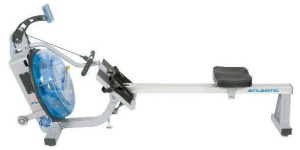 Length / Width: 6'3" x 22"
Compact Footprint
Direct Drive System
16 Levels Variable Fluid Resistance
Seat at "office chair" height
Heel cradle footboard design
Dyneema® Cable
Max User Weight: 300 pounds
Stand vertical to store
Warranty: 10 years frame, 3 years Tank & Seals, 2 years Non-Wearing Parts, 1-year All Others
The Buzz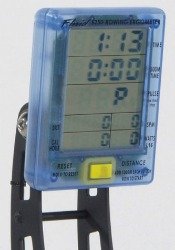 UPDATE:  The Atlantic is no longer being produced.  Check out all of the latest First Degree Fitness rowing machines here.
According to reviews, the First Degree Fitness Atlantic Fluid rower offers a number of interesting advantages over competitor models. First it has the seat at "office chair" height so it is easy for older users to get on and off. When you are done, the unit stores upright with ease: simply lift up the rail end and store the machine standing up.
The maintenance-free Direct Drive system (patent pending) uses a super strong Dyneema® polyethylene cable, which is touted as the world's strongest fiber, measured to be 15 times stronger than steel on a weight-for-weight basis. Very durable and wear resistant, the cable does not stretch and will deliver a smooth, no-catch stroke from beginning to end. The Atlantic Fluid rower also needs no lubrication, which is another advantage over chain-drive rowers!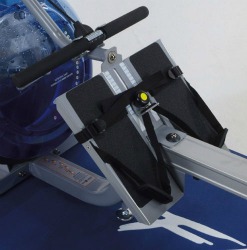 The technology of the water resistance system consists of two inner chambers contained within a tank. The inner compartment has the passive water storage while the outer tank, with the impeller blade, is the source of the fluid resistance. When the user adjusts the resistance dial, the water moves back and forth between the two chambers for a lighter or heavier workout. There are up to 16 levels of patented Variable Fluid Resistance with on-the-fly changes available.
What We Say About the Atlantic
FDF has been building quality rowers since 2001 and their exciting new patented fluid technology is suitable for all ages and all fitness user levels. The First Degree Fitness Atlantic Fluid rower costs around $2,000 if you buy direct from the company or around $1,600 with free shipping if you shop at Amazon. This model saves you about $500 or more off the price of the commercial model E-316 rower.
Show me other First Degree Fitness Rowing Machines