First Degree Fitness Evolution Series E-216 Fluid Rower
The First Degree Fitness Evolution Series E-216 Fluid Rower is designed for light commercial use less than 25 hours per week in clubs and public facilities.
The Rower
The Performance Monitor displays time, speed, distance, watts, RPM, calories per hour, level, 500m split, strokes per minute, and calories.
The specs include: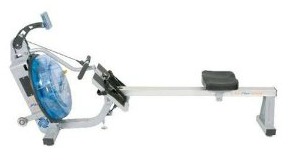 Frame Length/Height: 75" x 28"
Machine Weight: 75 lbs
16 Resistance Levels
Belt Drive – No Chain
Seat at Office Chair Height
Transport Wheels, Stands for Storage
Light Commercial Warranty: frame 5 years, tanks & seals 3 years, parts 2 years, wear parts 1 year
The Buzz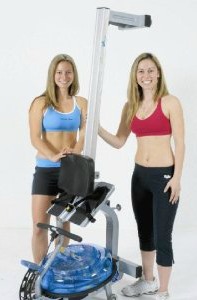 UPDATE: The E-216 model has been replaced by the new E-316 model.  Check it out on sale now.
The First Degree Fitness Evolution Series E-216 Fluid Compact Light Commercial Rower is designated for use in health clubs and sports facilities. Other features include a Dyneema cable, the world's strongest polyethylene fiber, which is not a chain and does not require lubrication. The fiber is rated to be 15 times stronger than steel, based on a weight-for-weight measurement. The seat has low friction rollers gliding on an anodized aluminum seat rail.
Water rowers deliver the closest thing to a real experience of rowing on the water. The user is challenged by 16 levels of patented Variable Fluid Resistance on a Direct Drive System. It works by using water in a sealed tank as the resistance. The impeller blades in the outer chamber churn water moving back and forth from the inner storage chamber. You get a "blade-in-water" feel during each stroke.
What We Say About the E-216
The First Degree Fitness Evolution Series E-216 Fluid Rower sells for $1,599 online at Amazon which is a good deal for this high quality machine. You likely won't find many user reviews on it since it isn't marketed for private use, and you might want to check with the company if the light commercial warranty is applicable to home use.
We recommend you take a look at the prices on the excellent home models from First Degree which start at around $650 and go up to $1000. For club owners, check out the new E-316 if you want the latest model for your facility.
Show me other First Degree Fitness Rowing Machines