The Lifespan RW1000 Rowing Machine – Quiet, Affordable
The Lifespan RW1000 rowing machine is one of the least expensive magnetic rowers on the market. Yet given all the cheap parts it's built with, is it actually over-priced even for $499?
The Rower
The battery-operated console readout has feedback for distance, time, calories, stroke count, and strokes per minute. You can increase or decrease the resistance on the flywheel by turning an adjustment knob underneath the display.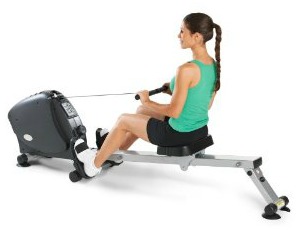 The specs on the Lifespan RW1000 are:
16.5 lbs Flywheel
5 Resistance Levels
ECB Brake System
Maximum User Weight – 300 lbs
Frame Length: 87"
Folding Frame, Transport Wheels
Warranty: 5 years frame, 2 years parts, 1-year labor
See the Lifespan Rowing Machine on Special Sale
The Buzz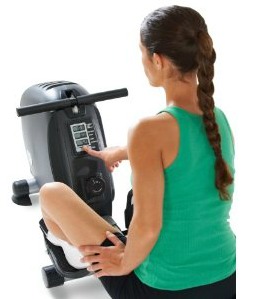 The Lifespan RW1000 rowing machine features a 16.5-lb flywheel and a Magnetic Eddy Current Brake (ECB) drive system for a smooth, quiet performance. The tension knob adjusts for 5 different settings.
The No-Slack retrieval system on the strap means you get a full pull with no jolting catch felt during rowing. Other features include a padded sliding seat, padded handles, and swivel foot rests with straps.
User reviews on the Lifespan RW1000 have been average and above average with a few important observations.
First of all, the calorie count is not accurate because the stroke count counts the movement of the seat back and forth and not as an ergometer monitoring the flywheel. The display shows results from the sensor located on the track: when the seat passes over the sensor it counts as a stroke.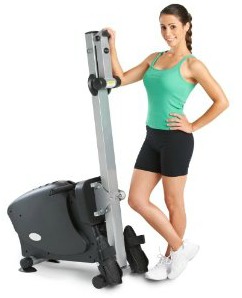 Another important point is that there are many cheap parts used on this rower. Users have complained that the foot straps break or wear out often, the plastic wheels under the seat are not smooth, and the pull strap is made of fabric (it's not a bungee cord or a steel chain).
On the plus side, this rower is very easy to set up and use – you'll have it unboxed and be rowing in minutes.
What We Say About the RW1000
As a magnetic rower, this model is quiet and affordable, and is a decent choice for people who want a rower to supplement their other cardio activities.
Hard core rowers will not be pleased with the corners that have been cut here to keep the price down – such as the useless feedback showing on the monitor screen.
If you don't want to spend over $500, then the Lifespan RW1000 rowing machine is probably your best choice over a hydraulic rower. However, if you can spend just a little more, consider a getting a magnetic Kettler Verso or the entry-level water rower, the ProRower RX-750, both which sell for $699.