The Lifespan RW1000 Review – Quiet, Affordable
The Lifespan RW1000 rowing machine is one of the least expensive magnetic rowers on the market. Yet despite its low price, it has a lot to offer and is built quite well.
Let's take a closer look to determine if this is a good option for your home gym...
LifeSpan RW1000 - The Rower
The battery-operated console readout has feedback for distance, time, calories, stroke count, and strokes per minute.
You can increase or decrease the resistance on the flywheel by turning an adjustment knob underneath the display.
The RW1000 is foldable for easy storage, and can be unfolded again in a matter of seconds.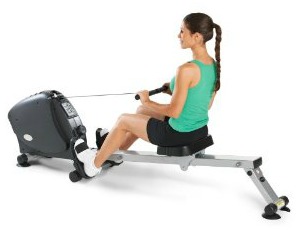 The specs on the Lifespan RW1000 are:
16.5 lbs Flywheel
5 Resistance Levels
ECB Brake System
Maximum User Weight – 300 lbs
Frame Length: 87"
Folding Frame, Transport Wheels
Warranty: 5 years frame, 2 years parts, 1-year labor

The Buzz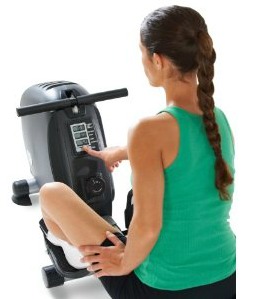 The Lifespan RW1000 rowing machine features a 16.5-lb flywheel and a Magnetic Eddy Current Brake (ECB) drive system for a smooth, quiet performance. The tension knob adjusts for 5 different settings.
The No-Slack retrieval system on the strap means you get a full pull with no jolting catch felt during rowing.
Other features include a padded sliding seat, padded handles, and swivel foot rests with straps.
User reviews on the Lifespan RW1000 have been above average and most are satisfied with the rowing machine.  There are some complaints here and there about random things, but that is to be expected on an entry level machine.
The company recently introduced a more advanced rower to the lineup, called the RW7000, a club-quality machine for those looking for something that can handle heavier use.
But for very basic usage, for burning calories and getting back into shape, the RW1000 is perfectly fine.  
As you can see from the specs above, it has a very strong warranty in spite of its low price tag, which is always a good sign.
The display is very basic, so if you're looking for very accurate numbers you're not going to get it here.  It does provide all of the basic workout information that you need, and nothing more.
Overall, the RW1000 is a very good value machine.
How Does the LifeSpan RW1000 Compare to the Competition?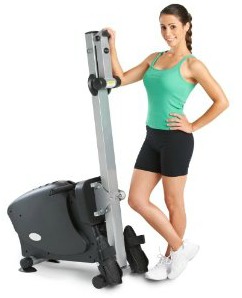 The RW1000 competes directly with other $400-$600 rowing machines from companies like NordicTrack, ProForm, Stamina and Kettler.  Although those are all more popular brands, the RW1000 does hold its own in some categories.
One of the area that it excels at is in the warranty, and it offers stronger frame, parts and labor coverage than most of those brands.
However, its console and lack of programming put it at a disadvantage, as you will find some similarly priced rowers with more to offer in both areas.
So it really comes down to what you are looking for.   If you want something that is nicely designed and backed with a strong warranty consider the RW1000.
If you want something with more bells and whistles, look at NordicTrack and the other brands.
RW1000 Review - Bottom Line
As a magnetic rower, this model is quiet and affordable, and is a decent choice for people who want a rower to supplement their other cardio activities.
Hard core rowers will probably be better served with something more advanced...if that's you look at the upper-end RW7000.
But if you don't want to spend over $500, then the Lifespan RW1000 rowing machine is probably your best choice over a hydraulic rower.