The MyRower E1 Rowing Machine with Water Flywheel Technology

The MyRower E1 Rowing Machine offers the natural resistance and feel of water for an aerobic workout.
The Rower
The monitor has an easy-to-read LCD window showing time, distance, stroke rate, and intensity.

The specs are:
Frame Length/(Seat) Height: 82" x 19"
Machine Weight: 56 lbs dry
Water Flywheel Technology
Floating heel rests
Aluminum monorail
Upright Storage to save space
Warranty: 1-year parts and frame
The Buzz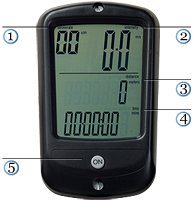 UPDATE:  MyRower machines are no longer available for sale.  Check out our water rower page for a comparably priced rowing machine.
When you read some of the reviews posted on the MyRower E1 Rowing Machine, you will come to the conclusion that it's not a bad rower – just not anything you should consider to be better than the leading water rowers. The warranty is weak and it lacks some of the features you'll get on comparably priced water rowers.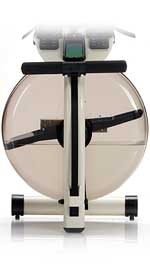 The only strong points are the extra-long frame at 82" and the water flywheel technology. The enclosed water tank offers a natural feel of rowing as well as the soothing sloshing sounds in the tank as the blades churn the water.
You don't have to make any adjustments or turn any dials on a water rower; if you want a more difficult workout, you simply row (pull) harder. You can actually change the resistance by adding less water to the tank, but to allow the rower to be ready for everyone in the household, it is best to keep the tank full and row at your own pace.
What We Say
The MyRower E1 Rowing Machine would be fine if there was nothing else available, but since there is – this brand gets a pass.
For around the same price of you should take a look at the Xterra ERG 650W, which comes with an actual ergometer including a heart rate monitor, pivoting footrests, and a better warranty that covers up to 3 years on the tank and 5 years on the frame.
In comparison, the MyRower has no heart rate monitor and just a one-year warranty.