Octane Rowing Machines Review –
Fuel Your Workout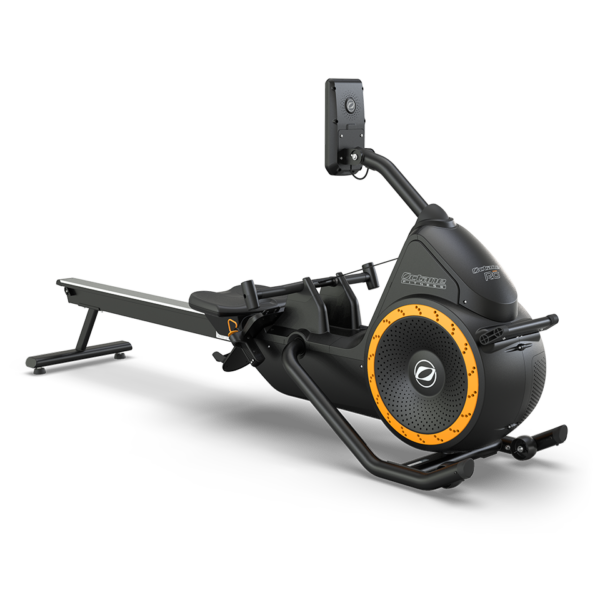 Octane rowing machines are the latest addition to the innovative Octane Fitness brand, with commercial grade features available for the home fitness market, the same focus that has made all of Octane's fitness equipment stand out.
When we heard that Octane had branched into the rowing machine niche we were curious to find out just what all the buzz was about.
Currently, they only have one model, the Octane Ro, a cool looking rower with a sleek, unique design. We gave this one a try at the health club to see what it was all about.
A Look at the Current Lineup
As mentioned above the current "lineup" of Octane fitness rowing machines consists of just one rower, the Octane Ro. Since their founding in 2001, Octane has regularly expanded, from their original elliptical machines to various multi-function machines and cross trainers and finally into exercise bikes and now rowers, so it's likely they'll add other models in the future.
For now, we were left to take a closer look at the Octane Ro and see exactly what it has to offer.
Before we do, it's worth nothing that Octane was purchased by Nautilus, Inc. several years ago, which helped increase its popularity as a home fitness company. More recently they were sold again to the higher end TRUE Fitness, which is more of a high end company. So at least we know the quality of these machines will be maintained going forward.
With that in mind, let's look at the Octane Ro. First off, Octane rowing machines carry the Octane promise of club-quality equipment designed for all. They are meant to fit a wide range of users and provide an excellent workout with challenging features.
Ok, that's great, but how does that translate to the home gym?  Well one difference is obvious from the get-go, the small foot print that makes it look and feel less bulky than many other rowers we've come across.
The 7-inch LCD console doesn't look like much to write home about but it does provide all the real-time performance metrics you'd expect, including strokes per minute, watts, distance, time, calories and heart rate. It's even ANT+ and Bluetooth capable so that you can track your heart rate easily.
It also features 6 preset workouts, including the innovative Max 14 interval program, which really makes you work with 25 second max effort intervals followed by 80 second recovery periods for the most efficient HIIT session we've ever gotten on a rowing machine.
Another nifty feature of the Ro is the Max Circuit Routine, which facilitates multiple users in rapid succession without having to reset the console every time.  After tracking time and density date for an individual user, it automatically resets to zero between users. That was a small feature that might be easily overlooked but if you have a lot of people using the same machine it can be a real time and effort saver.
Of course one of the most important features of any rower is comfort.  Let's face it, there's nothing worse for maintaining motivation than an uncomfortable rower. After a few minutes of use, we were pleased to find out that what Octane fitness rowers lack in technological bells and whistles they more than make up for with other features.
The ergonomic seat contours and quick-release foot strap make the RO comfortable for users of any size and the oversized handlebar catch makes it easy to grab and store the handlebar.
Speaking of the handlebar, that was one of the things that really raised our eyebrows. Octane rowing machines feature a unique MultiGrip handlebar that provides several natural hand positions, so that you can vary your workout and engage different muscle groups. You can even adopt a kayaking or canoeing motion, something we haven't found in any other brand.
The dual high velocity fan and magnetic brake resistance, which includes 10 separate resistance levels, as well as the belt design handlebar strap, make for smooth operation and plenty of challenge in your workout.
While there is no interactive function with the console, there is built-in mobile device storage that keeps phones and tables conveniently displayed during your workout.
The 94"x 24" x 47" footprint and 53" rail length allow comfortable use for even the tallest users and it tips up easily when not in use for easy storage that lets it fit into almost any size home workout space. We were also impressed with the warranty, which includes 5 years on parts, 1 year on labor and lifetime on the frame.

How Does the Octane Ro Compare to the Competition?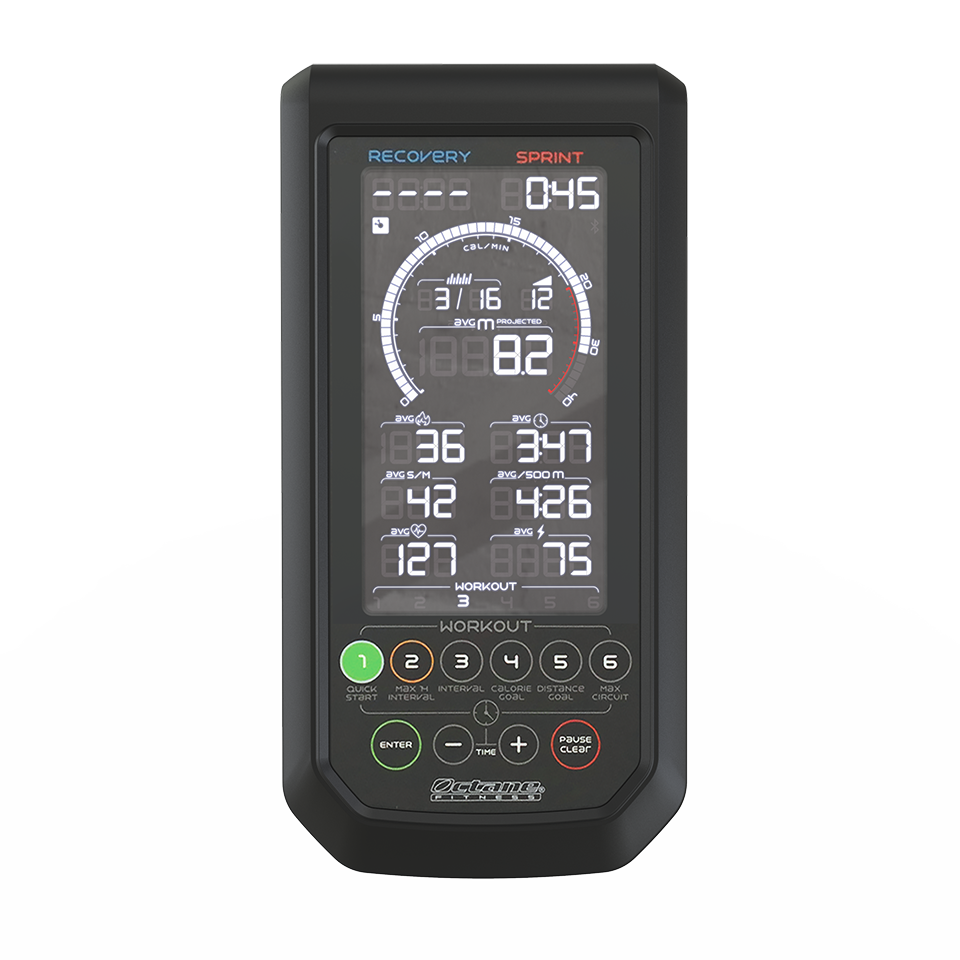 While Octane Fitness rowers are clearly high end, it's still worth seeing how they measure up to the competition. After all, even the priciest of rowers are not all created equal.
Life Fitness, another popular other brand on the market today with high end commercial grade machines that are often found in gyms, offers a range of cardio equipment including rowers.
The Life Fitness Heat Row model probably offers the closest side-by-side comparison with the Octane Ro, with dual air and magnetic resistance and two console options: Standard or Performance, but it also carries a price tag that is about $1,000 more than the Octane Ro.
Since it is a streamlined commercial grade machine, built more for results than looks, the Ro isn't as aesthetically pleasing as the handcrafted wood Ergatta or Life Fitness models and also lacks the natural feel of their water resistance.  Still, the dual fan and magnetic brake with 10 levels of resistance offers plenty of challenge, without the need to constantly fill the tank to adjust resistance. 
Most of the other brands offer a couple of high end models, where Octane only has the one but hopefully they'll expand their offerings before long. In the meantime, the Ro offers plenty to recommend it if you don't mind paying a little extra for the experience.
The most obvious difference between the Octane RO and other high end brands such as Hydrow and Aviron is the lack of interactive features. Hydrow and Aviron both offer large HD displays with workout apps that let you engage in trainer led classes, real world rowing experiences and even competitions with fellow users and both carry hefty price tags. Both companies also lack the range of Octane as all they offer are rowers. 
Of course, Peleton is another popular name that offers a range of fitness equipment, including the Peleton Row, all of which offer complete interactive workout experiences through their own app.
The Octane Ro doesn't have that level of interaction, but then again not everyone needs constant shouts of encouragement from an overly enthusiastic trainer to keep them focused. The Ro lets you track your stats so you can see how you're doing and offers 6 different workout programs. More importantly, it offers a tremendous amount of flexibility in the grip, allowing you to change up your workout, and interval training options that give you all the challenge you need.
Although more of a mid-range brand, it's worth mentioning that NordicTrack also offers a large HD display and interactive apps at a more affordable price.
It's also worth noting that the warranty on the Octane Ro stands up nicely to the competition and the lifetime frame warranty in particular is actually better than what you'll find on most of the competition, which helps to defray some of that initial cost.
Overall, when it comes to Octane Fitness rowing machines, it's really about function over looks. Sure, you'll be missing out on that interactive experience but you'll more than make up for it with a challenging workout experience that feels gym level in the comfort of your own home.
Octane Rowing Machines - Bottom Line

Honestly, we really didn't know what to expect from the Octane Ro and the nearly $2,200 price tag gave us pause, but after trying it out we can understand what makes it stand out.
It's not about bells and whistles with this brand; it's about getting the most out of your workout, including dual resistance, interval training programs and a unique MultiGrip handlebar that lets you work out different muscle groups with ease and comfort.
For more serious rowers, including those who want a kayaking or canoeing experience, this is the ideal machine. It definitely brings commercial quality to the home gym, but with a small foot print that maximizes space.
Octane has made a name for themselves over the last 20 years with exercise equipment designed to supercharge your workout and the Octane Ro is no exception.