Teeter Power10 Elliptical Rower - Rowing Reimagined
Roger Teeter founded his company in 1981 in an effort to help others like himself who were seeking relief from back pain and wanted a way to exercise safely without putting extra stress on the back and joints.
Originally the main focus of the company was inversion but over the years they have branched out from their inversion products to include other pieces of fitness equipment. Now that includes their unique approach toward cardio fitness, the Teeter Power10 Elliptical Rower.
As the name suggests, this is not your traditional rowing machine as it incorporates a circular elliptical movement in order to work every muscle group for a more complete workout. For that reason, it may not appeal to hardcore rowers who want to supplement their on-water time with a land based workout, but it still provides a solid workout with some features that help it stand out from the pack.
Now you can have the ability to burn calories and build lean muscle at the same time without putting any undue stress on your back or joints. It's the best of all worlds put together into one compact machine that easily fits into your home gym.
We'll start our review by taking a closer to find out what the Teeter Power 10 is all about.
Power10 - The Rower
Teeter products have a solid reputation garnered from years of dedication to providing equipment that works safely for all users. That same focus has gone into the development of the Teeter Power10 Elliptical Rower.
To provide users with a complete cardio and strength workout the Teeter Power 10 includes the following features:
Real time Digital Performance Tracker with built-in Bluetooth heart rate monitor

Access to the free Teeter Move App with a variety of trainer led workout videos

Smooth Magnetic Resistance with 7 easily adjustable levels

22.5" seat height for easy accessibility

Footprint: 63" x 38" x 43"

Space saving design – stores in upright position when not in use

Wide foot pads with quick-release foot straps

Comfortably padded multi-grip handles for muscle targeting

Large padded seat for maximum comfort

 

Easy height and stroke length adjustment

Height/Weight Limit: 4'8"-7'/300 lbs

Warranty: 1 year warranty on the frame, 3 months on parts

The Buzz
While rowing is generally recommended as the perfect full body workout, ideally allowing you to train both the upper and lower body together, few rowers actually achieve that end goal. The Teeter Power10 Elliptical Rower is unique in that it combines both rowing and elliptical motions to enable full cardio and strength yet with a lower impact that makes it safe for users with back and joint issues.
This is achieved through the use of both their patented elliptical path driven by an inertia enhanced flywheel and the large multi-grip handles that let you change your grip mid-workout to target specific muscles.
The result is a machine that combines both the pull motion of traditional rowers, which targets your back, biceps, delts, forearms, quads and calves and the push motion of an elliptical, which helps to build the chest, triceps, hamstrings, glutes and abs.
Not only does this unique design allow you to achieve more muscle definition throughout your whole body, it also lets you alternate between muscle groups to help burn more calories while maintaining intensity. At the same time, with muscle exertion distributed evenly you can push yourself harder with less muscle fatigue.
Because Teeter has always had a focus on safety, the Teeter Power10 Elliptical Rower also incorporates several features that allow for ease of use, including a large, padded seat, wide foot pads and a comfortable 22.5" seat height that makes it easy to get on and off the machine.
Seat height can be easily adjusted to accommodate a wide range of users, from 4'8" all the way up to 7', and stroke length can also be adjusted with a simple spring loaded knob. The multi-grip handles are padded with a high-grade rubberized coating for a secure, sweat-resistant grip as well as extraordinary durability.
The magnetic resistance mechanism is designed to move smoothly and quietly and you can easily adjust between the 7 levels of resistance with a convenient knob located at the base of one of the handles. 
While the Teeter Power10 Elliptical Rower lacks some of the bells and whistles of more high end rowers, including large touchscreen monitors and paid subscription apps, it does come with unlimited access to the free Teeter Move app. As a free app, it doesn't stand up to the others in terms of features and support but this still a good app that provides a wide range of trainer-led workout videos including HIIT (high intensity interval training), duration and strength condition workouts.
You can also use the included Bluetooth enabled chest strap to connect wirelessly and monitor your heart rate or sync with your favorite app to display your heart rate while you workout.
All of your stats are displayed on the LCD screen, so you can track time, calories, distance and strokes per minute. The display is a good size so you can easily read it at a glance during your workout.
There are front mounted transport wheels and the Teeter Power10 Elliptical Rower is designed to be stored in an upright position when not in use, but it is solidly built and at 180 lbs. may not be easy for every user to move.
One area that we did find a little lacking was the warranty, which at 1 year for the frame and 3 months for the parts isn't as generous as some other models but Teeter does make up for that with a great reputation for reliability.
How Does the Teeter Power 10 Compare to Other Rowers?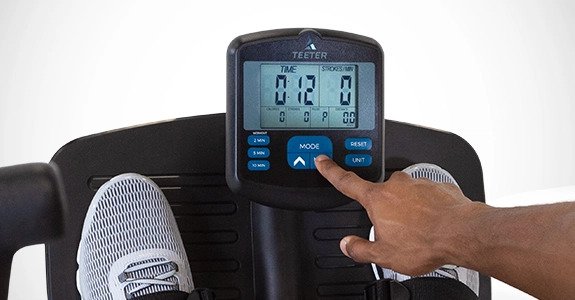 Averaging from $950-$1200 depending on the retailer and their current offers, the Teeter Power10 is considered a mid-range machine. Since it doesn't offer the full, real-world rowing experience that hardcore rowers would be looking for, it's worth considering how it stands up against other rowers from popular brands in this range.
XTERRA offers two mid range models, the ERG700 and ERG650W, both of which are sleek and eye catching, so they won't take over a room. The ERG700 uses a combination of air and magnetic flywheel resistance with 16 different resistance levels with the ERG650W uses water resistance with 6 levels of resistance.
Like most water resistance models, resistance levels on the ERG650W have to be adjusted by changing the water level, which can be a bit cumbersome, and both of the XTERRA models have a lower seat height than the Teeter Power10, which could be uncomfortable for some users.
While both models have good, easy to read monitors, neither has a heart rate training program. The ERG650W does have 15 built-in programs including target workouts but neither model comes with Bluetooth capability or a companion app like the Teeter Power10.
SOLE also offers a popular mid-range model, the SR500, which has 16 levels of air and magnetic resistance that can be adjust automatically through the 10 pre-set programs. Again, it lacks the Bluetooth capability and companion app that the Teeter Power10 has but the SR500 does have a 5.5" LCD screen which helps you easily keep track of your stats and it also offers 2 heart rate training programs and comes with a chest strap monitor.
Of course the two major differences between the Teeter Power10 and any other model are the padded multi-grip handles that allow for different positions to target specific muscles and the elliptical movement that allows for a more complete workout throughout all the muscle groups, something the competition just can't duplicate.
Teeter Power10 Elliptical Rower Pros & Cons
Pros:
Good range of resistance over 7 levels
Seat height of 22.5" off the floor makes for easy and safe access
Large padded handles allow for different grips to help target specific muscles
Suitable for a wide variety of users – from 4'8" up to 7' 
Cons:
Warranty could be better for this price range
Heavy machine that may not be easy for some users to move
Doesn't have the feel of traditional rowing motion so may not suit hardcore rowers
Teeter Power 10 - Bottom Line
While it may not be the ideal option for hardcore rowers, there is still plenty to recommend the Teeter Power10 Elliptical Rower. Backed by the solid reputation of Teeter, this machine is comfortable, easy to get on and off and easy to use. Better still, with its unique use of a full circle push/pull elliptical movement it offers a full body workout that you just can't get on other machines.
If you're just looking to get a good, solid yet low impact workout in the comfort of your own home, the Teeter Power10 Elliptical Rower is a great choice. It's a quality mid-range rower with enough features to make it well worth the investment.