Does Your Favorite Brand Sell Rowing Machines?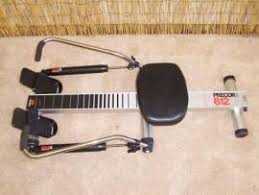 Although rowing machines remain popular to this day, some equipment manufacturers have stopped selling them for one reason or another.  Other top companies never sold rowers in the first place.
We always get asked about certain brands or models, and readers want to know more about them as they can't seem to find any information.  Well the reason might just be that it is no longer being sold.
Here we discuss many of them to clear it up for you.
Companies That Used To Sell Rowing Machines

The Precor rowing machine was once very popular.  In fact, the back in the late 80's, the Precor 612 was quite the innovative hydraulic rower.  The track was made of anodized aircraft aluminum, with stainless steel arms, rotating pedals, ETA resistance and foam-padded seat.  But in spite of how many of these rowers they sold, the company got out of the rowing business and focused on higher end treadmills, ellipticals and exercise bikes instead.

The Schwinn rowing machine was also quite popular, especially the Airdyne/Windrigger.  But as of just a few years ago, the company stopped making and selling rowers, although the Airdyne technology is incorporated into some of their current indoor exercise bikes.  The bikes are definitely the company's specialty, but they do make treadmills and ellipticals as well.

Horizon Fitness was selling the Oxford Rower up until 2017 when it was discontinued.  As it was the company's only rowing machine, it looks like the company may be done with this type of cardio exercise machine.  They still sell bikes, ellipticals and treadmills and remain a very popular brand.

Looking for a Weslo rowing machine?  You may soon be out of luck.  Although the 2016 Weslo Flex 3.0 is currently available at various online stores, rowers is no longer a main category on the company site.  You can find treadmills, exercise bikes and ellipticals...but no rowing machines.
Lesser known brands such as the DP rowing machine and Lifemax are also long gone, with these old school hydraulic machines being replaced by companies like Stamina.
Companies That Never Sold Rowers

Although their sister company Schwinn did sell rowing machines, Nautilus, which has comparable exercise bikes, ellipticals and treadmills, never sold rowers.  However, they do offer the EVO Compound Row machine as part of their power equipment lineup.

Although the company has an ever-expanding product line, Bowflex rowing machines are not one of them.  They did however recently get into the traditional exercise equipment market with two elliptical machines and two treadmills, to complement their popular TreadClimbers and Max Trainer machines.  Time will tell if they add a rower to their roster.

You won't find a Landice rowing machine anywhere, as this high-end brand sticks to what it does best...treadmills, ellipticals and bikes for the commercial and residential markets.
Along with Landice, other high-end commercial grade brands like TRUE and Octane also don't make rowing machines.
Why Don't They Sell Rowing Machines?
The number one reason why any company decides to stop selling a product, or not offer it in the first place is sales.  In many cases, it just doesn't make financial sense.
The rowing machine market is essentially split into two parts.  You have the higher end companies like Concept2, WaterRower and FirstDegree Fitness that make rowing machines exclusively.  You then have companies like Stamina and Sunny Health that offer entry and mid-level rowers.
It's hard for the more popular high-end brands like Precor and Life Fitness to compete with the companies that make high-end rower exclusively.  Similarly, it's hard for NordicTrack and Proform to compete with the lower end brands.
So at some point, companies need to decide if it makes sense for them to manufacture rowing machines...or should they stick to other cardio equipment that sells better. That's why you see so many companies dropping rowers from their lineup, or just offering one model.
Do you know of another company that used to make rowing machines but doesn't anymore?  Drop us a line and we'll add it to our list.